The key of diabetes self-management is monitoring their level of blood glucose and your diet. If you suffer from diabetes, then it is important to keep a logbook. Diabetes logbook is a composed record of your daily meals and blood sugar levels. To make this task simpler, consider to use the diabetes food log printable templates.
How Do You Store Blood Sugar Logs?
There are several ways you can keep diabetes care log. First, use mobile app to track your blood sugar level and your food intake on daily basis. However, if you're not a fan of digital tool, then you can use simple written record that serves exactly the same function. Both can be brought every time you make medical visit to your doctor.
What Is Normal Blood Sugar By Age?
The normal level of blood glucose in human body ranges between 90 – 100 mg/dL. That being said, there are a lot of factors that affect the level. For example, age plays a big role in determining the level, as the older you get, the less insulin tolerance that your body has.
How Many Hours Apart Should A Diabetic Eat?
As a rule of thumb, it is best to avoid lengthy gaps between each meal. According to health experts, diabetic individuals shouldn't go for 5 to 6 hours without having any fuel. In some cases, some diabetes sufferers even have to a meal once every 3 to 4 hours to maximize their body's management of blood sugar.
Diabetes Control Chart
Diabetes control chart template is a blank, pre-formatted document that can help to track your sugar levels before and after taking meals throughout the day. It is a common tools used by doctors to keep diabetes treatment plans under observation and set target goals.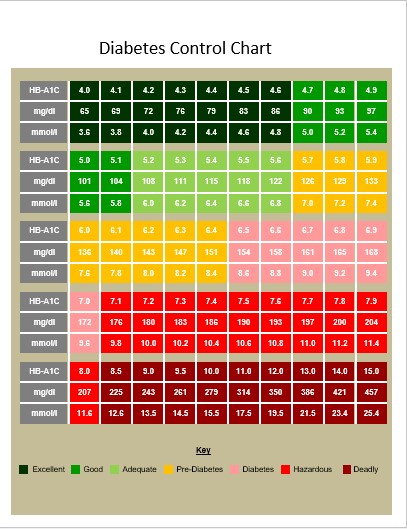 Diabetes food Control Chart
This chart template is useful for patients who want to self-monitor their daily diabetic care plan as well. It helps them to figure out the best way to keep their blood sugar level at healthy range to lead into healthier life despite the condition.
Diabetes Food Care Log         
Taking accountability in changing your lifestyle and diet is essential if you are a diabetic patient who wants to manage the condition. You can start the management by using this diabetes food log printable template.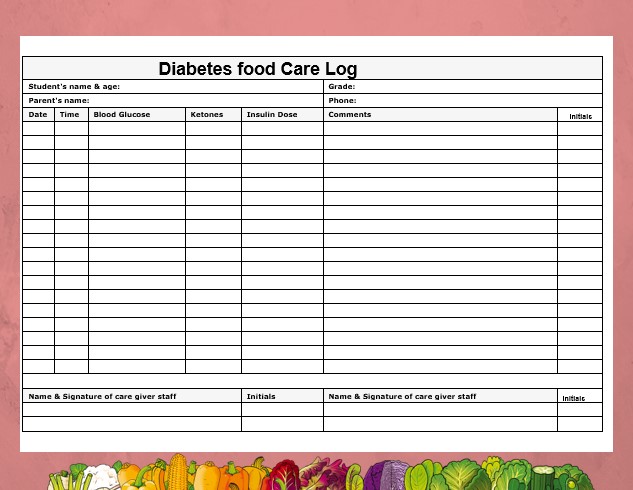 Diabetes food Care Log
This template allows you to record every detail regarding your meal consumption. If you are able to maintain the journal log consistently every day, then you have higher chance to improve your diabetes and keep it under control.
Diabetes Food Cooling Log    
There are a lot of practical things that you can perform daily to create an easier and healthier life. They range from keeping your diet, doing exercise, and conforming to diabetes care and treatment.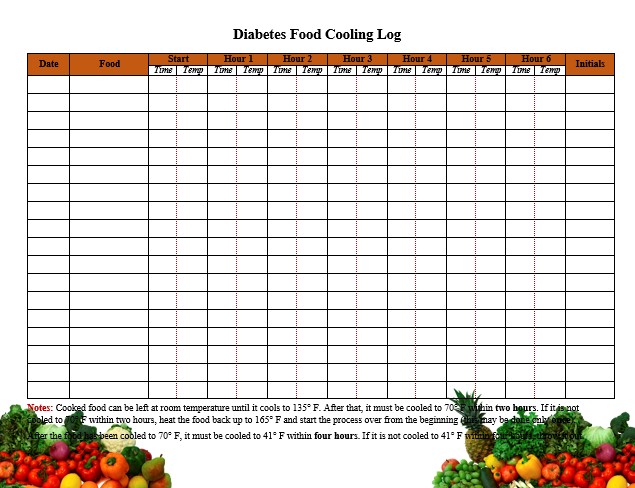 Diabetes Food Cooling Log
One of the feasible and beneficial things to do for diabetic sufferer is to create healthy eating plan and keeping log of their meals. Here is a diabetes food log printable template that can help to execute that.
Diabetes Food Log Printable  
Living healthily is the primary step to improve your life quality and health outcomes when dealing with diabetes. It includes being active, eating healthy, and tracking your symptoms as acts of self-management.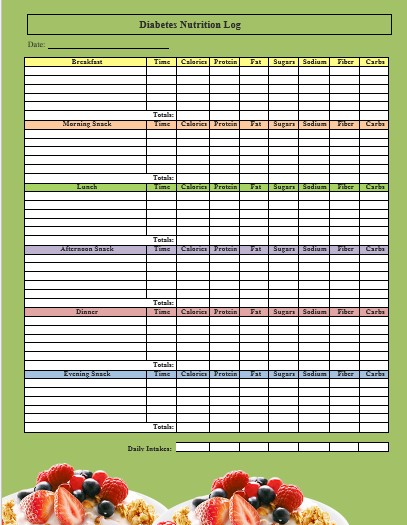 diabetes food log printable
This diabetes food log printable is a form that can be downloaded and used for free for that purpose. If it maintained consistently, it will be a good observing item for your health care provider.
Diabetes Food Sensitivity Detection Log
Diabetes is a health condition that may cause you to have adverse reaction to food. In order to cut the food that your body is sensitive to, you need to identify what it is first.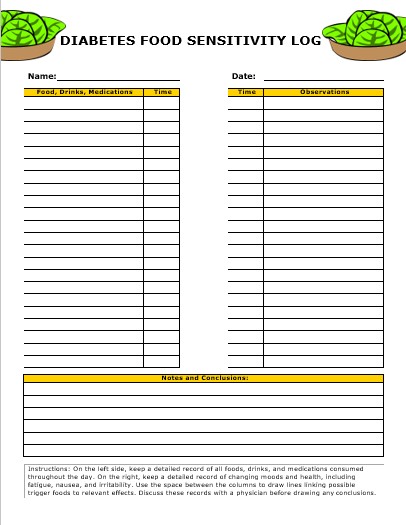 Diabetes Food Sensitivity Detection Log
This diabetes food sensitivity detection log template will assist you in identifying the allergens or triggering food. It is an excellent tool to incorporate to your management plan.
Diabetes Journal         
Collecting data and keeping them in a log book is important if you are determined to keep your diabetes condition under control. This simple diabetes journal template comes handy because it allows you to keep track of your blood sugar and other components of diabetes care plan.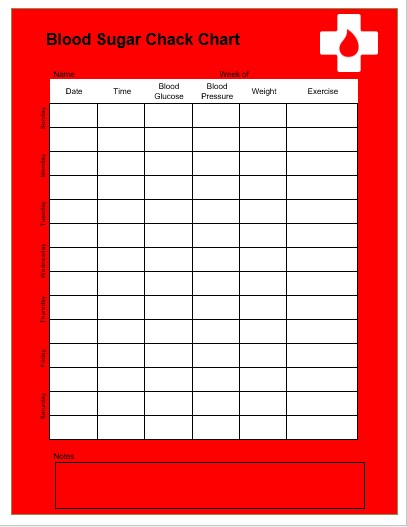 Diabetes food Journal
If you want to make the diabetes food log printable template more intensive, then you can add more information such as factors that affect your blood glucose level, your medication doses, your exercises, and many more.
Diabetes Management Sheet  
One of the most essential variables in managing diabetes is to maintain a blood sugar log and measure your sugar rate on daily basis.
Diabetes management has a lot of benefits that you may not think of before. It helps to see how well a particular medicine work, it tells you about your exercise habit, and it shows how your glucose level is affected by your consumed nutrition.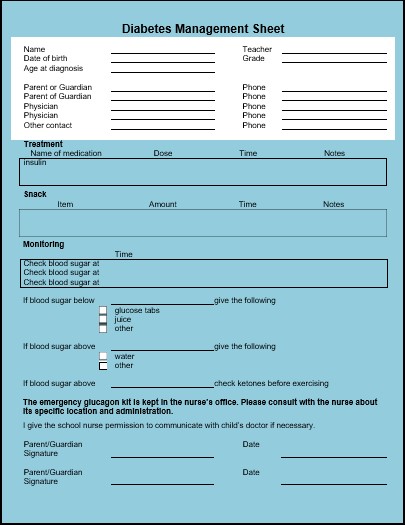 printable Diabetes Management Sheet
To comply with the diabetes care management, you may want to use this diabetes management sheet template. This document can be downloaded for free.
Diabetes Medical Plan for School       
There are students who suffer from diabetes and have to manage their condition themselves. To maintain and keep track of your diabetes care for students, this diabetes medical plan template will be very useful.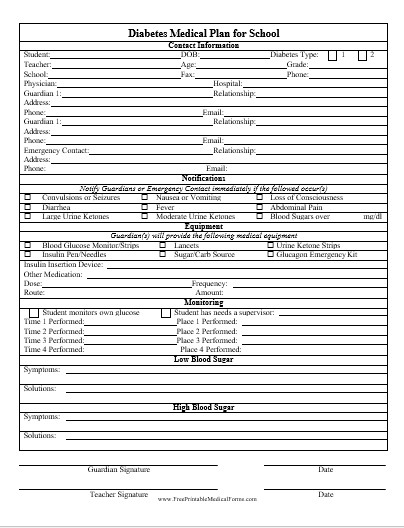 Blank Diabetes Medical Plan for School
Each people have different built and body metabolism, so there's no way that diabetes management for two people would be exactly the same. That's why this template is created to be customizable, so ask your doctor what's the best suitable care plan for your specific circumstances.
Monthly Diabetes Food Tracker          
Diabetes is an illness caused by excessively high level of blood glucose in the body. If you are one of million people who have to deal with this condition, then you can't be careless with your food intake and have to maintain healthy diet.
Monthly Diabetes food Tracker
For this reason, consider to use this monthly diabetes food tracker template. The diabetes food log printable can help to monitor how your blood sugar level is affected by the food you consume in practical month-to-month format.
Weekly Diabetes Food Tracker           
This diabetes food tracker lets you to keep an eye on the food you consume. To use it, you just have to describe the food item and its relevant nutrition information, such as calories, sugars, protein, fat, and fiber.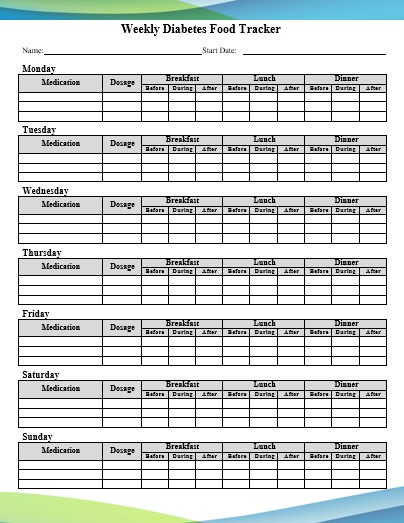 Weekly Diabetes Food Tracker
Sort your nutrition plan by writing down your consumed meals consistently in this diabetes food log printable template. It is an easy method to begin examining your diet.