Printable invoice template is a pre-formatted time-stamped document for commercial purpose that's used to record and itemize transaction between two parties. An invoice also generally provides information and specifies the deal's terms if the services or goods were purchased by credits.
There are various types of invoice including bill of sale, sales invoice, paper receipt, electronic record for online transactions. A business has to choose the suitable type of invoice for itself. The following templates will help you to create professional document in seconds.
How Do I Make An Empty Invoice?
You can create a blank invoice by using the printable invoice template available for free here. All you need to do is just download, edit, and send it to your customers to provide professional-looking invoice.
How Do I Print Out An Invoice?
In order to print an invoice, you have to have the file ready at first. On whichever software you're using, such as Microsoft Word, select 'File' menu, and then choose 'Print'. The software will take you into the print preview menu where you can choose printing settings, and then simply click 'Print'.
Are There Free Invoice Templates?
Yes, there are a lot of free templates from online resources that provides with on-brand, proper invoice. Not only plenty of them are available for free, but also customizable to suit with different businesses.
Blank Invoice Template          
Blank invoice template is a document that can be used for any business to inquire payment of provided goods or services from their customers. The generic, basic format is intended so the business can customize the form according to their needs.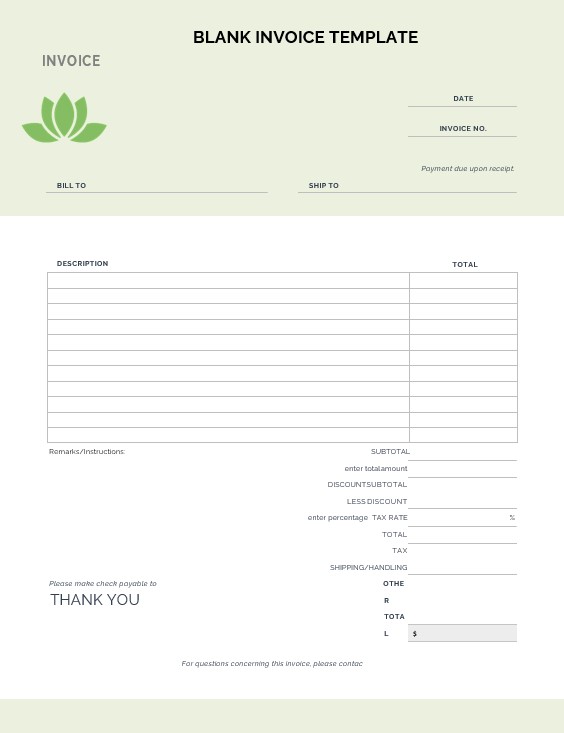 Blank Invoice Template
To use this free printable invoice template, you only need to download and fill it up. You can also choose to use the print-out or digital version.
Creative Invoice Template      
An invoice contains necessary information such as the billing of customers and clients. To make it easily readable for the business and the buyers, it has to be designed in structured, organized, and detailed ways.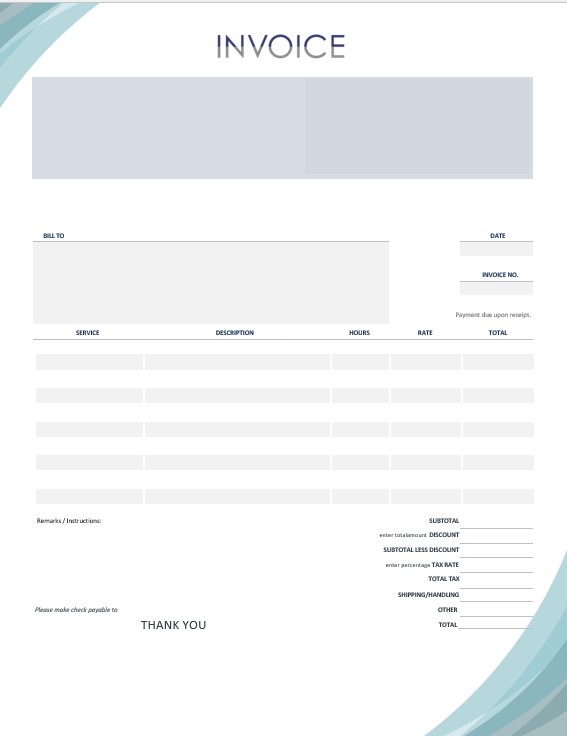 Creative Invoice Template
Moreover, the document can serve as a branding opportunity. To see how an invoice can be used for this purpose, check out this creatively and professionally designed template.
Freelance Writer Invoice Template     
You are a freelance writer whose business is on rise. Now, you will need a professional-looking invoice to bill the clients. If you don't want to create one from absolute scratch, use this free template.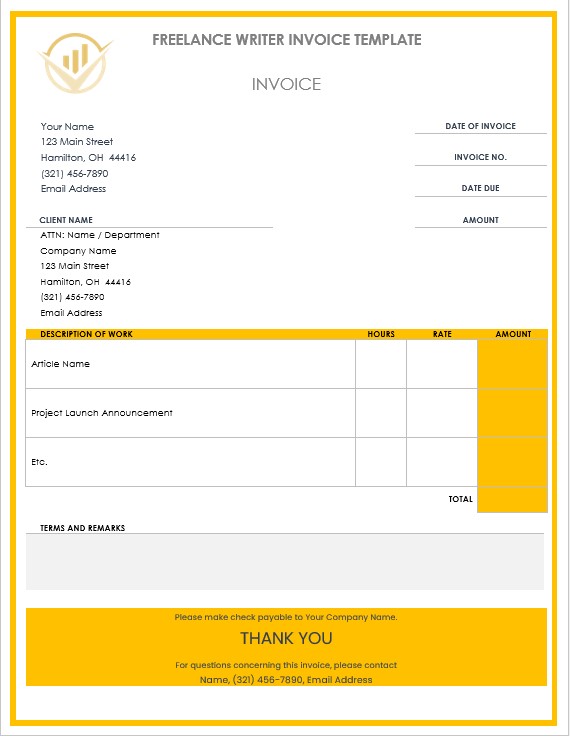 Freelance Writer Invoice Template
This printable invoice template for freelance writer is suitable no matter what type of writing you do. It allows you to provide bill document and accept payment in the nick of time.
Invoice Template Printable     
This free professionally designed template of invoice can be downloaded and customized for your clients. In this page, you'd have an access to a number of templates. Simply pick any that you want, edit the details, and you'll present yourself with a proper invoice for your business.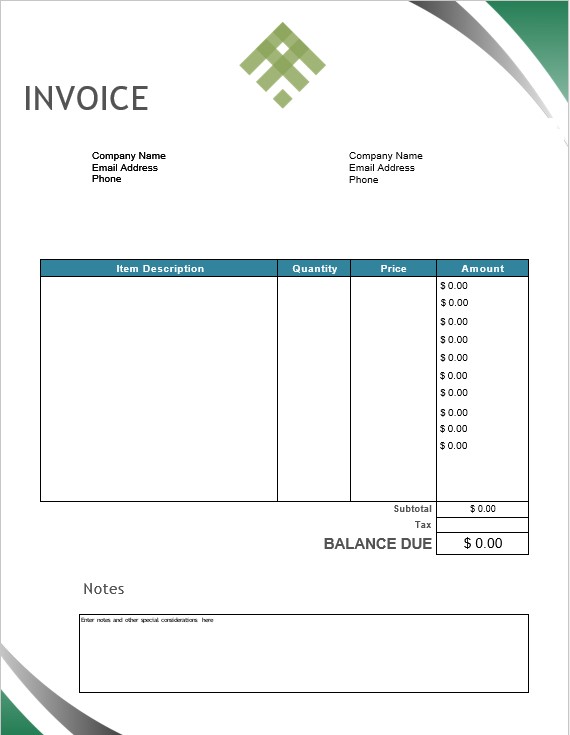 invoice template printable
These templates are made to be fitting for various industries. You may use them if you work in freelancing, construction, marketing, consulting services, and many more.
Past Due Invoice Template     
For nearly all small business owners, chasing money from clients is quite uncomfortable even though it may consume their valued time. To write and inform your customers of overdue payment, you may use this invoice template to make the process easier and urge them to pay your business faster.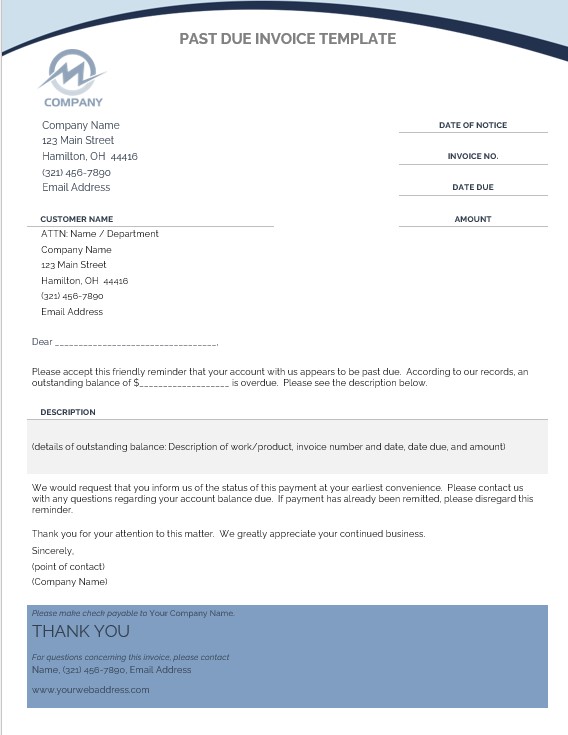 Past Due Invoice Template
As you may have known, a normal and overdue invoice letter is built different. Each document has to be tailored with language according to the certain situation.
Photography Invoice Template           
You may think creating an invoice to support the photography business of yours is a challenging task. However, with this printable invoice template, it can turn to be easier than you think. Read, download, and use this template to find out how.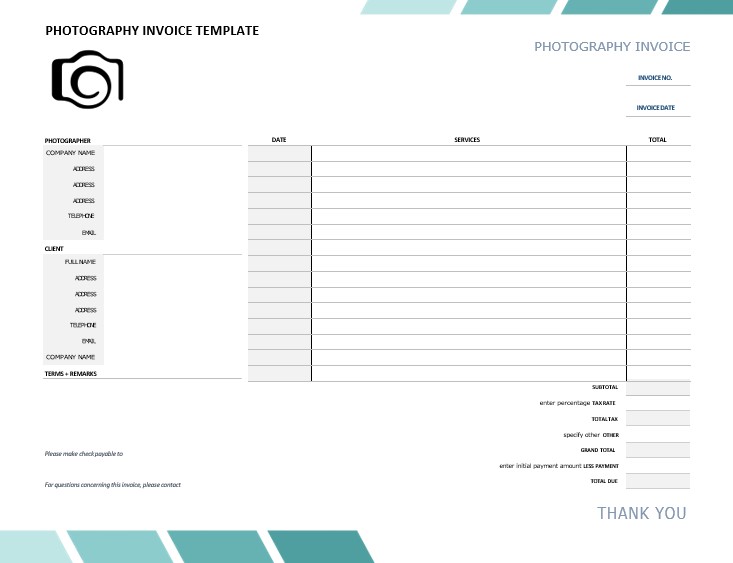 Photography Invoice Template
Feel free to modify the template in any way you like to suit with your particular business. This template allows you to provide charges and deliverables regarding of your photography service.
Plumbing Invoice Template    
A lot of plumbers work independently. There's a good portion of people who earn a living in this field work on one-off basis and serve a few clients each day. This routine may make it challenging to provide a proper invoice – which can lead to delayed or worse, lost revenue.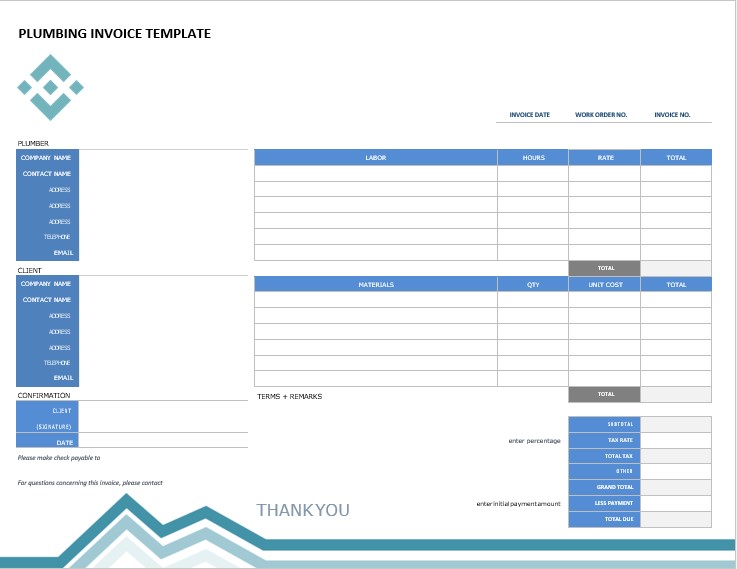 Plumbing Invoice Template
Use this free plumbing invoice template to bill your clients after a visit of a job has ended. It is designed with simple and basic look, but with complete information of what the clients need to know regarding the payment.
Rental Invoice Template         
If you are a landlord who wants to provide your tenant with easy and simple looking invoice, then this template document will help you to create it. This printable invoice template allows you to do some customizable work, in order to cater it to each tenant and inform them properly about the rental payment notice.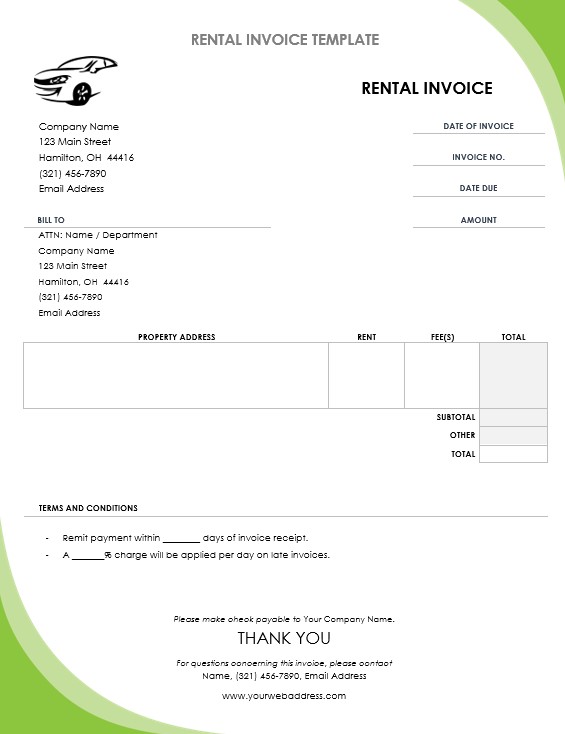 Rental Invoice Template
Knowing what information to put on the invoice is the key to create an appropriate document. This template makes it easy for you by offering free pre-formatted form. That being said, you still need to add the required information to make it a proper document.
Service Invoice Template        
What is a service invoice? It is an accounting form used by businesses that provide service, to be sent to their clients to request payment. The invoice presents important information such as the amount and deadline of payment, as well as the list that details the provided service.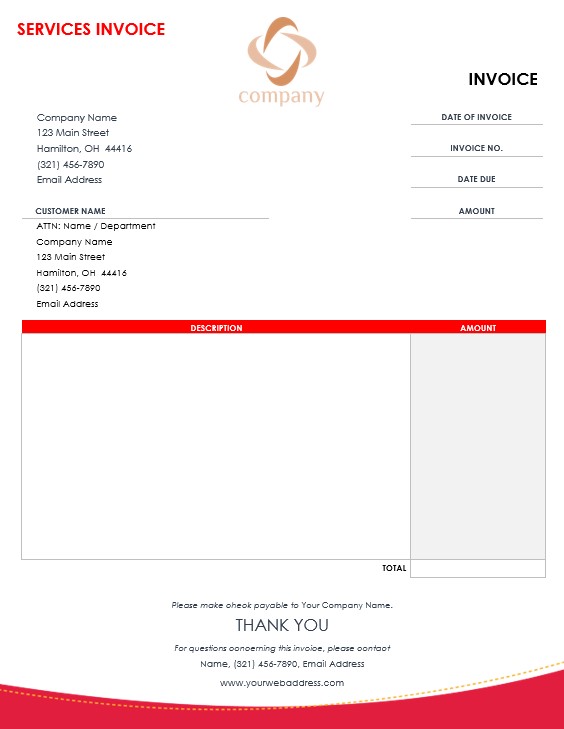 Service Invoice Template
Invoice is a simple yet powerful communication tool to make sure the payment is done timely. It also helps to gain good impression from the clients, which in turn, can support the build of professional, long-term relationship between both parties.
Simple Invoice Template         
Here in this page, you'll find a set of free invoice templates to create a professional document for your business. The templates offered are suitable for sole traders and limited companies.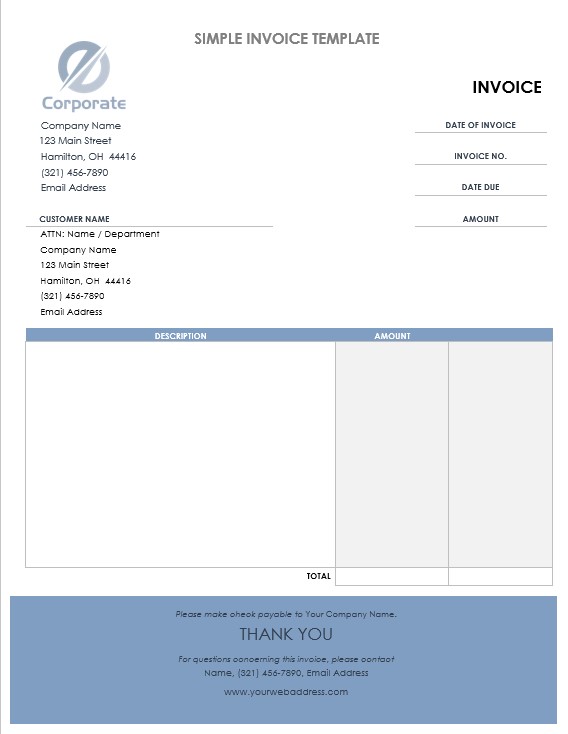 Simple Invoice Template
To get your hand on the printable invoice template, you only need to download it. The page then will generate a proper invoice with built-in format that you can use according to your requirements for free.