Family tree is a diagram that visually represents someone's lineage and traces relationships of their ancestors. It is typically displayed in a structure of a tree with the name of one individual placed at the root. Each branch represents a line, and each leaf represents an individual family members. Here, you will find printable family trees templates that also allow you to include information such as dates of birth, date, marriage, and other important details.
Creating a family tree helps you to understand your family history. The diagram makes it easy to keep track of people, events, and places that contribute to the history of your family. Use the provided free templates below to get started with your project.
How do I make a family tree chart?
You can create a family tree as plain or as complex as you desire it to be. It is up to you to decide who to include and how many generation to go. A simple family tree typically only includes the individual, their parents, their grandparents, and their great-grandparents. Meanwhile, a more complex one may include uncles and aunts, cousins, siblings, etc.
Does Microsoft Word Have A Family Tree Template?
Microsoft Word doesn't have a built-in template for family tree, but you may use and customize the printable family trees templates by using this software. Simply download the template and input your own family information details to proceed with it.
Is There A Family Tree Maker App?
Yes, there are a lot of mobile applications that enables you to create a family tree. Most of the apps have plenty of pre-formatted templates to help you visualizing your ancestry history easily. As addition, some of them also provide historical family generations archives.
5 Generation Ancestor Chart Vitals    
This standard ancestor diagram helps to create a simple five generation family tree. It allows you to note and reference some key facts about your family or ancestor members. You can add their names, their birth dates, their death dates, or marriage information.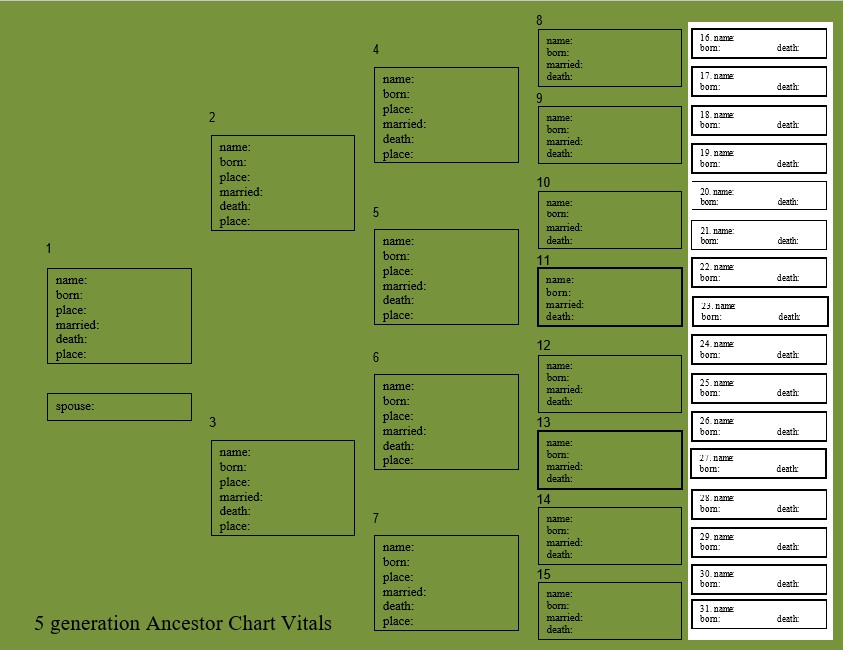 5 generation Ancestor Chart Vitals
You may use the printable family trees as a personal resource. After you have completed the template, you may save it in your bulletin or hang it on your wall.
5 Generation Family Tree        
If you are interested in starting a small genealogy research, then this five generation family tree template is a good place to start. It assists you in creating information about your family members and ancestors in an organized way.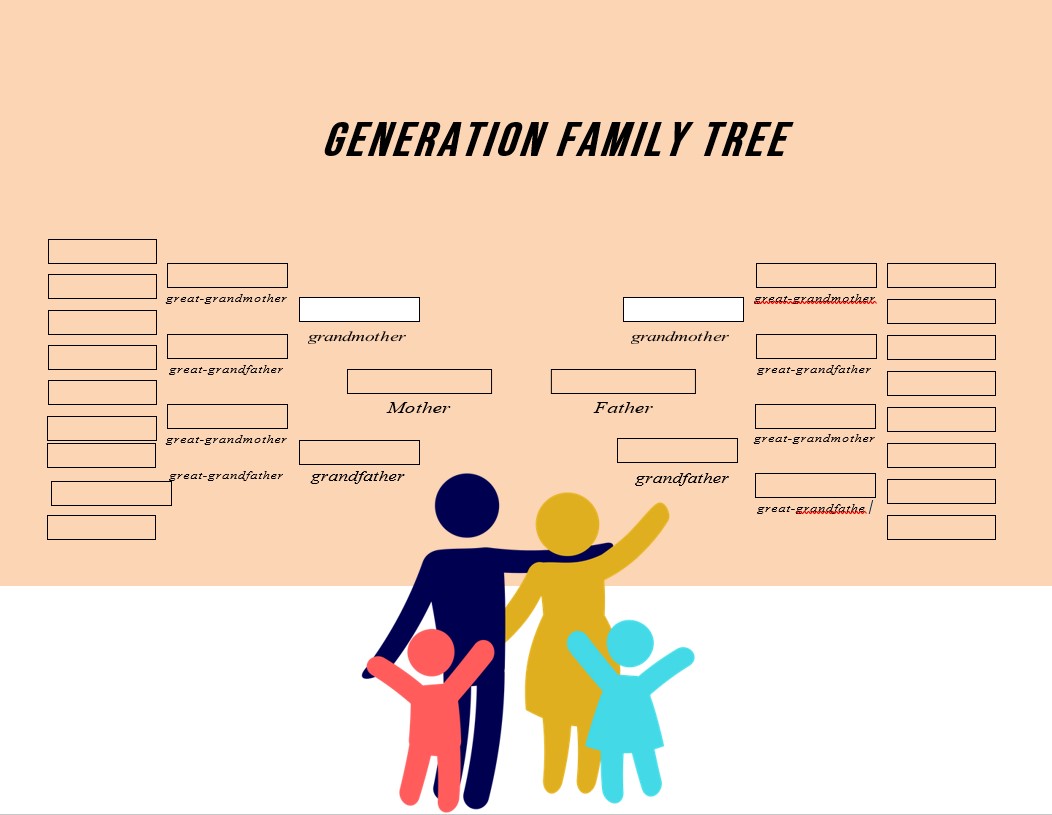 generation family tree
Five generations means that you can include you, your parents, grandparents, great-grandparents, to great-great-grandparents. Download it now for free, and print it as many as you want.
Blank Family Tree       
Looking for a way to present the history of your family in a creative way? Then you may want to consider using these printable family trees.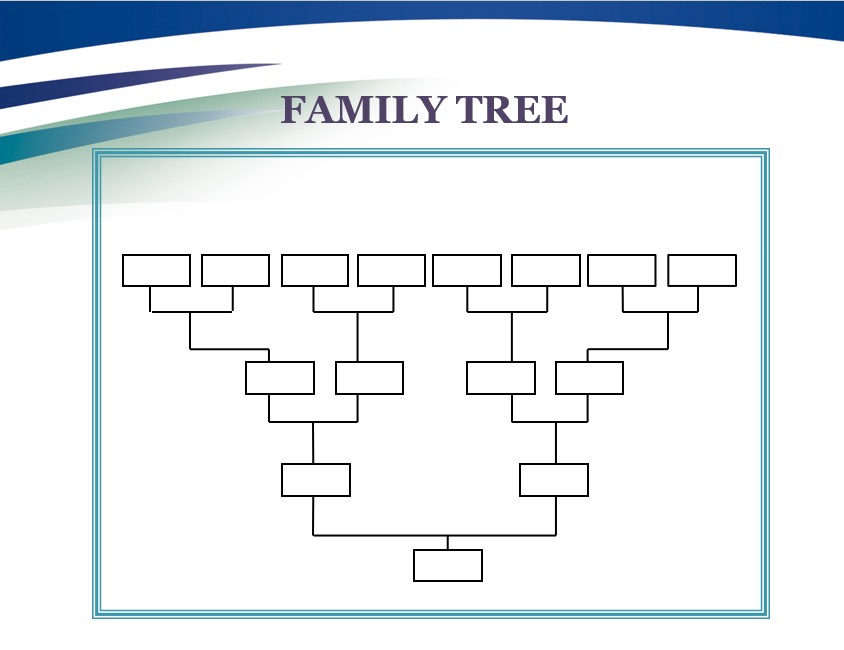 Blank Family Tree
Not only the family tree will look great to be hung on the wall, but it also makes a great fun activity to do with your kids. You may print more than one copies of this template and ask them to join you on filling out the boxes with the names of your family members.
Family Tree Chart       
A family tree is also known as ancestor chart or a pedigree chart. It is available in various sizes, from a one-page worksheet to massive 15 generations of family poster.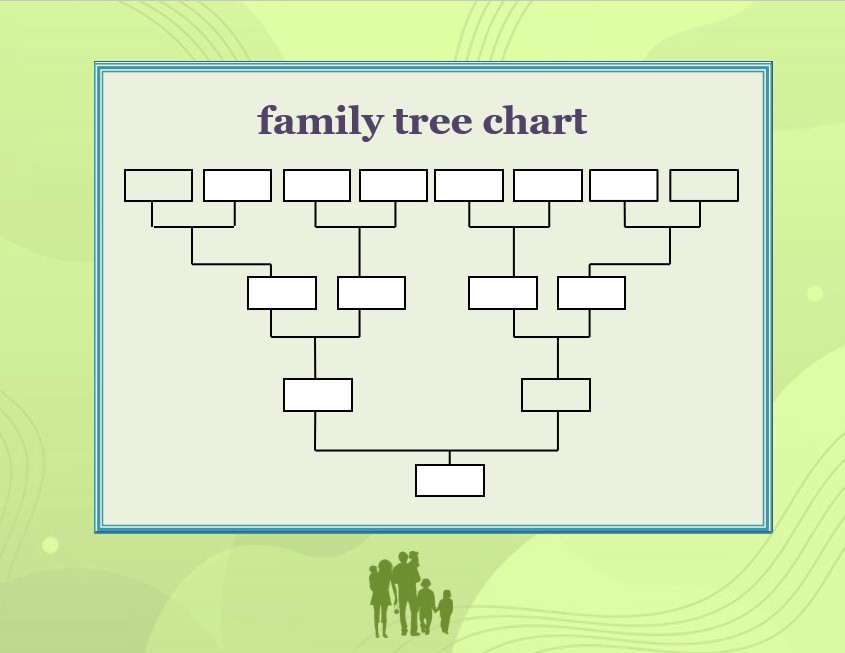 family tree chart
This useful template resource can be downloaded and saved for free. You may use it as personal use and print out the template as many as you want.
Form Family Tree Template    
A family tree is a simple tool to serve a visualization of your ancestors and your family history. This blank free template of family tree can bring you help to showcase each member you want to show in the structure.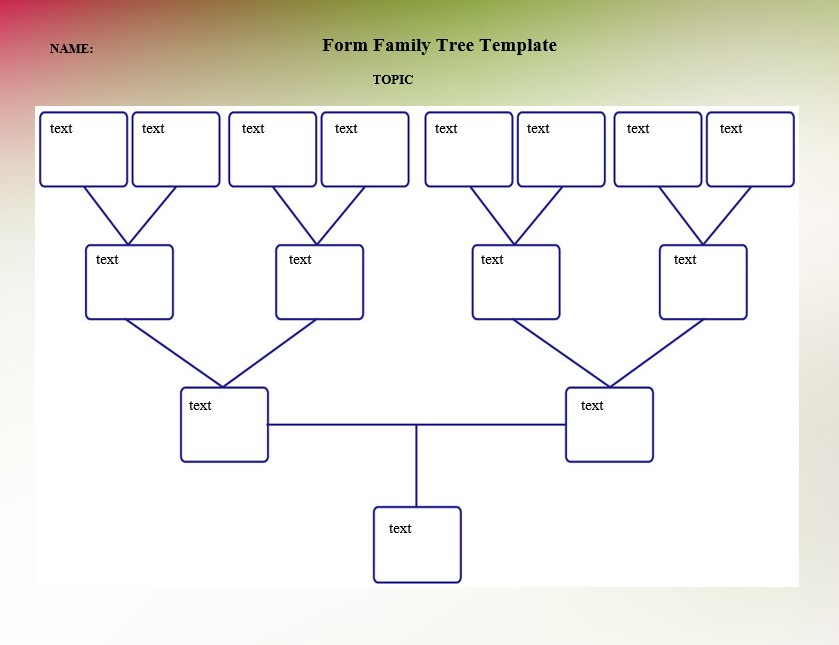 Form Family Tree Template
In this page, you will find a selection of printable family trees templates that are available for free. You may select, download, and use any template you'd like to create your own pedigree chart.
Four Generation Family Tree Form     
Are you a beginner in learning about family history? No need to worry as this four generation family tree template provides you with simple and easy to use structure that include you to your great-grandparents' names in the sheet.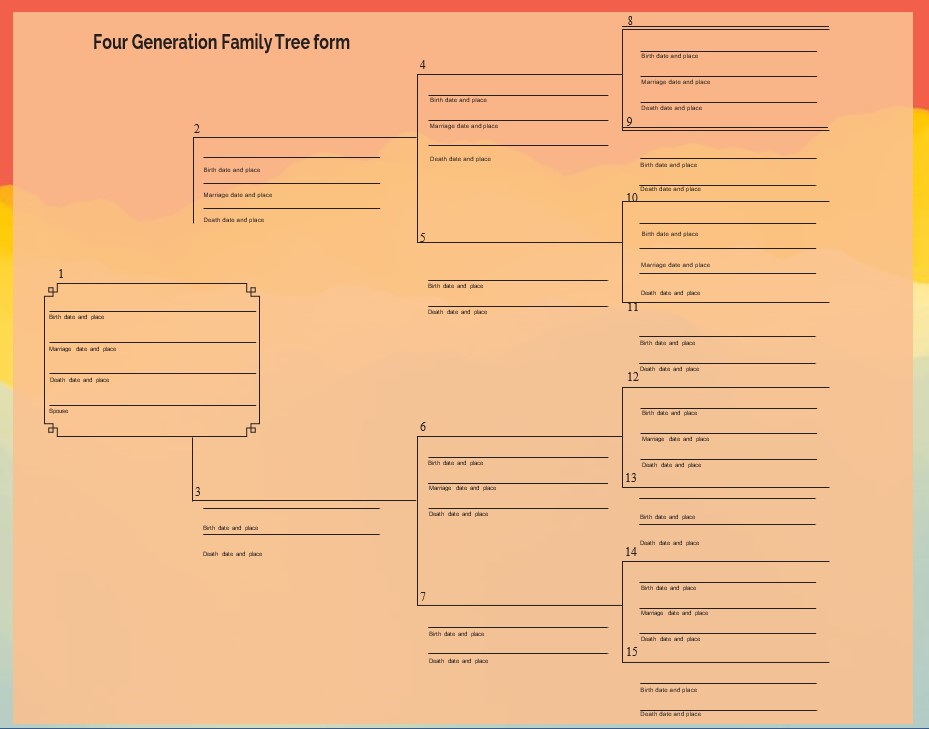 Four Generation Family Tree form
This downloadable, highly convenient template is provided for free. So, download it now and print it out, and then start to create your own version of family history diagram.
Six Generation Family Tree Form       
It can be an exciting project to research about your family history. To start the project in an easy way, try to use this free downloadable family tree template.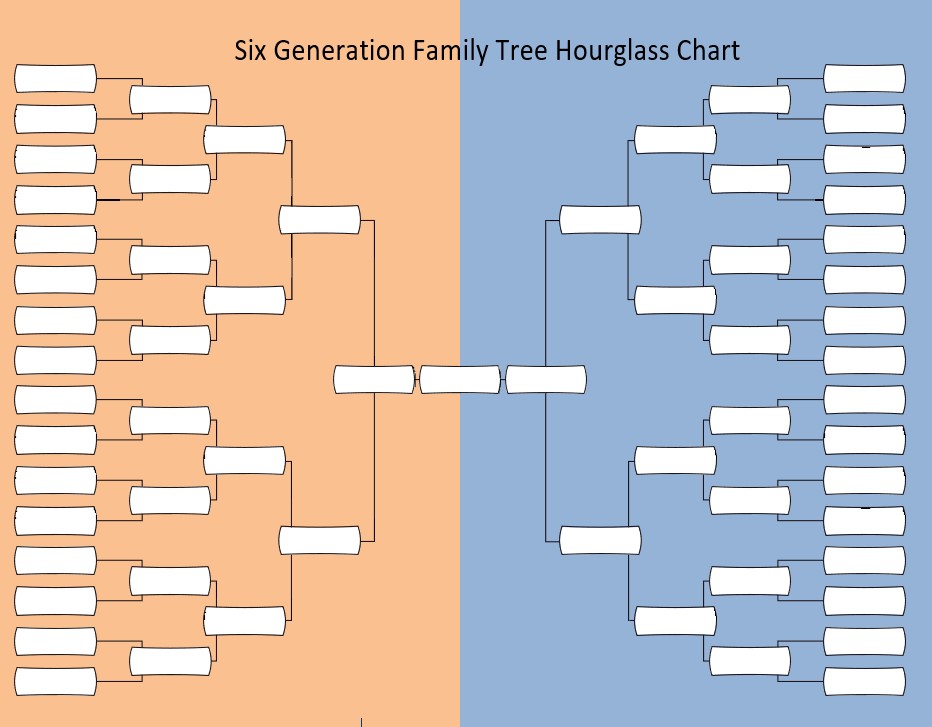 Six Generation Family Tree Form
You might be already familiar with two or three generations of your family. However, your family history goes way back than you know now. This template helps to trace your ancestors up to six generations, and it is suitable to be used for both kids and adults.
Small Family Tree       
A pedigree chart is a diagram that document about someone's genealogical history and list off their ancestry along with the family members' relationships to each other. There are a few benefits that make it an interesting project to a lot of people, such as bonding with their relatives, building their core identity, and many more.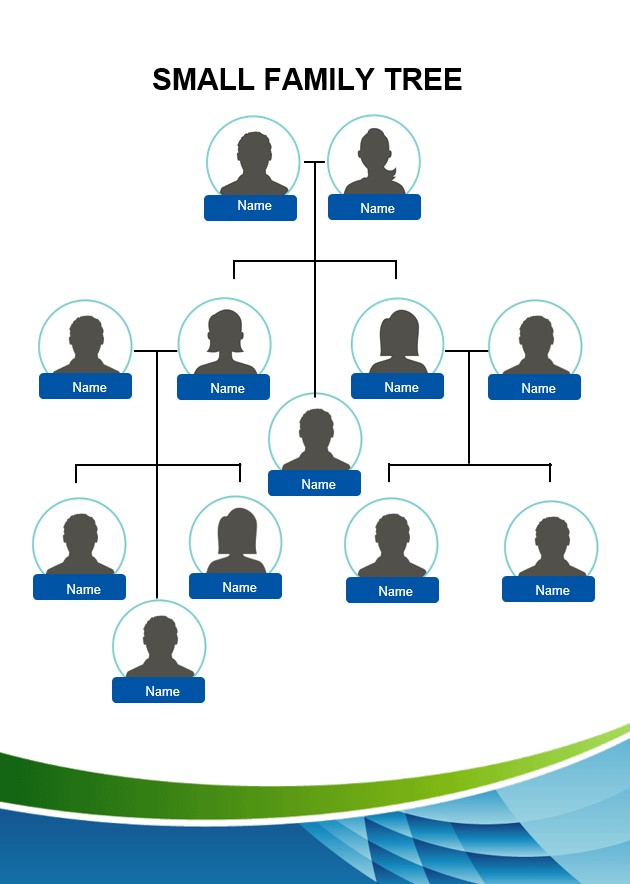 Small Family Tree
Creating a family tree is actually not so complicated. Use the printable family trees template to try creating one at home for free.
Three Generation Family Tree Chart   
This three generation genealogical chart can show the ancestry linage of your grandparents, your parents, and you. It is available in a reasonably sized sheet that can comfortably fits on your file, your wall, etc.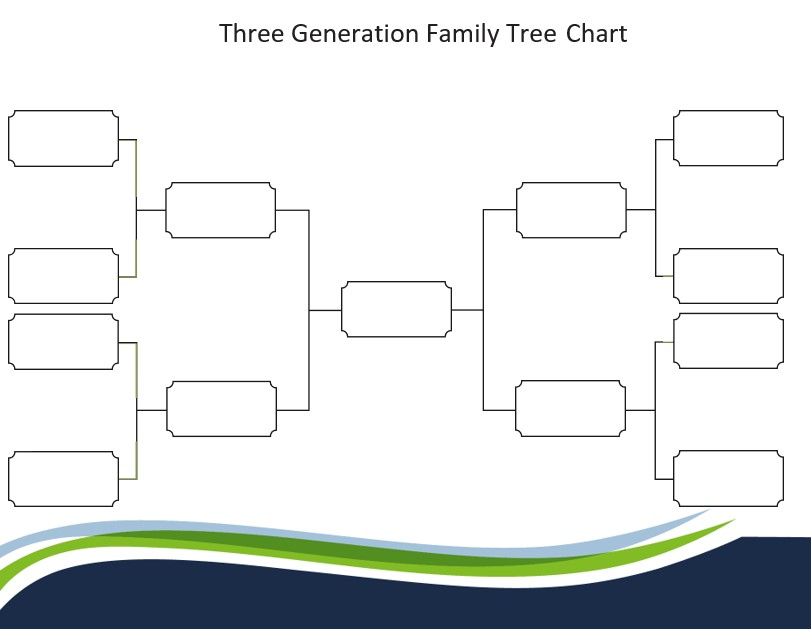 Three Generation Family Tree Chart
This simple three-generation chart assists you in offering information about your family history without being overwhelming. It makes a fun and great tool for your little project.
Tree Generation Family Chart
A family tree structure can help to show an individual's family history, such as their past through many generations. This diagram typically has labels to show each name of the family members and lines that display their relationship.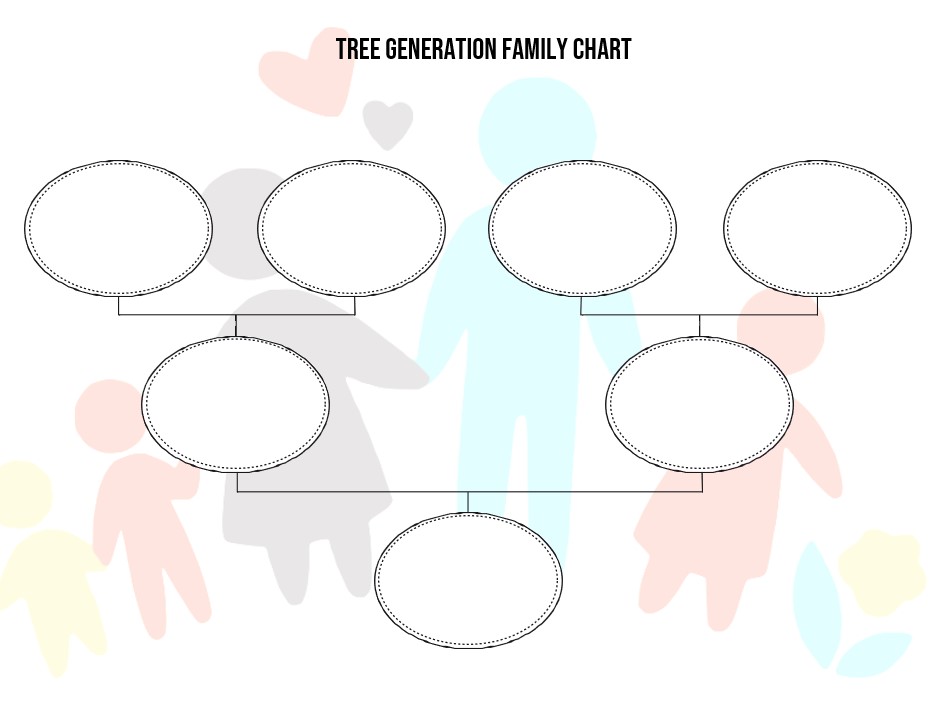 Tree Generation Family Chart
It doesn't matter if it is your first or your nth times to create a pedigree chart. These printable family trees templates will be a great help to keep track of your ancestry.