A staffing coordinator is a person who oversees the needs of all staffing as well as the company's operations. He/she also liaises with recruiting agencies to fulfill vacancies on time. In relation to the staffing coordinator job description, he/she also supports candidate screening & hiring processes.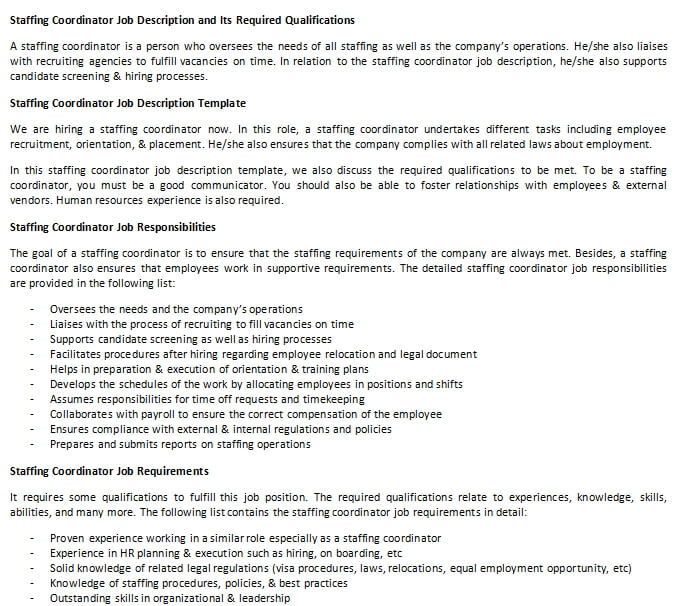 Staffing Coordinator Job Description Template
We are hiring a staffing coordinator now. In this role, a staffing coordinator undertakes different tasks including employee recruitment, orientation, & placement. He/she also ensures that the company complies with all related laws about employment.
In this staffing coordinator job description template, we also discuss the required qualifications to be met. To be a staffing coordinator, you must be a good communicator. You should also be able to foster relationships with employees & external vendors. Human resources experience is also required.
Staffing Coordinator Job Responsibilities
The goal of a staffing coordinator is to ensure that the staffing requirements of the company are always met. Besides, a staffing coordinator also ensures that employees work in supportive requirements. The detailed staffing coordinator job responsibilities are provided in the following list:
Oversees the needs and the company's operations
Liaises with the process of recruiting to fill vacancies on time
Supports candidate screening as well as hiring processes
Facilitates procedures after hiring regarding employee relocation and legal document
Helps in preparation & execution of orientation & training plans
Develops the schedules of the work by allocating employees in positions and shifts
Assumes responsibilities for time off requests and timekeeping
Collaborates with payroll to ensure the correct compensation of the employee
Ensures compliance with external & internal regulations and policies
Prepares and submits reports on staffing operations
Staffing Coordinator Job Requirements
It requires some qualifications to fulfill this job position. The required qualifications relate to experiences, knowledge, skills, abilities, and many more. The following list contains the staffing coordinator job requirements in detail:
Proven experience working in a similar role especially as a staffing coordinator
Experience in HR planning & execution such as hiring, on boarding, etc
Solid knowledge of related legal regulations (visa procedures, laws, relocations, equal employment opportunity, etc)
Knowledge of staffing procedures, policies, & best practices
Outstanding skills in organizational & leadership
Excellent skills in interpersonal & communication
Reliable with respect to confidentiality
Bachelor's degree in a related field, especially business administration or human resources
Valid certification like ASA credentials can be a plus
Staffing Coordinator Job Description FAQs
Can I edit the posted job description template here?
Of course, you can. You are allowed to customize the staffing coordinator job description editable template posted here. So, just feel free to tailor it to your needs because you may give different duties or require different qualifications.
Do you have interview questions for a staffing coordinator?
Besides the staffing coordinator job description, what is on this web also includes some question samples you can use for interviewing the candidates of a staffing coordinator.