If you are a new puppy parent, you should know that your puppy requires to get 'shot'—we are talking about vaccinations, though. To keep the vaccination record clean and organized, you can have printable puppy shot records and note your puppy shot record there. Thank goodness, it can be obtained for free. It doesn't even require you hours of searching as you'll find it easily. Just as we show in this article below.
Do Puppies Have Shot Records?
Yes, they do! If you are purchasing a dog from a breeder, it is a typical occurrence that you will get a vaccination card. You can as well get the shot records from your dog's vet after it completes vaccination. If you wish to have your own copy, then you can use a printable shot record which you can obtain here.
How Can I Get My Puppy's Shot Records?
To get your puppy's shot records, there are two basic methods. The first is from your breeder, especially if you purchase the dog from there. If you have the puppy from the first day it was born, then you can get the puppy's shot records from its vet. It is advised to have your vet keep it until your puppy completes the recommended vaccination to avoid missing records.
How Long Do Vets Keep Records?
Every state has its own regulation regarding how many years a record should be kept. For example, Arkansas has 3 years for its report-keeping number of years, while in Connecticut; a vet can save the record for the following 7 years after the last vet visit.
To make sure about this issue, you can ask your vet. This is also why it's so important to keep the copy record of puppy shot with printable puppy shot records.
Blank Puppy Health Record
Wondering what kind of tables, you are having in a blank puppy health record? When it comes to a health record, you will have these in the card:
Your dog's identity and the owner's name. Its date of birth, the breed, and the color should also exist in the record. The owner's address should also be recorded as well.
The doctor's name as well as the clinic address.
The date of your dog's visit as well as the dog's reason of visit—be it for a regular visit, vaccination, or maybe for checkup.
Your dog's vaccination status/record.
Allergies record, be it allergen which comes from food, drug, or a certain environment.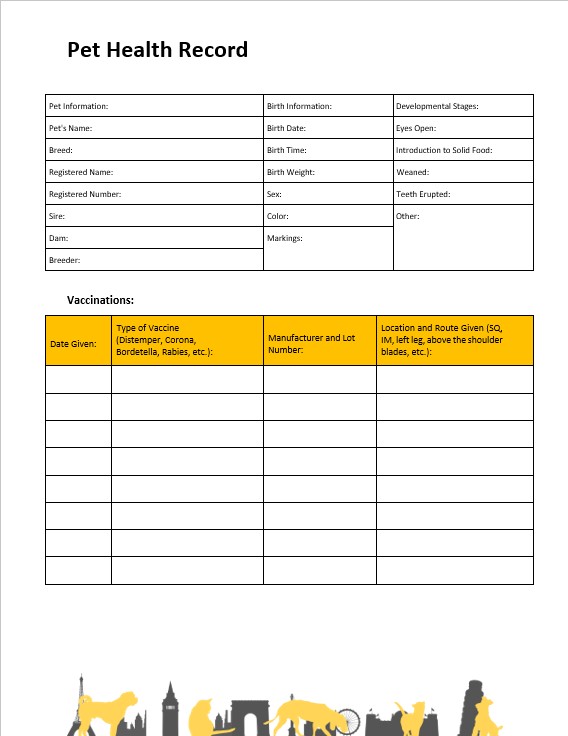 Blank Puppy health record
Editable Puppy Shot Record
When it comes to an editable puppy shot record, you should know that the puppy shot is basically the same as the vaccination record which is mentioned in the health record. The tables will include the vaccination name, date of administration, as well as the vet's name.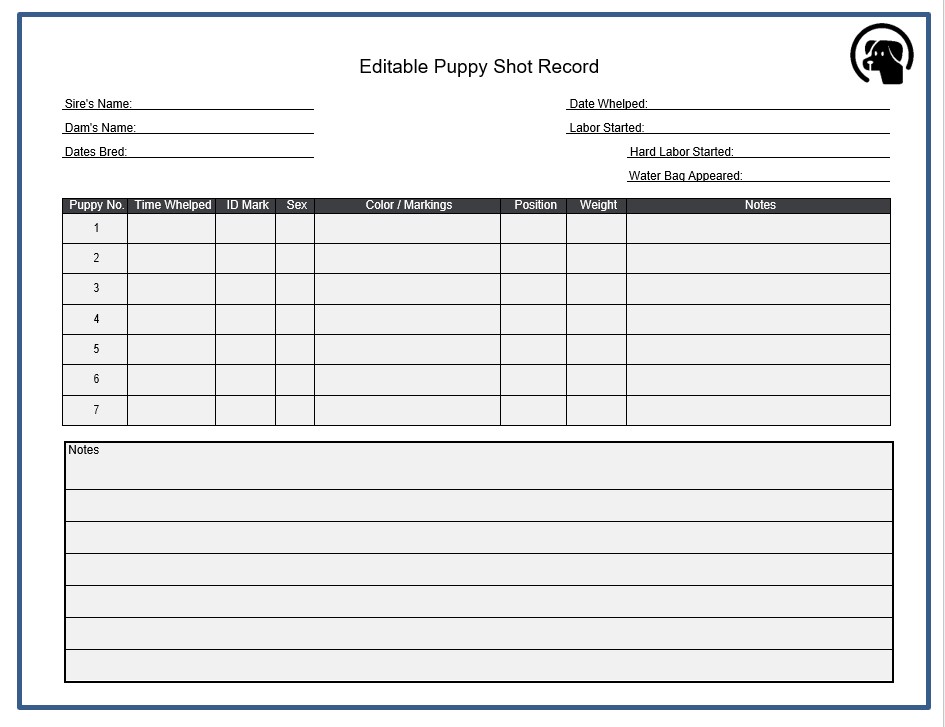 Editable Puppy Shot Record
Example Puppy Shot Records
If your puppy has just received a shot, you can as well write that down on your printable puppy shot records. That said, even if you switched from one vet to another, you can still track the vaccination status of your puppy.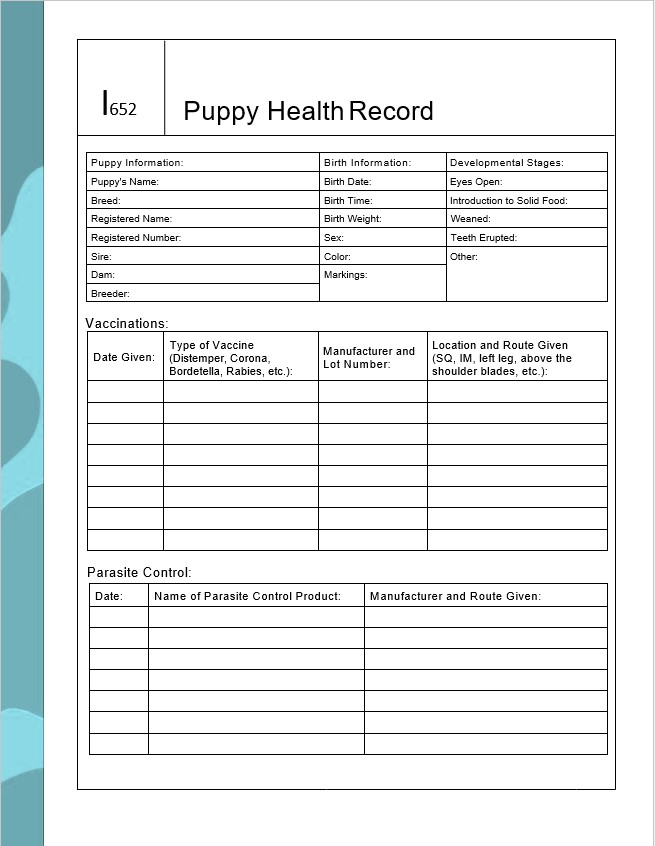 Example puppy shot records
The copy of your puppy's vaccination record is also important to have since not all vets keep the record for a long time. Let's say, you are living in Arkansas, your vet will only keep the record of your dog's visit up to 3 years after the last visit.
That said, the vaccination record, as well as the health record will be dismissed after you surpassed three years. Hence, making a copy of the vaccination record becomes important.
Pet Health Record Sheet
Be it turtle, bird, cat, or a dog, you can get a pet health record sheet to track your pet's health status. In addition, you can also take note of when to visit your vet for a regular visit. By doing so, you will not skip any regular checkup so your pet's health will be on track. That's when the printable puppy shot records come into use.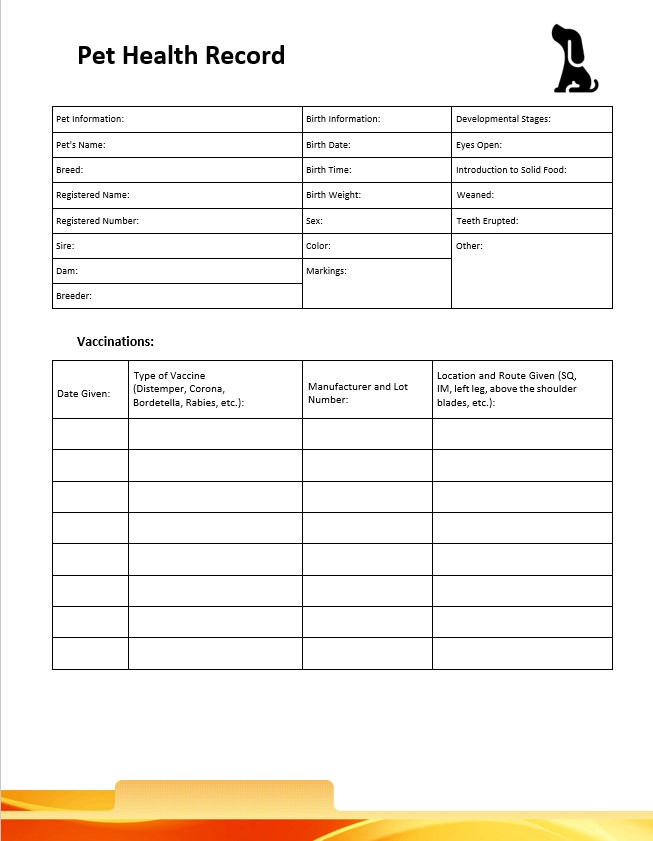 Pet health record sheet
Printable Puppy Shot Records
In case you need a copy of your puppy's vaccination status, you can always ask that from your vet. Your vet will be glad to offer that to you as well. However, to avoid bad things such as missing vaccination record, you are recommended to own a copy of puppy shot records.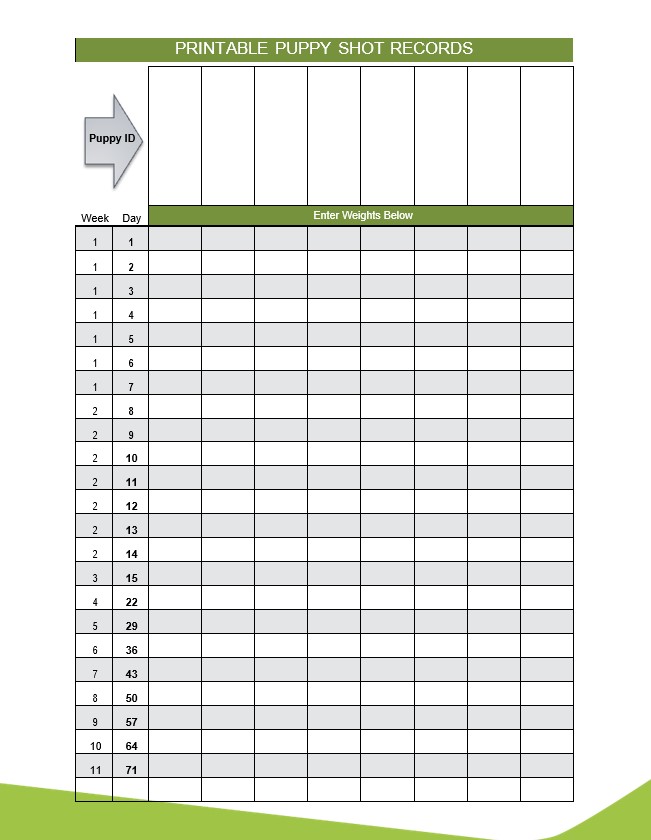 printable puppy shot records
Making a copy of the puppy's shot record doesn't mean you will have to build difficult tables to copy what the shot records your vet has. Downloading a printable puppy shot records can easily be done—one even cost zero bucks, making it possible to you to make it easily.
Puppy Birth Record
What does a birth record mean? To be simply said, birth record is just the same with a birth certificate. This document is made simply by filling the blanks consisting of name of the puppy, the date when it was born, as well as the breed it is.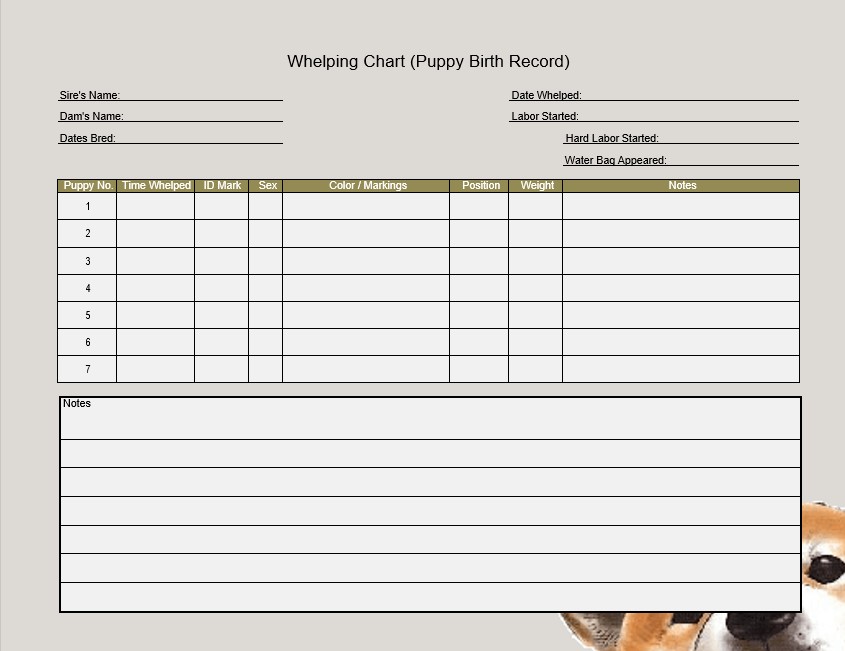 Puppy Birth Record
Puppy Health Records
The puppy health record is a more comprehensive document that your vet provides when you bring your puppy to their clinic. This comes as a document to track your dog's health status on every regular visit. That said, even if you switch vets, the vet can still track what the assessment result is.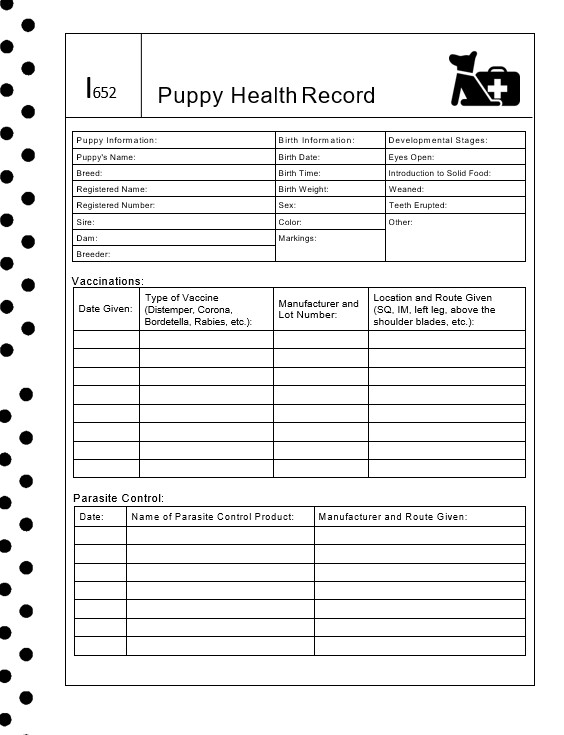 puppy Health records
Puppy Shot Records Template
You don't need hours to make tables for shot records if you got this template. All you need to do is to download the file. Then, launch the file using any compatible program.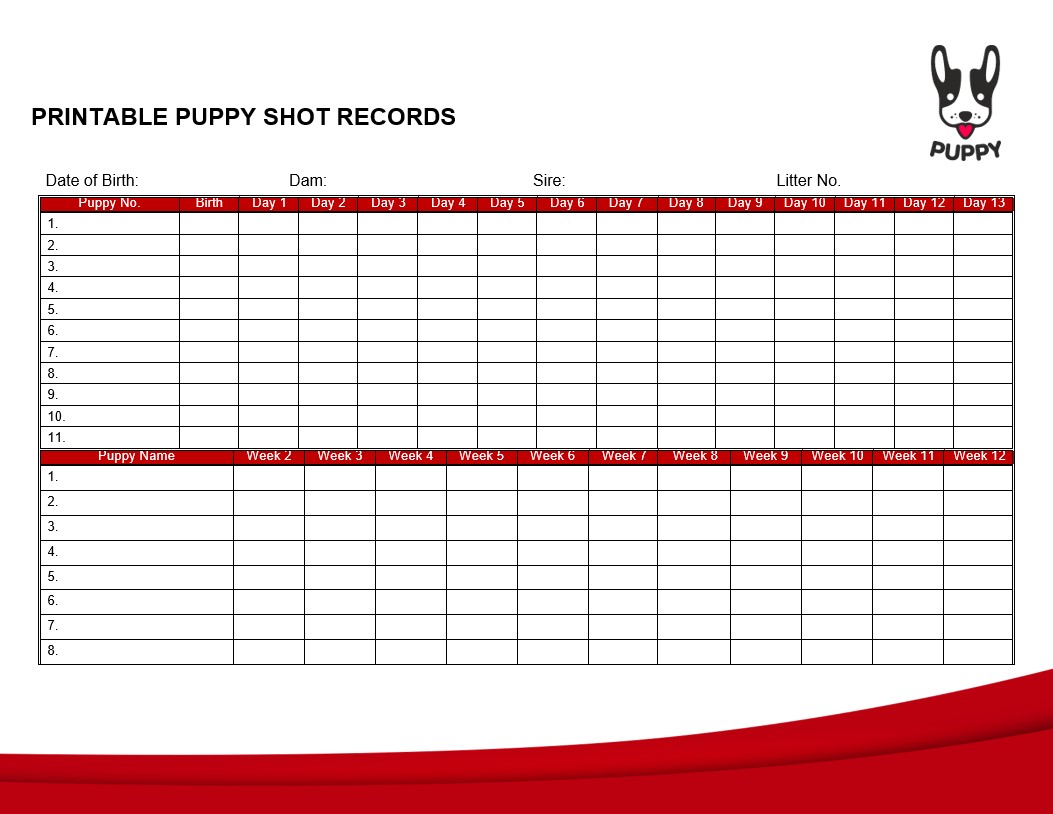 puppy shot records Template
For example, if your document has a Word-compliant file extension, you should only use Word to open the file. Otherwise, the document cannot be launched or edited.
Table Puppy Shot Records
Once you open the printable puppy shot records, you can get the document edited using the features available. You can save the edited version as is. Or, if you need it to be printed, you can do it as well.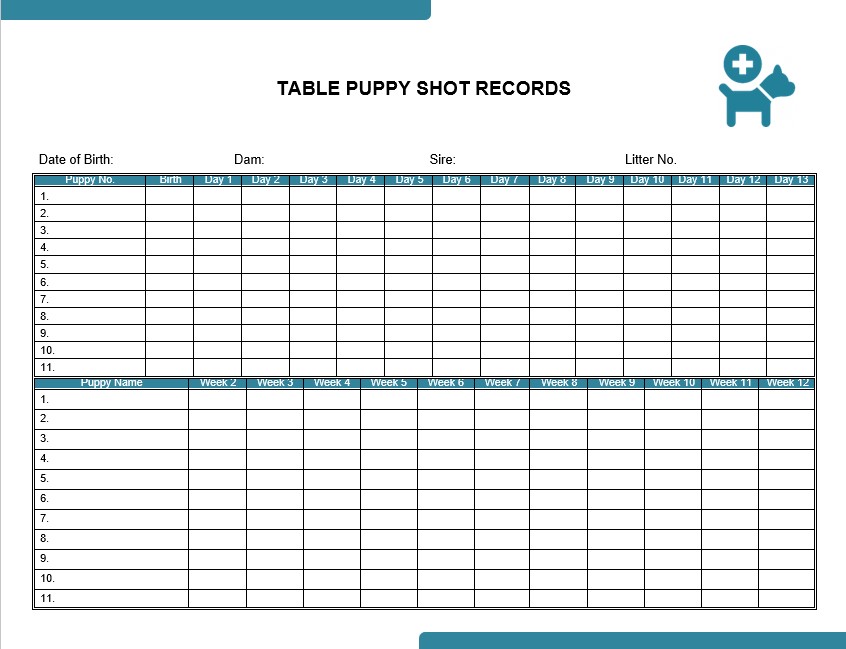 Table puppy shot records
Template Puppy Shot Record
Even if you keep the file as a template, that would be OK to do so. If you have more than one dog, that would easier for you to take note of your puppies' vaccination with different file.
Template puppy shot record
With all its benefits, you should never hesitate to download printable puppy shot records. Besides your vaccination record will be easily recorded, you will also never lose track when to bring your dog for another shot to the vet.