You are most likely already familiar with thermometer device that incorporate mercury to measure and inform you about the temperature. This concept is used in a thermometer goal. The printable thermometer goal chart is a tool that allows someone to create a visualization of a project's progress to reach the goal that has been set up in advance.
Using a thermometer goal allows you to provide performance indicators. The following templates in this page are available to be downloaded and saved for free then you can print it out and hung it somewhere easily visible.
What Is A Goal Thermometer?
A thermometer goal is a thermometer-shaped chart that helps to monitor or track a certain goal, most commonly the financial one. It can be used by individuals, organizations, or business. Some examples of goals are the fundraising goals, sale goals, weight loss goals, property deposits goals, and so many more.
How Do You Use A Goal Setting Thermometer?
In order to use the printable thermometer goal chart, you have to set your actual goal first then determine well-defined measures. Track the progress regularly to see how much closer you are to the end target.
How Do I Trace Fundraising Donations?
Thermometer chart is a commonly used tool to track the progress of fundraising project. Generally, the goal of fundraising is written on the top of the thermometer, and the donation threshold is represented by the lines. As the donation is increasing, the bar will be risen through the threshold as accordingly.
How Do You Make A Fundraising Goal Thermometer?
The thermometer goal chart is a perfect template to monitor the progress of fundraising results. It allows the organizer to inform the current donation value to the donators and the project supporters to let them know the estimation of time needed to reach the goal.
Basic Thermometer Goals Printable   
This standard printable template of thermometer goal lets you provide a graphical presentation of the progress of certain projects. It is available to be downloaded for free, so you don't have to put out any cost.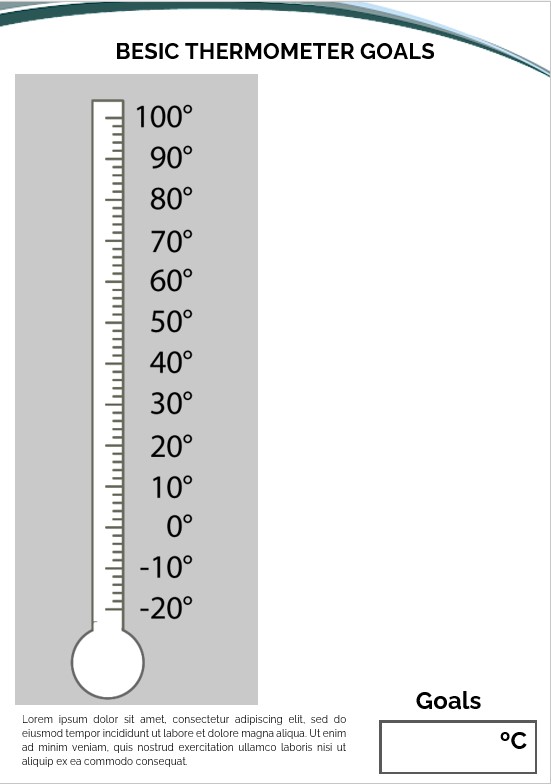 Besic Thermometer Goals Printable
Using this printable thermometer goal chart is beneficial because it can serve as motivation to everyone involved in the project. It allows them to know about the status of different phases of the project. Therefore, it is safe to say that this tool is effective to smoothen up the entire process.
Blank Thermometer Template 
An excellent replacement to bullet goal chart is a thermometer chart. Both offer you an instrument of progress measurement regarding a goal.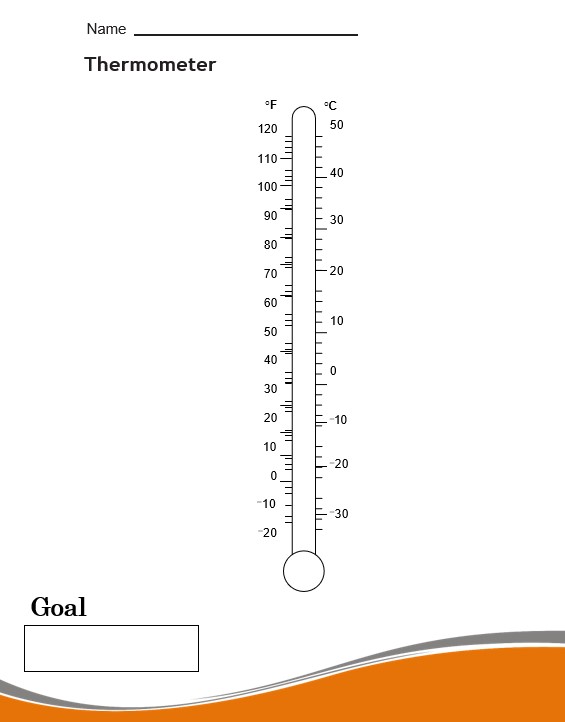 blank thermometer template
This free template provides high-quality and simple to understand image. It can be used to present visual representation of a project's goals and progresses, in order to reach targets. Due to its simplicity, this template is versatile enough to be used by anyone and for any type of event, such as by non-profit organizations or by a business company.
Feelings Thermometer Template        
Younger kids often find it hard to verbalize their feelings, so they need help in communicating how they currently feel. This template of feelings thermometer is created and designed for that exact purpose.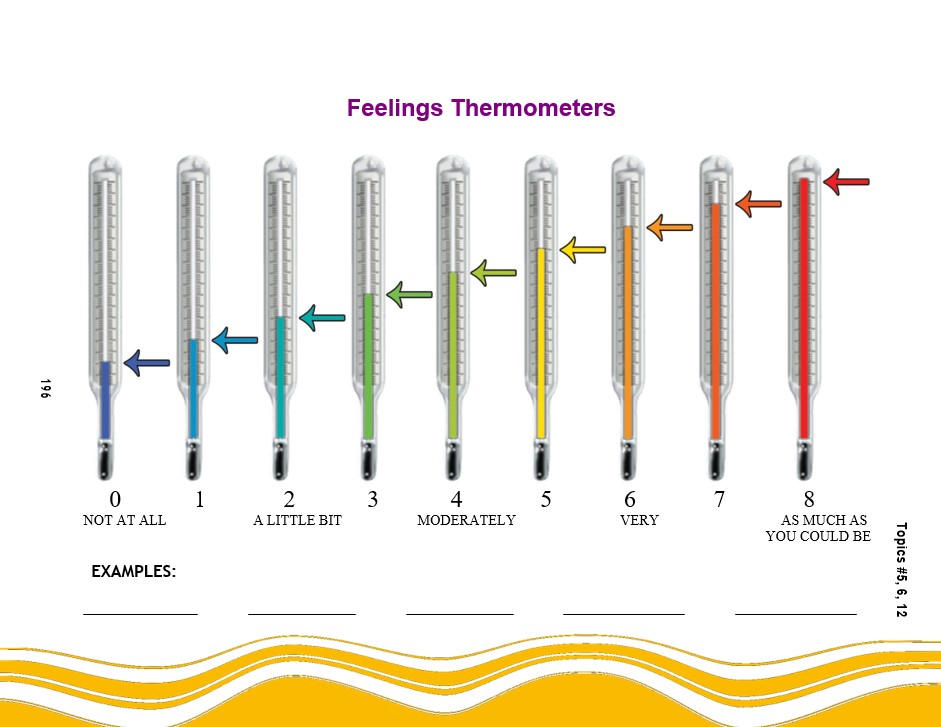 feelings thermometer template
By using the thermometer, the kids can be taught to recognize, define, and process their feelings. These steps are necessary so they are able to react properly. This type of template is common to be found in counseling places, but it also works to be used in classroom or in home.
Free Thermometer Template Format  
There is hardly any better motivating tool for team-members than this fun printable thermometer goal chart. The ability to see the accomplishments and goals visually can build the excitement up and make everyone involved feel eager to achieve the target.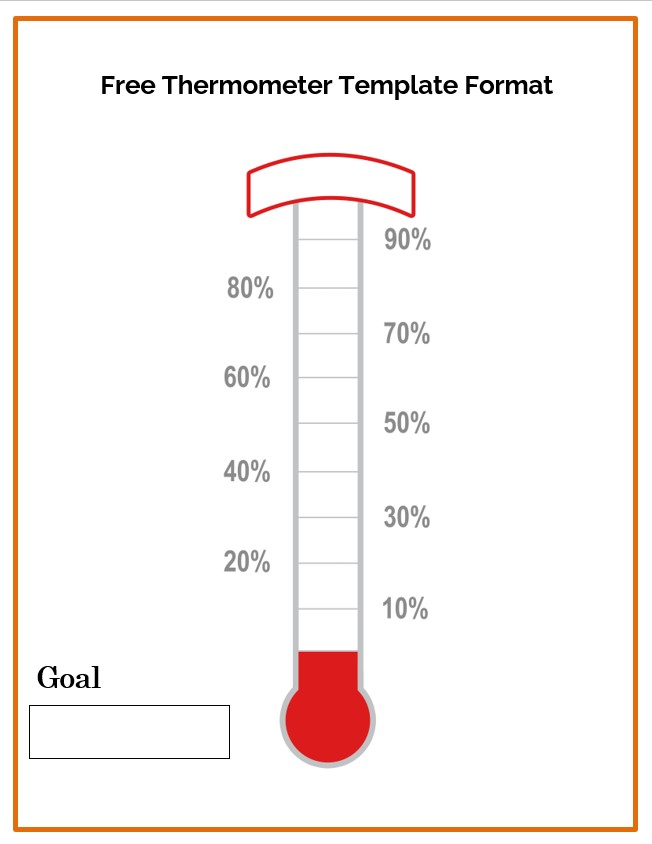 free thermometer template format
This simple thermometer chart is suitable for various purposes. It can be used for personal, school, professional, or charity uses.
Fundraising Thermometer Template   
Fundraising thermometer is chart that assists campaigners to monitor and inform the gained funds. It also helps to motivate the team of fundraising project, the volunteers, and the donors.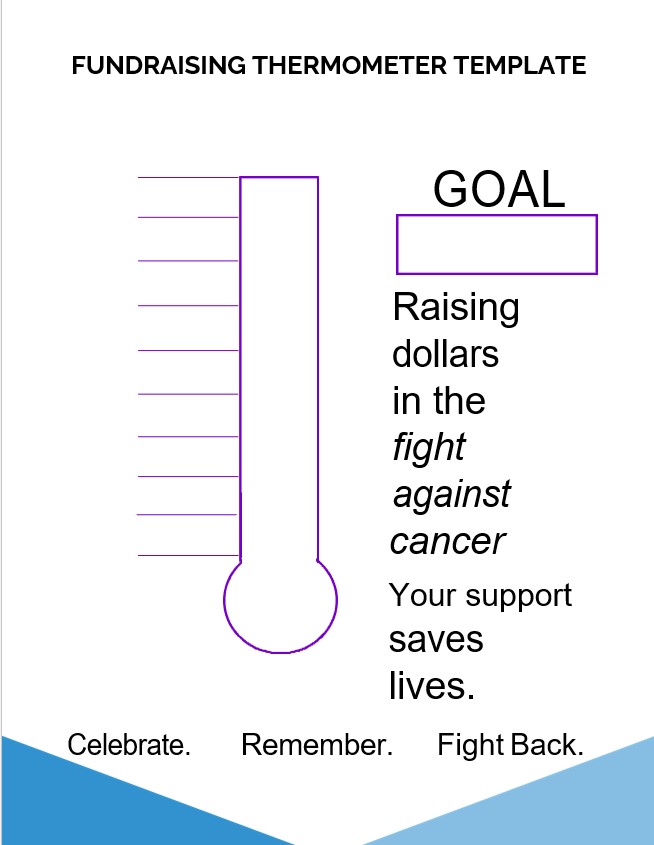 fundraising thermometer template
The reason why the template is helpful is because it provides clear visualization of the target and the progress. Everyone can see how their contribution helps to achieve the goal.
Goal Thermometer Template  
You may use this printable thermometer goal chart if you want to track your target along with the achievement made in a specific period of time. The chart allows you to create comparison of your target value and the actual value.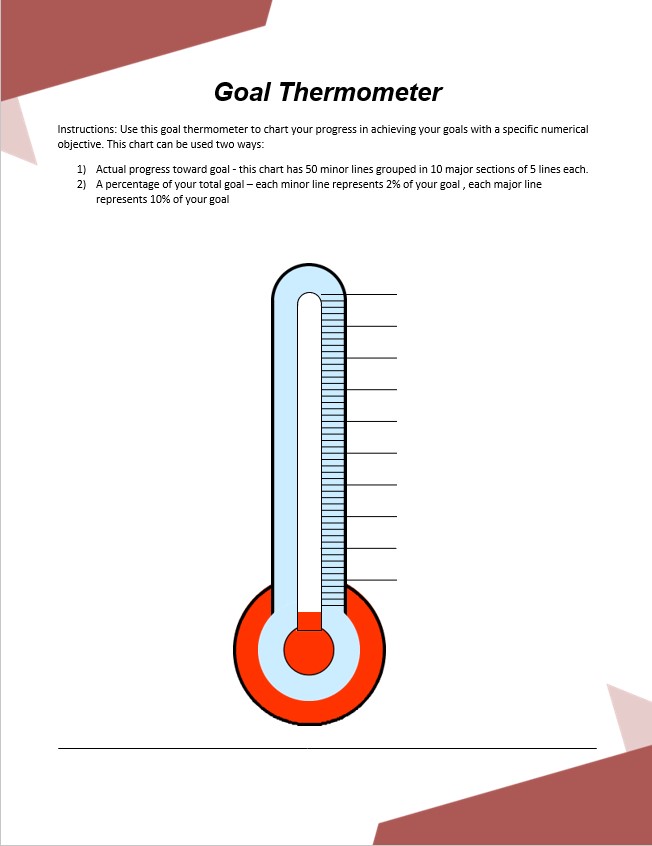 goal thermometer template
There are different ways you can use the template. One example is to use it to analyze the progress of targeted sales performance by a business.
Sample Goal Thermometer Template 
The purpose of using goal thermometer template is to display the progress of achieving a goal. The achievement is typically reflected by percentage.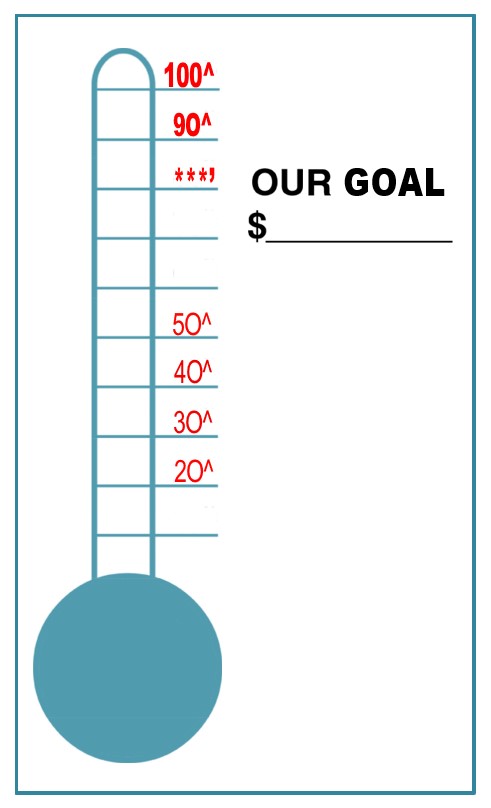 sample goal thermometer template
Regardless of your goal, there's a chance that this printable thermometer goal chart will work for you. You may use it for school fundraising, saving money, or even weight loss journey.
Thermometer Goals Printable 
Monitoring your progress towards a goal is just as necessary as having the goal itself. People are more likely to deviate from their track when they don't have a tool to gauge their performance.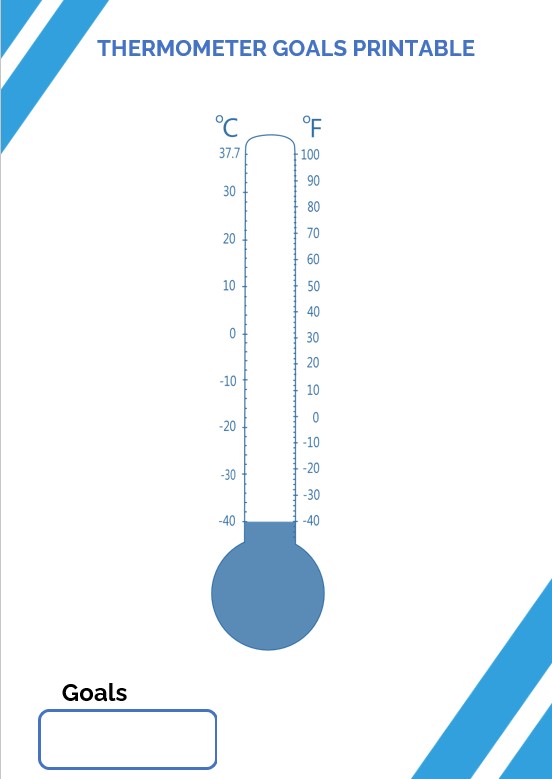 Thermometer Goals Printable
Whether it is used for individual or common projects, this thermometer project can be encouragement to reach target in timely manner. If the project involves more than one person, it helps to create better cohesion in order to complete the project.
Thermometer Worksheet Template for Kids   
A thermometer goal template for kids can inspire them to accomplish specific target, like learning skill by a set date or finishing a task by the end of arranged time. It will motivate them, plus, it can also be used as cute room decoration.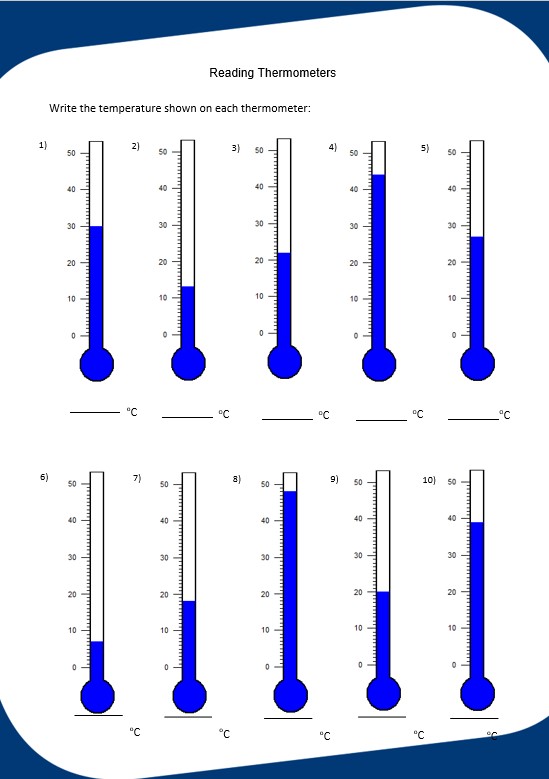 thermometer worksheet template for kids
United Way Thermometer Template    
United Way is one of the largest non-profit in the U.S, with more than 1,800 local affiliates. This organization is known to use the iconic thermometer chart to display progress of certain fundraising projects.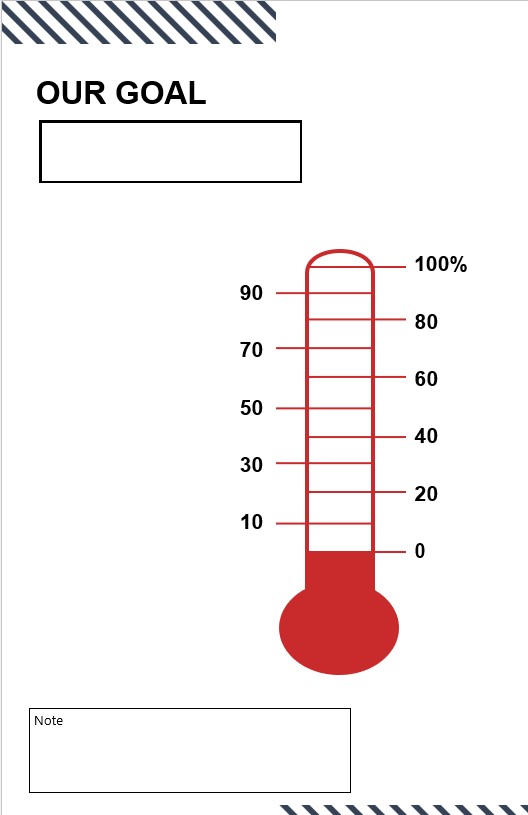 united way thermometer template
Your team or organization can use this printable thermometer goal chart in the same way too. The template can be downloaded for free and you can modify the form according to your needs.