How to Make an Impressive Wedding Invitation Ticket
The wait is finally over! One of the greatest moments in your life is coming as you have finally found the right person to spend your life with. Well, pretty sure you want to make the celebration unforgettable. You might even have listed those loved ones that you hope to be witnessing your happy wedding day. Therefore, you should send them a wedding invitation. Preparing a quirky, aesthetic, and interesting wedding invitation ticket may put you in hassle, but do not worry. Here are some insights for you.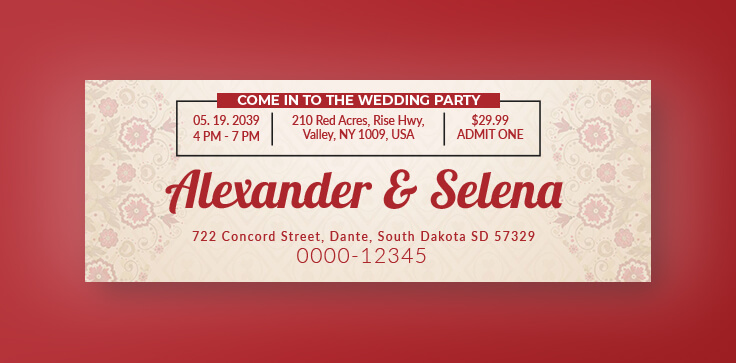 Wedding Invitation Ticket Style
Nowadays, ideas are abundant. The same thing goes to invitation designs. Therefore, to avoid confusion, you can start by choosing a theme for the wedding itself. That way, you will help yourself eliminating the abundant possibilities. It automatically refrains yourself from the choosing work you might do if you didn't pick a theme. From the theme, you get a pack of insights to design the wedding invitation ticket.
Elegant design
While elegance is subjective, most of those designs offer simplicity and powerfulness through its colors and ornaments. If you dream of a formal wedding with a tuxedo and nightgown, this can be your best pick. Sometimes, people will portray how the celebration will be through the invitation.
Casual design
For those who are up to outdoor weddings, relaxed atmosphere with familiar children laughter and joy enlightening the nuance, casual invitation design will hint the invitees to share the joy in a simpler way. Of course, the color choice and ornaments will be different from the former design.
Wedding Invitation Ticket PSD Design
Colors play a big role in the visual. Cream, white, or ivory combined with black and golden lining are commonly known as the classic wedding colors. Once again, you should link your color choice to the theme. You can opt to use a monochromatic color to boost up the elegance of the wedding invitation ticket. You can also play the color hues and pick out several colors to tint the invitation. Pastel tones, such as soft pink, beige, light blue, and mint are other alternatives to give a 'sweetly romantic' look.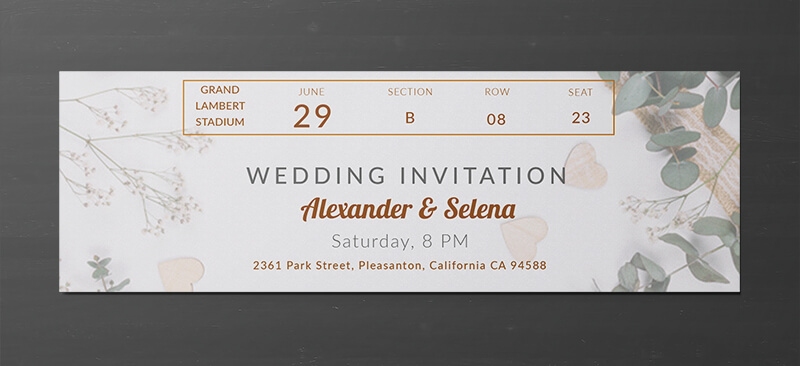 Things to Remember When Making Wedding Invitation Ticket
Readability
Good visuals might bring good feelings, but make sure people are able to obtain the information from your invitation. Choose the font wisely, and don't forget to adjust the color. Make it contrast with the background.
Ornaments
Shapes, floral decorations, and ribbons are beautiful when they are used moderately in an invitation ticket. Putting too many ornaments will not only make your invitation unpleasant to look at, but it also brings less readability since the ornaments take over the attention.
Wedding Invitation Ticket PSD Template
You can find various designs of wedding invitation ticket in PSD format. Making the perfect invitation will take you lesser time and effort and most importantly, less hassle to tackle. Use a specific application that should be installed first. All you need to do is customizing the content. It sounds easy and convenient, doesn't it?