A pediatric oncologist can also be called a pediatric hematologist. He/she are a physician specialized in pediatrics and received further training in hematology and oncology. He/she treats infants, children, and adolescent patients with blood disorders or cancer. Let's discuss the pediatric oncologist job description!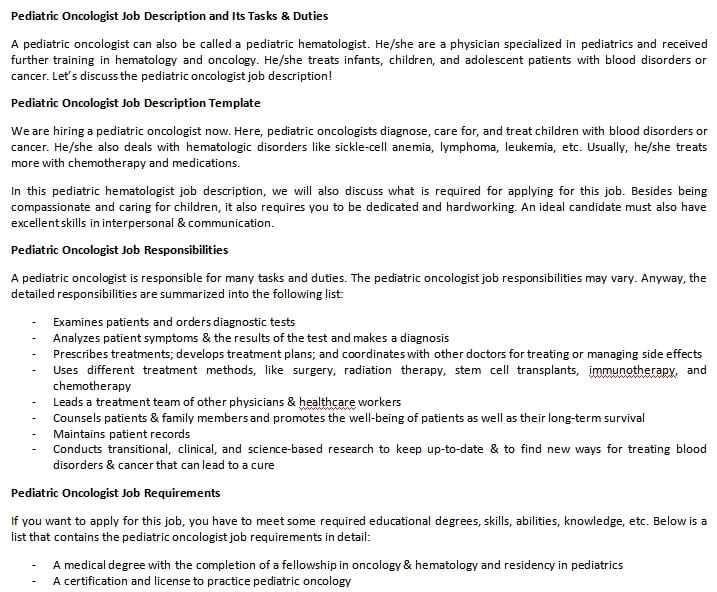 Pediatric Oncologist Job Description Template
We are hiring a pediatric oncologist now. Here, pediatric oncologists diagnose, care for, and treat children with blood disorders or cancer. He/she also deals with hematologic disorders like sickle-cell anemia, lymphoma, leukemia, etc. Usually, he/she treats more with chemotherapy and medications.
In this pediatric hematologist job description, we will also discuss what is required for applying for this job. Besides being compassionate and caring for children, it also requires you to be dedicated and hardworking. An ideal candidate must also have excellent skills in interpersonal & communication.
Pediatric Oncologist Job Responsibilities
A pediatric oncologist is responsible for many tasks and duties. The pediatric oncologist job responsibilities may vary. Anyway, the detailed responsibilities are summarized into the following list:
Examines patients and orders diagnostic tests
Analyzes patient symptoms & the results of the test and makes a diagnosis
Prescribes treatments; develops treatment plans; and coordinates with other doctors for treating or managing side effects
Uses different treatment methods, like surgery, radiation therapy, stem cell transplants, immunotherapy, and chemotherapy
Leads a treatment team of other physicians & healthcare workers
Counsels patients & family members and promotes the well-being of patients as well as their long-term survival
Maintains patient records
Conducts transitional, clinical, and science-based research to keep up-to-date & to find new ways for treating blood disorders & cancer that can lead to a cure
Pediatric Oncologist Job Requirements
If you want to apply for this job, you have to meet some required educational degrees, skills, abilities, knowledge, etc. Below is a list that contains the pediatric oncologist job requirements in detail:
A medical degree with the completion of a fellowship in oncology & hematology and residency in pediatrics
A certification and license to practice pediatric oncology
Strong skills in team working and leadership
The ability to counsel & communicate with children
A compassionate and caring nature to children
Good skills in interpersonal, problem-solving, and observation
In-depth knowledge of the field
Ability to keep up-to-date
Pediatric Oncologist Job Description FAQs
What does a pediatric oncologist do in a healthcare facility?
A pediatric oncologist or pediatric hematologist treats infant child as well as adolescent patients with blood disorders or cancer. The detailed duties can be seen in the template above.
Can I edit the posted job description template here?
Yes, you can. Since this pediatric oncologist job description template is editable, you are allowed to tailor it to your needs.
Do you have interview questions for a pediatric oncologist?
Besides providing the pediatric oncologist job description, this article also provides a collection of questions you can use for interviewing candidates who meet all requirements.