How to 'Lure' Diners through Your Cafe Coffee Shop Menu
Talking about coffee, this energizing drink is getting more love these days. No wonder, cafe and coffee shops are budding everywhere. It seems like there is no area without cafes and coffee shops. Besides, these are serving meals as well. If you are about to make the coffee shop menu, below are some tips to make a stunning cafe coffee shop menu.
Cafe Coffee Shop Menu Essentials
Product Information
The menu card is a tool to introduce your cafe/coffee shop food and beverage. Just like any other marketing tool, the menu card should contain information about the products offered. For this industry, the menu card should inform the customers of the product name, price, and a brief explanation about the product. For instance, if you are mentioning food, you can explain a bit about the ingredients and processes in a short few sentences. The same thing goes to the beverage product.
Photos
Instead of providing only texts, photos are essential objects to boost up the promotion. Besides making your customers understand the product better, good photos will tempt their tongue to taste the mouthwatering product.
Designing a Cafe Coffee Shop Menu
If you decide to make your own cafe coffee shop menu design, there are some tips to consider.
Showcase the best seller menu
Show your customers the most chosen food and beverage. Entice them with a bigger photo, and then add tricks to make the photos more stunning. Things like adding smokes for steaks, stacks of fries, melting cheese, splash from a drink, and bubbles from a glass of beer will make your photos more tempting.
It does not matter how big your business is, the logo is a way to help people identify your brand. Put the logo in the cafe coffee shop menu card and you are good to go.
Implicitly, colors play a role to affect consumer's behavior. For example, let's compare darker colors that are widely used by luxury restaurants and bold bright colors that are used by fast-food chains. Darker colors show sleekness and elegance, while the bright bold colors imply energy and urgency.
Don't say your menu is vegan-friendly when it is not. State the fact of your food and don't make wordy sentences. The menu is supposed to be kept short.
Things to Consider while Making Cafe Coffee Shop Menu
First, you can hire a food photographer to help you make high-quality F&B photos. You can print it on any other medium as well as advertising your cafe/coffee shops online. Incredible visuals are important to lure customers, especially in the F&B industry. Second, using templates to make your menu card can save you time. These days, menu templates are easily accessible and downloadable.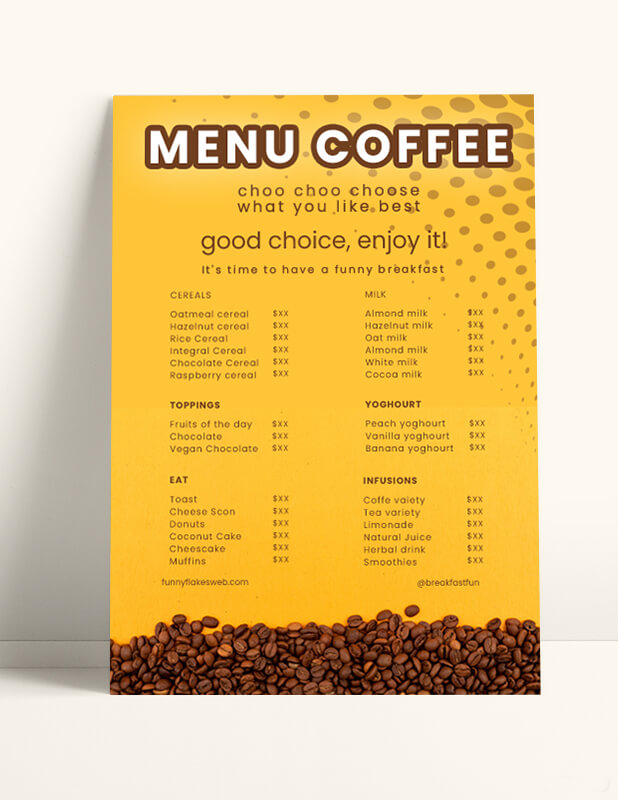 Cafe Coffee Shop Menu PSD Templates
Are you too busy to design the menu yourself? You can choose the PSD pre-made cafe coffee shop menu template. Then, by using a specific application, all you need to do is customizing the content. It seems like a good idea, doesn't it?