Hotel Menu as the Food and Beverage List for Visitors
Are you tasked to design a hotel menu? You only need to prepare a device, such as a computer or a laptop then open the digital application from photo editing. The application can be Photoshop, Illustrator, or others that are compatible with your file format. Here is an overview of what you can understand before and when designing a food and beverage menu for a hotel.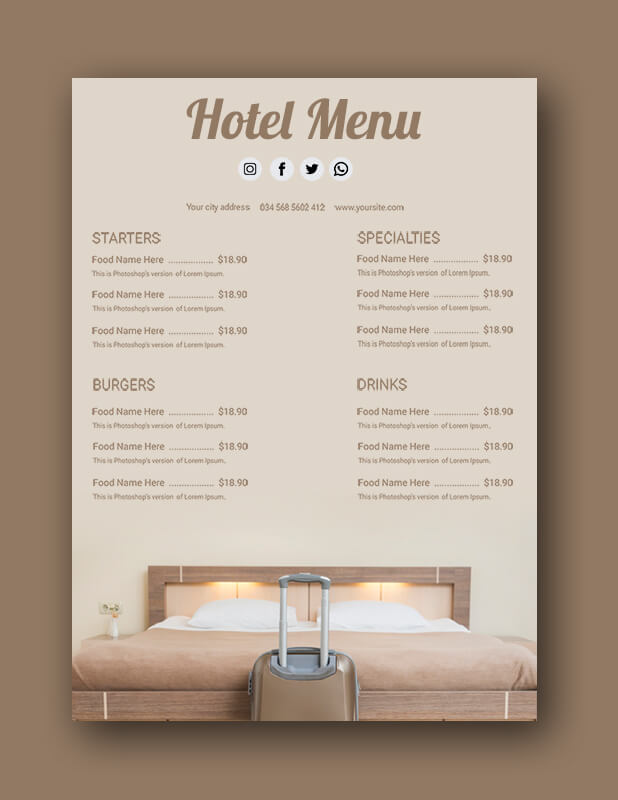 The Hotel Menu Significance
The hotel menu is a list of various foods and drinks that are deliberately provided for visitors or hotel guests. The list is here for them to choose from and enjoy the food and drinks that have been served later. With a hotel menu, the list of foods and drinks that have been chosen by guests must be served immediately because the menu is presented for the fast-food process. What is on the menu must also be available in the dish. This not only shows the professionalism of the hotel restaurant but also a hotel as a business entity.
The Hotel Menu Types
There are two types of menus that are generally used for a restaurant or hotel in serving food and drinks, including:
A'la carte menu
The type of menu includes a list of foods and drinks at a separate price. This means the price burden must be paid in accordance with the price of food and drinks ordered. The menu will also provide opportunities for hotel guests to choose the list according to their tastes.
Table d'hote menu
On the menu, the price is set for a collection of food. For serving food, the hotel usually lists several meals for each group of hotel guests. Serving techniques that are also commonly found on this menu are:
Buffets: all the specified dishes have been provided on the table adjusted to the event that they are doing in groups at a hotel. This technique is also called the buffet dish technique.
Banquets: in this technique, the serving is set at a certain price, and the food serving is limited.
Coffee shop: this technique is to present a collection of foods at the time when the meal starts.
Hotel Menu Design
A hotel menu can also be designed simply, but it must have a well-organized arrangement of contents. By paying attention to its contents, a design can be chosen through a template available in the PSD format. The template will later work in Photoshop. So, by presenting it as a working document, the template will save time working on a menu, and editing is also easy and fast.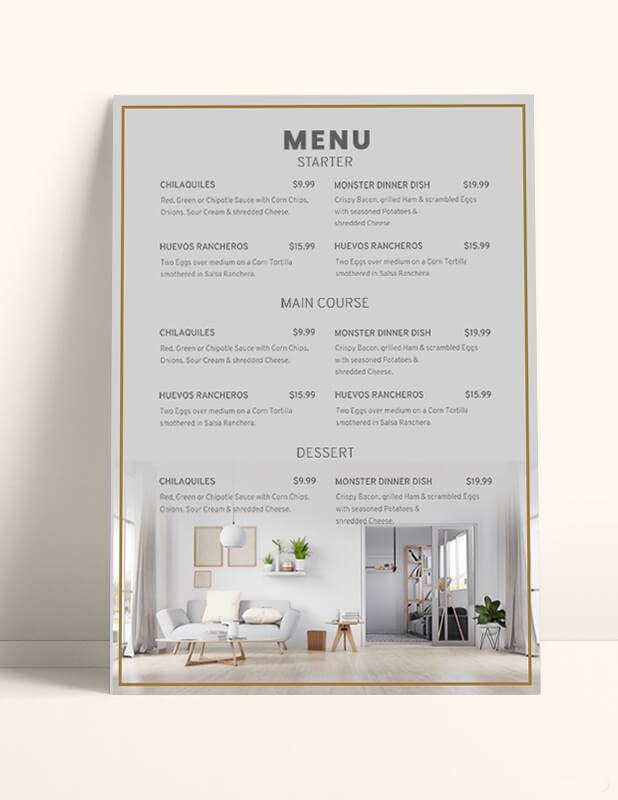 Hotel Menu Template Basic Concept
The template is a file created with the overall layout. For example, when you open a template, it has been pre-formatted in a number of ways, which is the PSD format. It is a default file from Photoshop. All shapes, sizes, layouts, layers, and effects on the hotel menu template are well organized and can be fully customized in Photoshop. Therefore, you will easily and quickly design the menu when changing texts and images.