Get the Attractive Ice Cream Menu Template
You may have an ice cream business, and your products are delicious. However, you only have a few customers. In this case, you should make an attractive menu that shows your offers. The ice cream menu is necessary for a business that involves food and beverages. As you know, some ice cream owners have less than three options or flavors in their lineups. On the other hand, many owners use various flavors and create tons of offers to attract more customers. Both types of owners still require the menu to introduce their business and products properly.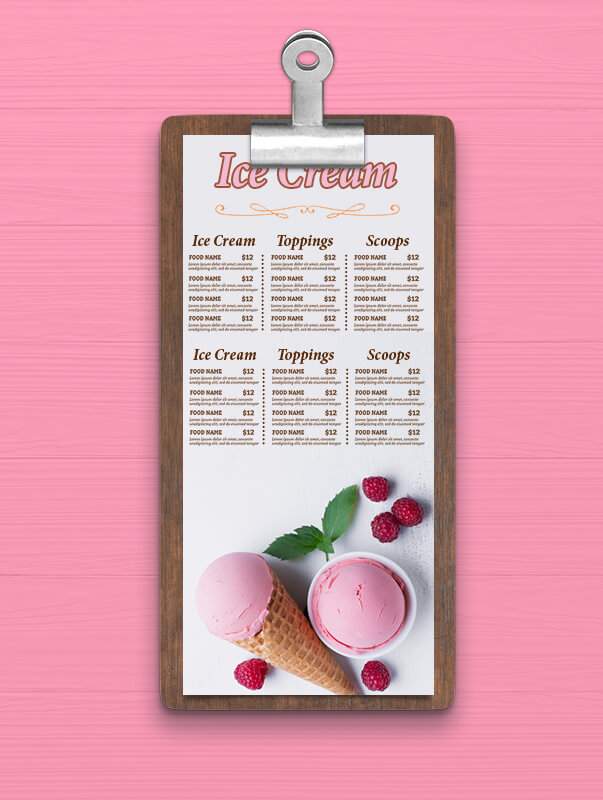 Ice Cream Menu Creative Ideas
The menu is important for business in foodservice. If you sell ice cream but do not have a menu, people will ask what kind of product you have. However, this is not a good way for attracting buyers. You must be proactive and do something to gain attention. In this case, the creative design for the menu is needed.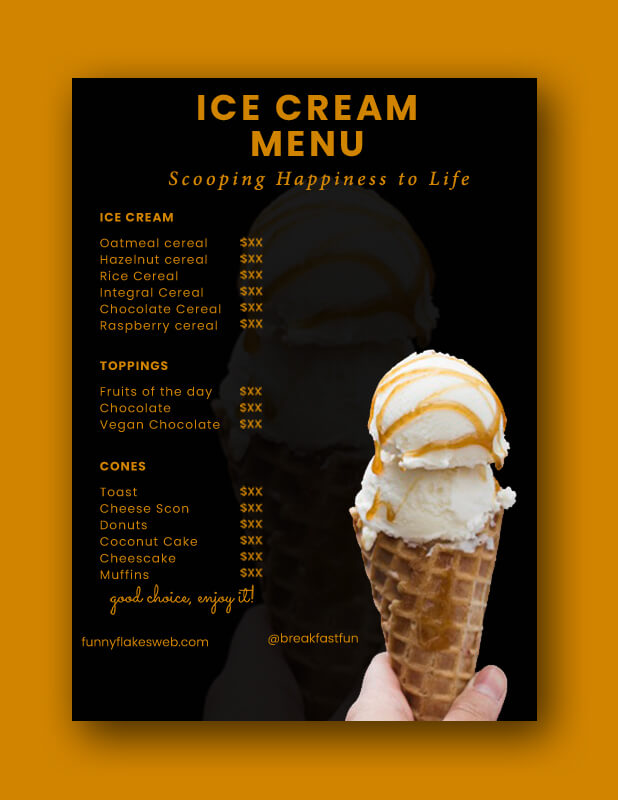 Many ideas are available for the ice cream menu. Keep in mind your main target is children, although everyone loves ice cream. However, your idea should focus on something that makes children want to order your ice cream.
Ice Cream Menu Design and Items
You can make a menu with various designs and styles, but the basic items are relatively similar. Check the following list for more explanation.
The business name
The menu should have a business name or anything that represents your business. It can be a logo or nickname. People will recognize it easily because it is located in the top section.
The list of ice cream offers
After that, you should provide the list of ice creams in your offers. If you have many variations, separate them into some categories. Make sure people can see and read properly.
The price
When discussing the menu for ice cream, you cannot forget the price. In ice cream business, the price is something that people must know first. Even though the price is affordable and cheap, you still need to put the information on the menu.
The colorful background
The ice cream menu has to use a colorful background. You use yellow, green, orange, and blue. Black and white are the other options when you want something unique but with fun and cute ornament to attract children.
Ice Cream Menu PSD Design
The design for this menu template is created with Photoshop with a PSD file extension. This kind of file is the most common one in the digital design. You need compatible software when editing and expanding the contents. That's what you should know about the PSD design for this menu.
Ice Cream Menu Template Benefits
Ice cream menu PSD template offer some benefits. You can find tons of designs with attractive layout and style. Just choose one that will be compatible with your business. Furthermore, the file is royalty-free, which means you can get it without paying any fee. The last benefit is you get the editable and customizable templates.