Free Commission Agreement Letter Template Customizable
There are various ways people may get paid. Most people get paid on a monthly basis but some others get paid on an hourly basis. Even more, some others get paid on commission. If you get paid on commission, you will need to sign a commission agreement letter template.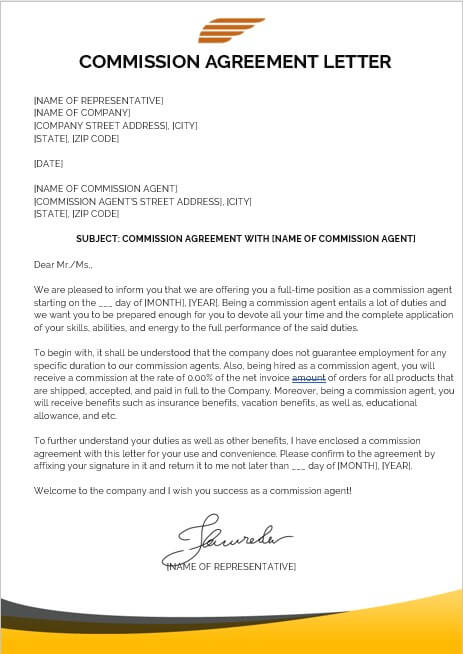 What Is a Commission Agreement Letter?
This is a kind of agreement that contains the terms of employment & your compensation. It is very important. Therefore, both employer & employee have clear expectations. It is very important for you to know when to use a commission agreement letter.
First, you will need to use it when you hire a new employee who will be paid in whole or part on commission. It clarifies the terms of employment, containing the employer and employee's expectation and & rights. It is also needed when someone hires you & you will be paid on commission.
Types of Commission Agreement Templates
A commission contract letter is divided into many types based on the uses. For your information, a commission agreement may be used for:
Non-disclosure commission
Independent contractors
Financial support
Corporate duties
Conditional sales
Commission lists
Business investments
Artists
Agent commission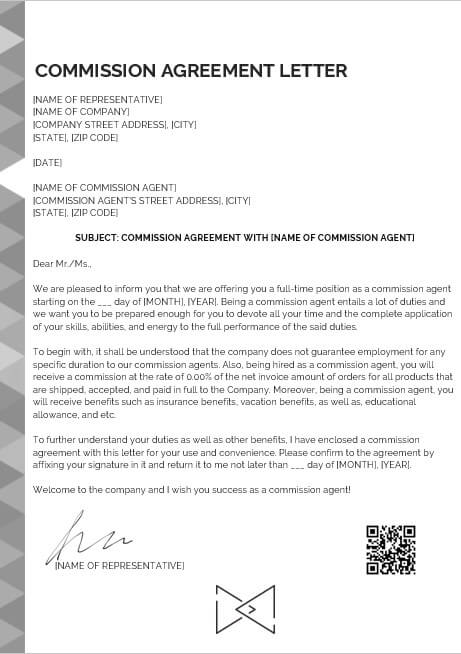 You may create a commission contract letter template for the following reasons:
Trading commissions
Sales representatives
Stock purchases
Share purchases
Sales commission policies
Sales agencies
Real estate partnerships
Online commission
Parts of a Commission Agreement Template
A commission agreement template should contain the following clauses:
Definitions & interpretations
The introducer's appointment
The potential clients' introduction
Obligations of the company
Payments & fees
Relationships of the involved parties
Non-competition & confidentiality
Non-circumvention & termination
The agreement's nature
Service & notices
Schedule of commission
Product schedule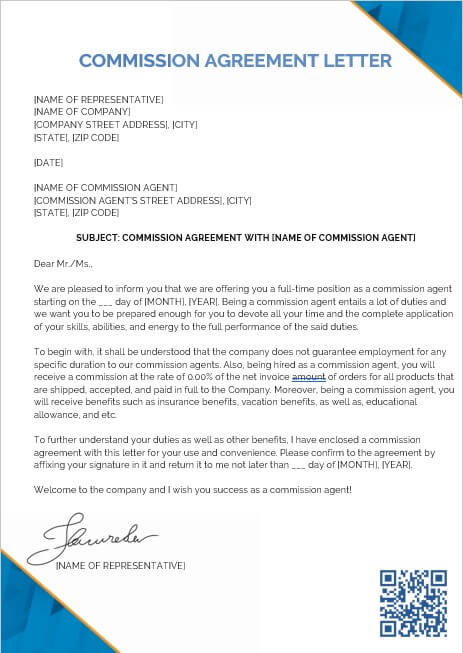 How to Structure a Commission Agreement Letter
If you want to write this kind of agreement letter, you will have to know about its structure. Below are a few ideas for writing the structure of such a letter:
Basic salary plus commission
It is a good idea to add a basic salary. It ensures the employees that they have something to look forward to. In addition, there will be the incentive to get a bonus if they work harder. Of course, it keeps your employees productive & motivated.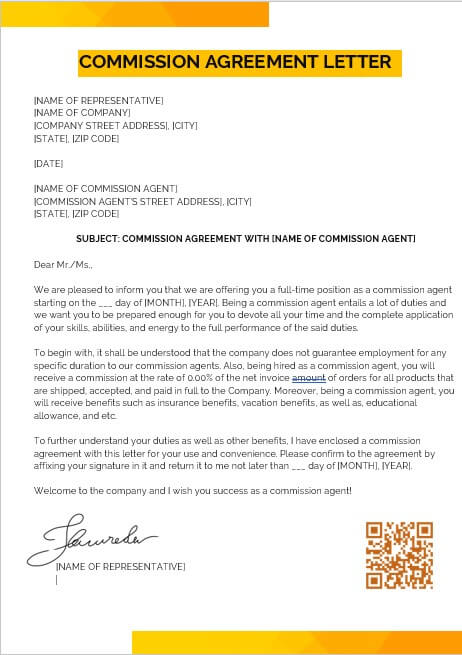 Sometimes, you can make an agreement when the employees only receive a commission. It ensures that your employees are say motivated to work hard.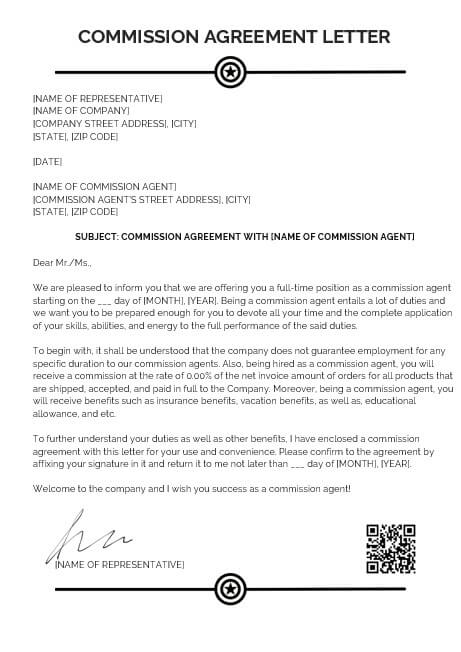 Here, you put a cap on the amount of commission that can be earned by your employees. This one applies to certain businesses.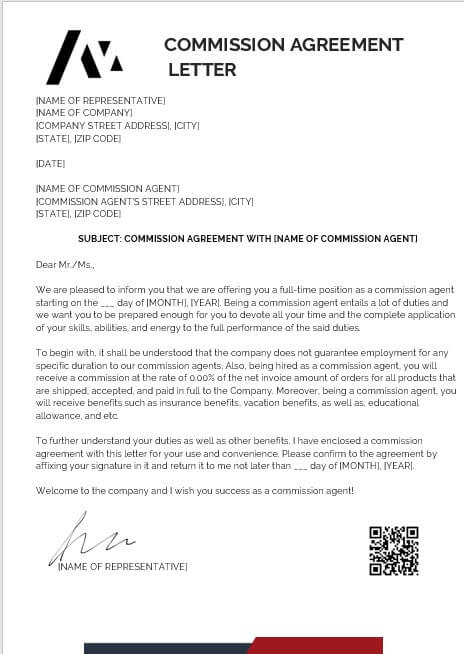 This can be used if you have highly-driven employees. They are very motivated to achieve their sales quotas & goals. You can also notice that they get better at their jobs.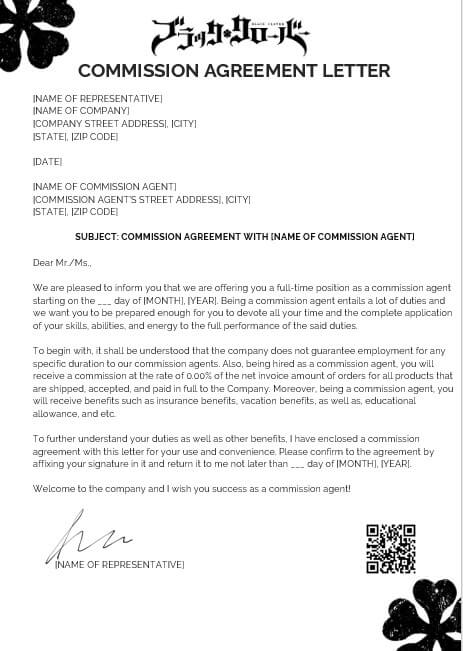 If the sales people work with the same client in the same area, you should make an agreement structure protecting & benefiting them. This one lets the team widen their network. So, you can pay them based on territory-wide sales.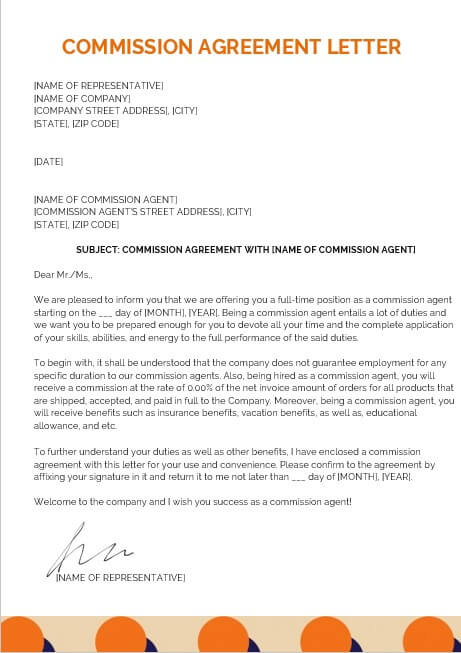 You can use our commission agreement letter template to ease your task. Some of the sample templates available here include a sales commission agreement, an artwork commission agreement, a leasing commission agreement, etc. Make sure that you find your preferred template and edit it.