Diabetes logbook is a necessary tool for people who suffer from this specific condition. It helps them to keep track of important data related to diabetes management, such as blood sugar level, medication and insulin dosage, calories and carbohydrate intakes, physical exercise, and more. Below, you are provided with various printable diabetes log book templates available for free.
By utilizing the following logbook template, you and your healthcare provider team will be able to assess and tailor the best diabetes care and treatment based on your personal circumstances. Therefore, feel free to choose any of the templates below, print it out, and use it as you need it.
What Is A Diabetic Log Book?
Monitoring and recording your blood sugar level is one of the primary elements in self-management of diabetes. Diabetic logbook is a tool that helps you to record the blood glucose level tracking to determine how your body reacts to the medications, meals, activities, and more.
Where Can I Get Free Diabetes Logbooks?
A diabetes logbook can be easily obtained in your healthcare provider's office, diabetes center office, or even from your health insurance company. However, you can also create a personalized logbook by yourself such as by using these printable diabetes log book templates.
How Do You Store Blood Sugar Logs?
There are various ways to store the logs of your blood glucose level such as using mobile app or using blood sugar meters with a result-saving feature. Alternatively, there are also free resources available online such as the printable diabetes log book templates in this page.
Blood Sugar Patterns  
Blood glucose pattern management is the act of monitoring the pattern of your blood sugar level and adjusting the treatment or your lifestyle as required. The blood sugar level of type 1 diabetes patients has to be observed daily to prevent drops down or spikes up.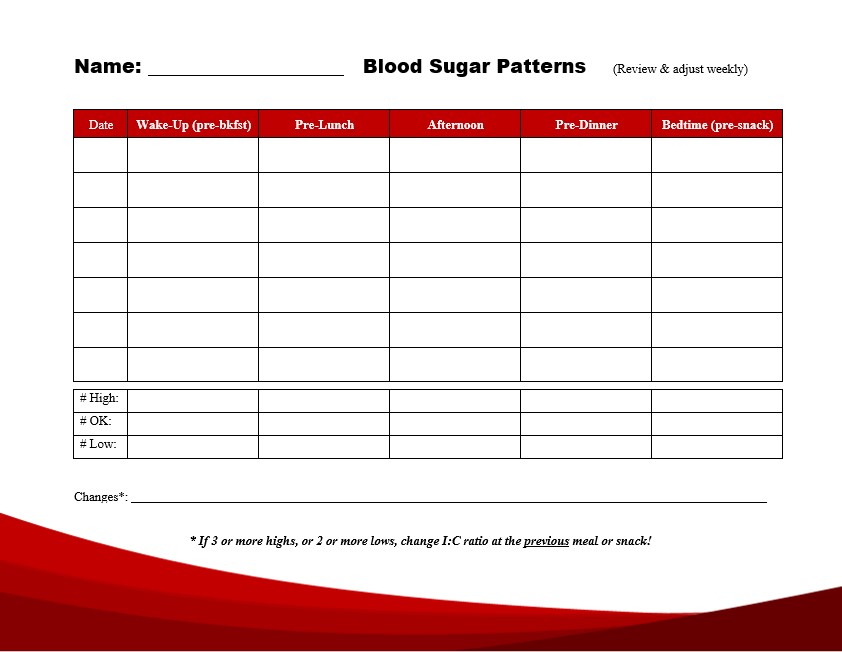 Blood Sugar Patterns
This technique allows the patient and the doctor to organize blood sugar control management, which helps to stabilize their blood glucose level and understand their diabetes condition better.
Diabetes Logsheet Book         
This free printable diabetes log book template will assist you in keeping track of your blood sugar level test results, nutritional intake, insulin dose, and more. It is provided for free for anyone who needs it.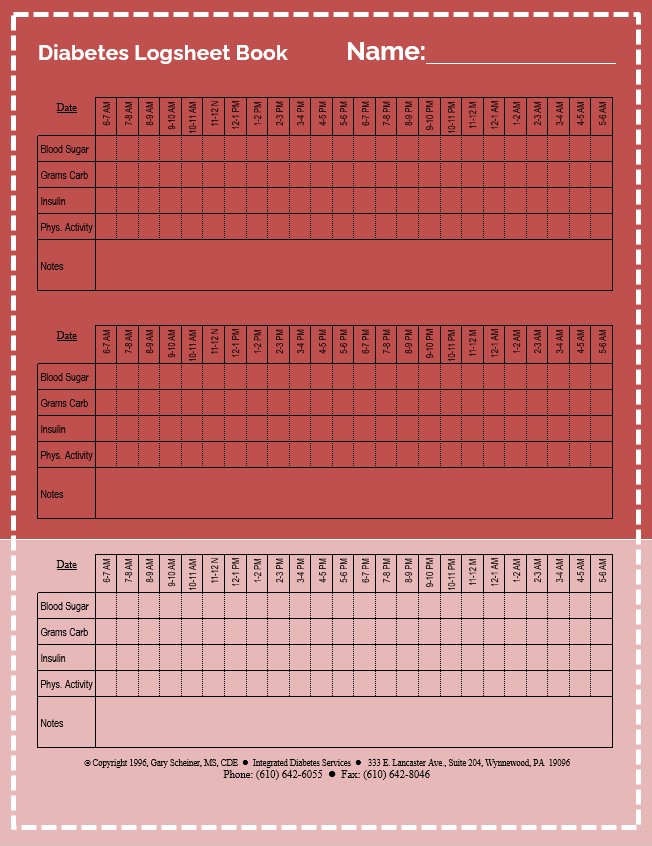 Diabetes Logsheet Book
Using a helpful instrument like this will simplify the effort of managing your diabetes. It will help to provide more detailed and properly organized data for your healthcare provider, so they can create sound decision to treat your condition.
Diabetes Logsheet      
If you are 464 million people in the world who have diabetes, then it's recommended to check your level of blood sugar regularly. How often the check needs to be performed will depend on the designed treatment plan by your doctor.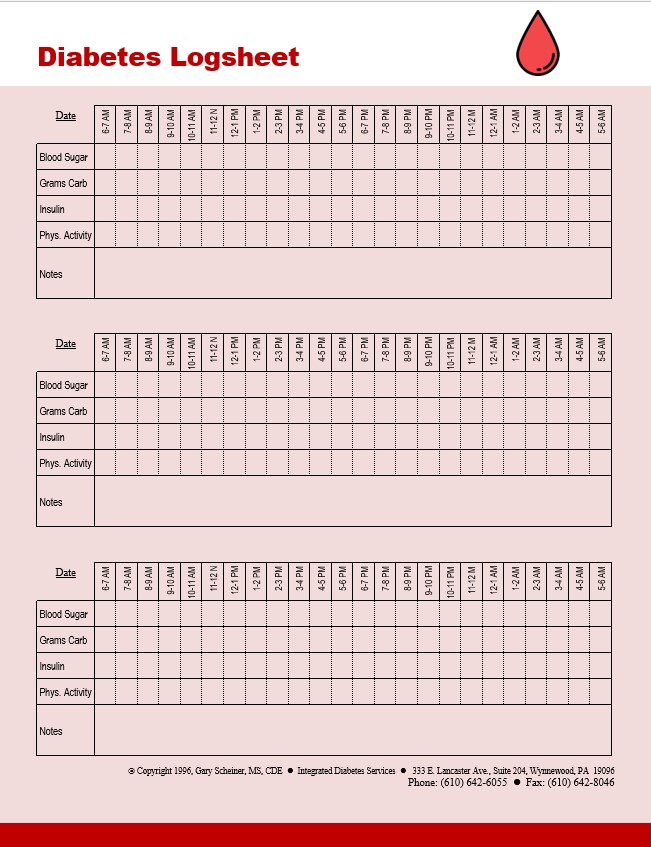 Diabetes Logsheet
Regardless, you can use this free diabetes log sheet template to record the necessary information details related to your diabetes management. The information is required to discover the reasons and patterns for your blood glucose levels.
Pump User Logsheet  
Insulin pump is a device that helps to handle diabetic condition. This tool offers diabetes patients with the alternative option of insulin injection. They can choose which one of them is more suitable to manage their disease based on their lifestyle.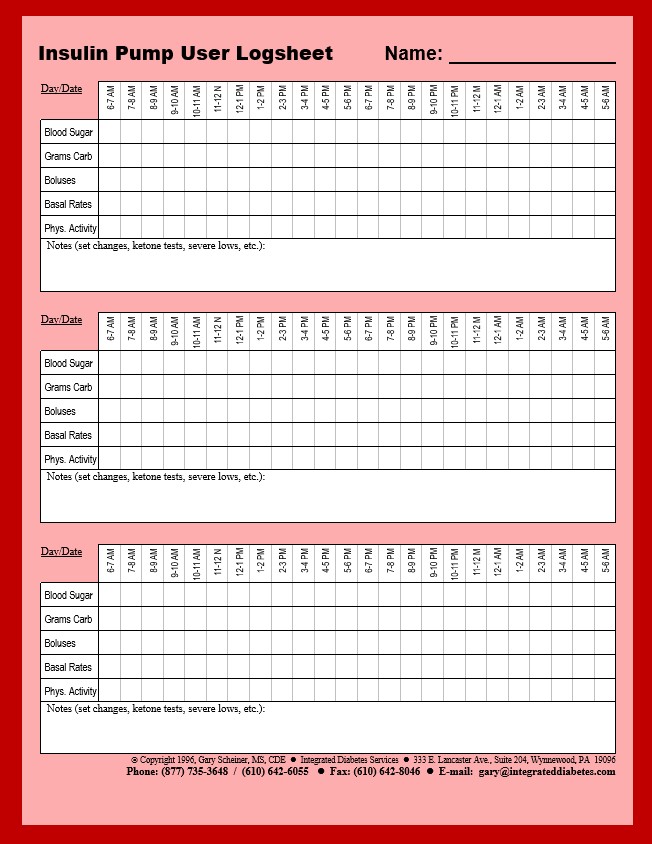 pump user logsheet
This insulin pump user log sheet is specifically created and designed for the users of insulin pump. It can help to build daily routine and patterns to manage diabetes effectively. As a result, it allows the patients a better understanding of the best possible diabetes management and treatment.
Weekly Diabetes Log Record  
Are you a diabetic person who has to test your blood sugar levels regularly? If the answer is yes, then you may find this printable diabetes log book template useful to conduct the monitoring in weekly format.
Weekly Diabetes Log Record
This free log template to record blood glucose levels is available for free. You can it out and make as many copy as you want and you need.
Blood Sugar Levels Before and After  
This free blood sugar tracker template is created to make this part of diabetes management easier for anyone who suffers from the condition. To utilize the template effectively, monitor your blood sugar levels before and after each meal you take.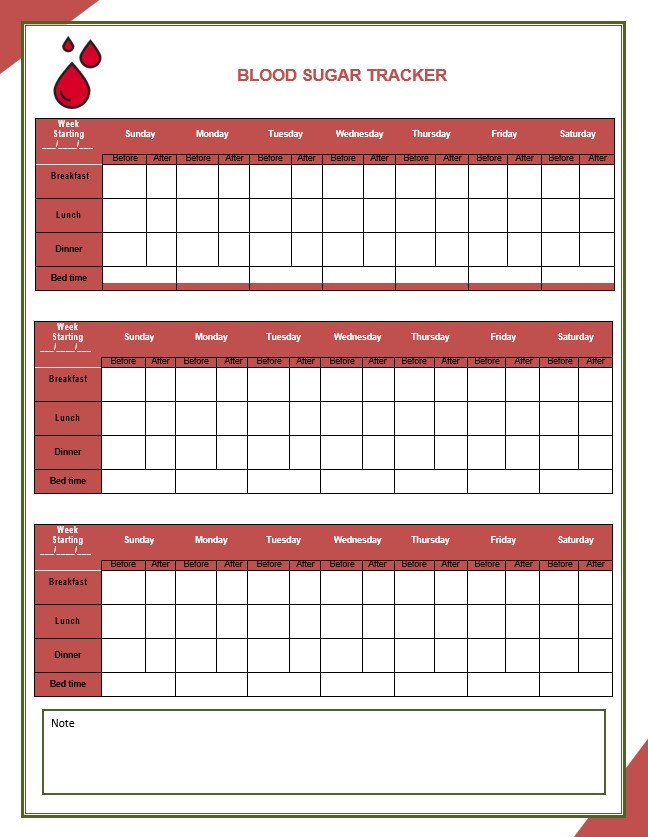 Blood Sugar Levels Before and After
It is also possible to make this log to be more detailed. You may do so by adding any diabetes affecting factors such as physical activities or stress levels in the note.
Diabetes Testing Record         
Assessing the blood sugar glucose is an essential task for diabetic people. It lets them know if their levels of blood sugar are within the target range at any time of the day.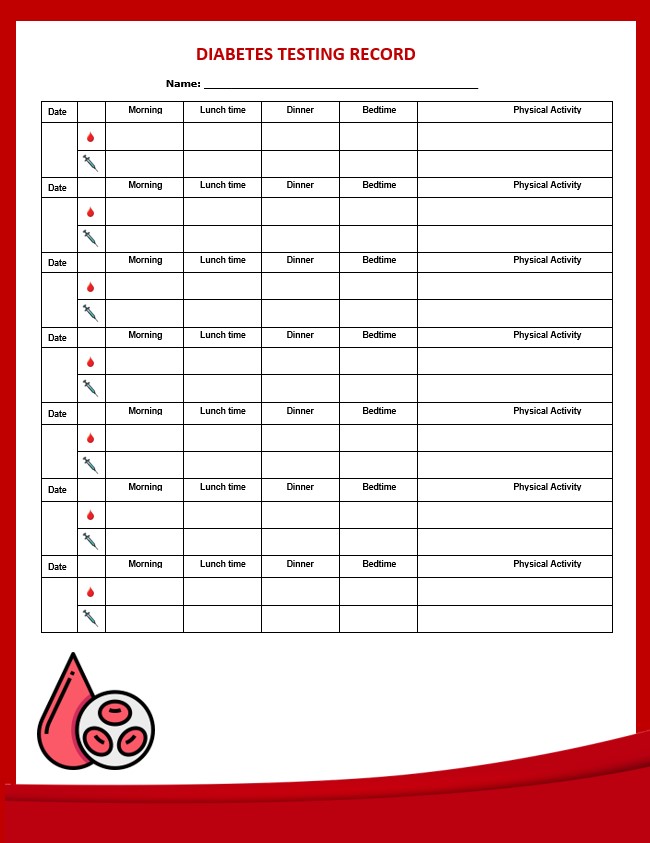 Diabetes Testing Record
Beyond conducting the monitoring itself, it isn't less important to log the results as well. Download this printable diabetes log book template to help you keeping track properly of your blood glucose levels in a form of neatly organized log.
Menu Diabetes Log     
A proper diet for diabetes patient involves healthy meal plan to keep their blood sugar levels under control. This menu diabetes log template is a great starting point to build the required diet regimen.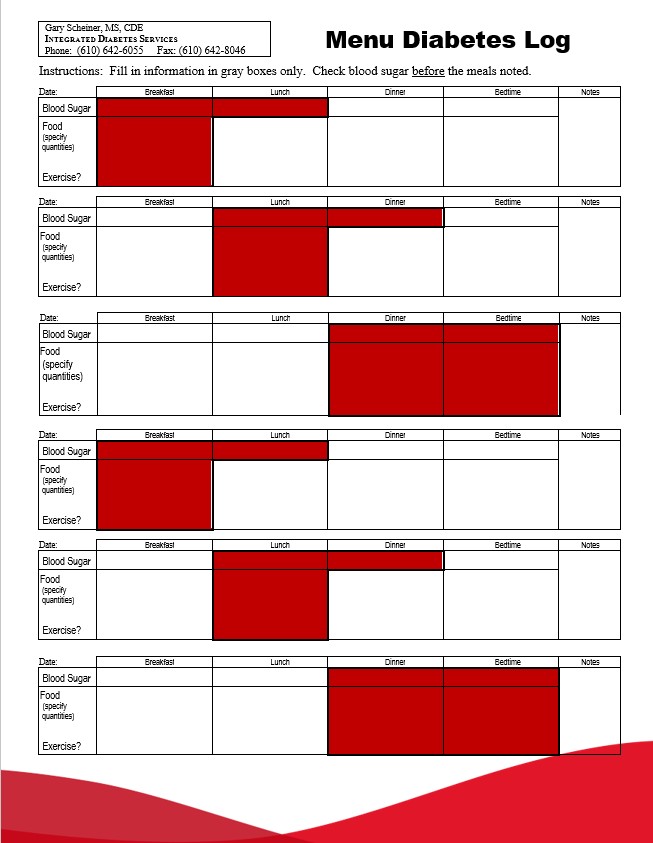 Menu Diabetes Log
The key to maintain blood sugar level within a safe range is by making healthy meal decisions and building good eating habits. Diet can also promote weight loss, which can be very helpful to type 2 diabetes patients to control their blood sugar level in an easier way.
Pump User Logsheet  
Insulin pump is a tiny, digital device used by diabetes patients of all ages. Essentially, it provides the same function as insulin injections, so the choice between these two comes down to one's preference.
pump user logsheet
If you're a diabetic person that uses insulin pump, then this pump user log sheet template must be suitable for you. It enables you to track crucial information regarding your diabetes management easily.
Blood Glucose Testing Record           
Self-testing blood glucose levels is common with diabetes sufferers, as it's needed to handle their condition and prevent unwanted complications. It is an inseparable part of the whole diabetes management.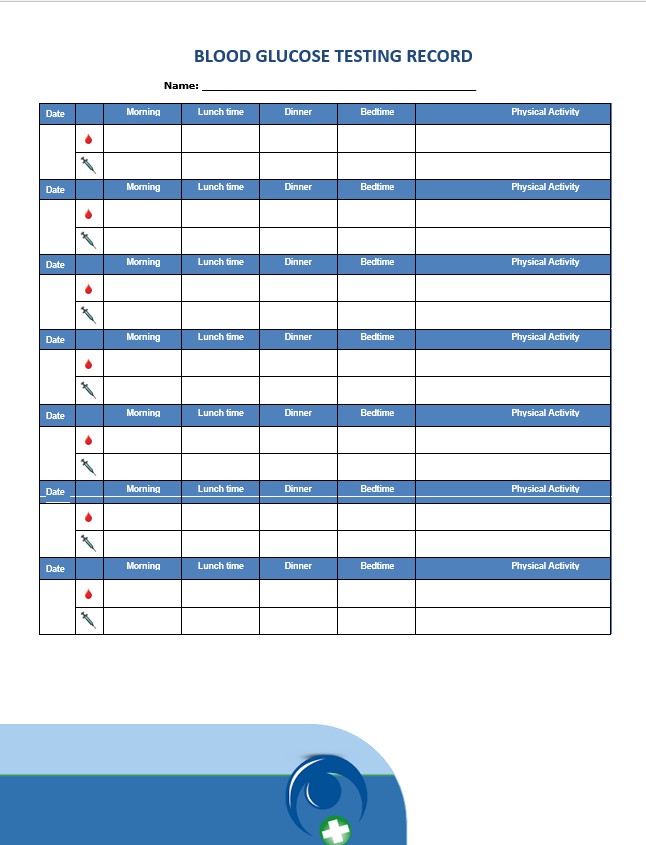 Blood Glucose Testing Record
For you who prefer to record your blood glucose levels tests manually, then use this printable diabetes log book. If you're success in maintaining the log, then you can bring it during your medical appointment to be assessed by your doctor.