An internship can be your door to leveling up your future career. You can shot any company you like which matches your interest, passion, and discipline. However, the problem is that not all companies are opening an internship program. But it doesn't mean you can't ask them if they are allowing internship to work and learn there. You can always ask about it using an internship letter of interest.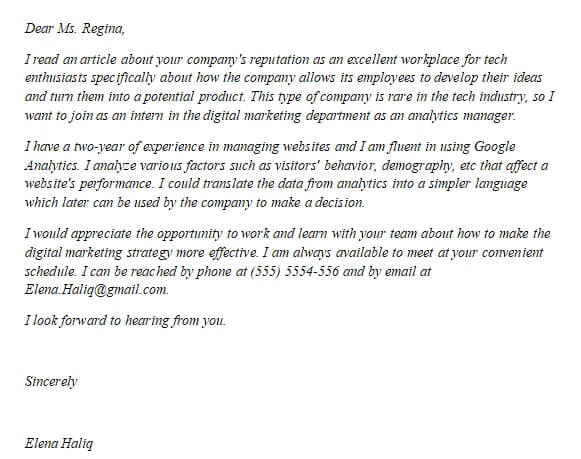 How Do I Get An Internship Program Without Experiences?
Most companies want an intern to have experiences and skills. The problem is that not all of the candidates have a chance to gain such experiences. If you often have some doubts about your CV, you still can level it up with certain ways such as joining a club, getting a student job, taking a relevant class or course, expanding the skillset, and even joining something as volunteers.
How Do I Win My First Internship?
Getting the first internship program will always become a tricky job for many students. The internship itself is the first door to get noticed by employers that you are capable in certain fields. You can do the following tips:
Perfect your CV – You consider certain hobbies, volunteering, joining a group, becoming an event organizer, and many more. These are the soft skills that you need in the future.
Utilize the university's careers program – If you never consider the career program course at the university, now you have to pay more attention to it. This is a great place to get to know the working world, how to start your career part, and other interesting mentoring.
Job listing applications – Don't wait to get a chance, but find the chance to be accepted in a company Browse any internship program. It is not only browsing through the internet but also the mouth of mouth information.
Is Internship Paid?
It depends on the position. Some internship programs don't pay the intern for example if it is a part of academic credits for graduation. Many companies pay their interns as valuable recognition. This can vary depending on the agreements.
Letter Of Interest Example
Writing an internship letter of interest doesn't have to be a tricky job. make sure it is straightforward, polite, and professional. Here is an example of an internship letter of interest you can take as an inspiration.
Dear Ms. Regina,
I read an article about your company's reputation as an excellent workplace for tech enthusiasts specifically about how the company allows its employees to develop their ideas and turn them into a potential product. This type of company is rare in the tech industry, so I want to join as an intern in the digital marketing department as an analytics manager.
I have a two-year of experience in managing websites and I am fluent in using Google Analytics. I analyze various factors such as visitors' behavior, demography, etc that affect a website's performance. I could translate the data from analytics into a simpler language which later can be used by the company to make a decision.
I would appreciate the opportunity to work and learn with your team about how to make the digital marketing strategy more effective. I am always available to meet at your convenient schedule. I can be reached by phone at (555) 5554-556 and by email at Elena.Haliq@gmail.com.
I look forward to hearing from you.
Sincerely
Elena Haliq
That is all our short explanation about internship letter of interest and its example. We hope it gives you some ideas.