The internship letter of interest has similarities with the cover letter. This is the best way to convince the employers that you are the most eligible candidate. The internship letter of interest helps you showcase your qualifications.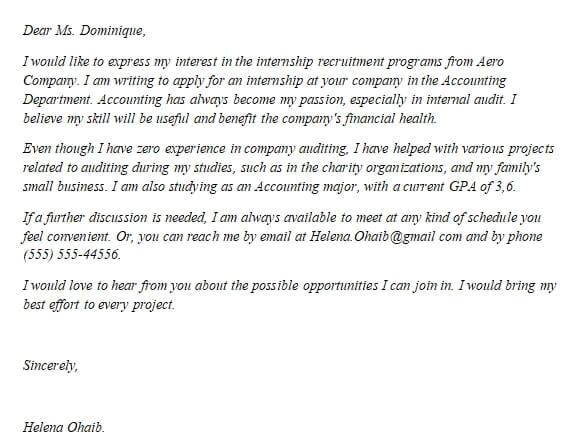 Is It Difficult To Find An Internship Program?
Finding an internship program is quite difficult. Not all companies publish their internship programs officially. Typically they do it unofficial or they cooperate with the universities. However, of course, you still can get a chance to save your seat by sending your best internship letter of interest.
How Do You Get An Internship Without Experience?
Allowing students to have internships can be risky for the company. First, most students are inexperienced and companies should spend some time teaching the interns.
Some companies will recruit their interns if they find potential during the program. Therefore, you just need to do some strategies to make your CV perfect. You can do the following tips:
Upgrade the CV – The first thing you must upgrade your CV. If you are planning to shoot certain fields, upgrade it by joining related extracurricular, hobbies, or joining a competition.
Join the university's career program – Typically universities provide career courses. They offer mentorship by connecting their students with many businesses and professionals. You can also search it from the alumni network and utilize this loop to level up your career.
Try also Volunteer program – Upgrading the CV doesn't have to be working experience. As long as it is related, you can join certain activities. For example, you join a charity organization and be part of their digital marketing staff. It can level up your profile.
How Do I Write An Internship Letter Of Interest?
You can check the following example for some ideas on how to write the internship letter of interest properly:
Dear Ms. Dominique,
I would like to express my interest in the internship recruitment programs from Aero Company. I am writing to apply for an internship at your company in the Accounting Department. Accounting has always become my passion, especially in internal audit. I believe my skill will be useful and benefit the company's financial health.
Even though I have zero experience in company auditing, I have helped with various projects related to auditing during my studies, such as in the charity organizations, and my family's small business. I am also studying as an Accounting major, with a current GPA of 3,6.
If a further discussion is needed, I am always available to meet at any kind of schedule you feel convenient. Or, you can reach me by email at Helena.Ohaib@gmail com and by phone (555) 555-44556.
I would love to hear from you about the possible opportunities I can join in. I would bring my best effort to every project.
Sincerely,
Helena Ohaib.
Writing an internship letter of interest should be professional and formal. You need to know what information you should bring to this cover letter. We hope our tips help you.