Free printable sticker chart can be used as a gift for toddlers. Toddlers do not understand how much the price of an item or brand of a product. For a gift to be given to a toddler, a sticker chart is the right item.
As the name implies, it is a chart that contains stickers where the chart and its contents are filled with pictures that toddlers like. The images for the sticker chart include bugs, trucks, under the sea, unicorns, dinosaurs and farm animals. For you who want to give a gift to other children, nieces, or toddlers, it is highly recommended to use a sticker chart.
Reward sticker charts are the gifts given to toddlers when they do something positive, whether it is helping others or doing their own work. The sticker chart gives a positive aura to toddlers, but it also adds knowledge about objects. You can find many free printable sticker charts on the website.
What Age does Sticker Charts Work?
In fact, children aged 2.5 to 3 years are perfect for sticker charts. At this age, children will be able to understand the concept of doing something to get an reward. At this age, the instilled understanding will stick with the children until they are adult.
What Are Sticker Charts?
For your information, sticker chart is a tool used as a medium to develop a child's mindset. The system that works on this tool is a child who wants a gift, in this case a sticker, must do something positive, such as brushing teeth, cleaning the bed or other things. Within a certain time, these stickers will be exchanged for bigger prizes, such as buying toys, food or traveling.
Are Sticker Charts Effective?
This activity is very positive, although it doesn't work for every child, even for changing the behavior of problem children. This activity will be effective when applied using the correct method.
Bug Reward Chart
As the name implies, bugs reward chart is a chart used for rewards with pictures of small animals, such as dragonflies, beetles, ants, snails, and butterflies. These animals are generally very friendly to humans. Mostly, they can't hurt humans. In addition, their colors are also varied, which makes it easy for toddlers to like them.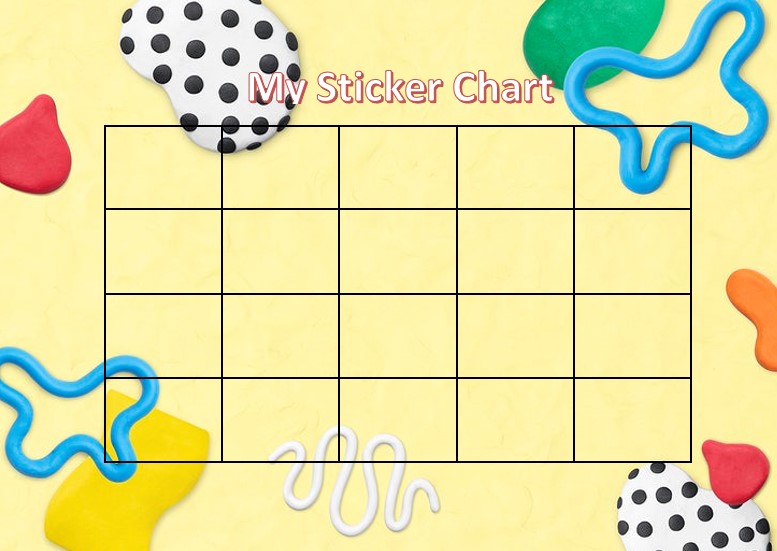 bugs reward chart
In pictorial charts, the animals are generally made like cartoons, so they convey a friendly impression. You can find the bugs reward chart on the free printable sticker chart.
Cartoon Sticker Chart Template
Kids or toddlers really like cartoons. Television is an object that almost every house has. Moreover, it is even entertainment for the family.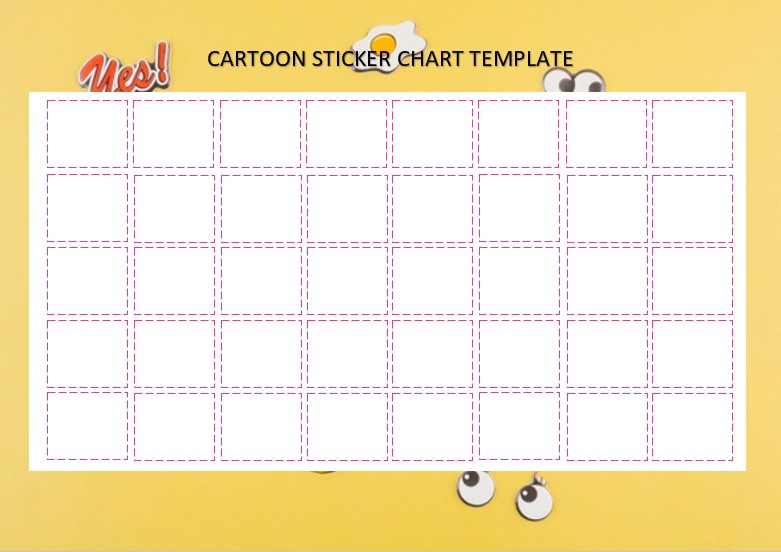 Cartoon Sticker Chart Template
Toddlers who have been in their home environment since childhood will independently like television, especially with cartoon shows. They are very colorful and adorable. Cartoon sticker chart template contains cartoon pictures that often appear on television.
When you are looking for free printable sticker chart with a cartoon picture, make sure you know what kind of cartoon your child likes.
Emoji Sticker Chart Template
The emoji form is taken from the representation of human facial expressions. This makes the message easy to convey to toddlers. Happy and sad expressions are clearly different, without being interpreted, toddlers instinctively understand the message conveyed. You can also find and download free emoji sticker chart templates.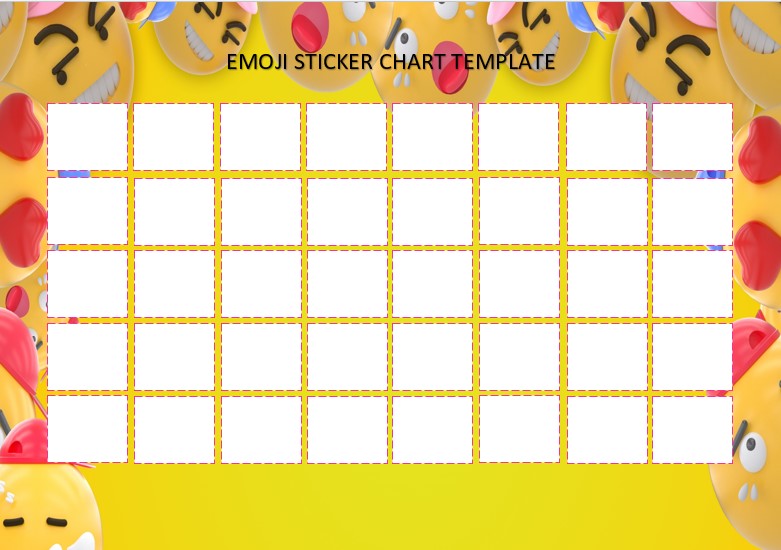 Emoji Sticker Chart Template
Princess Sticker Chart Template
Princess sticker chart template is usually liked by girls. They positioned the princess as their idol. Princess pictures are the right thing for them, and this kind of free printable sticker chart can be downloaded easy with various designs.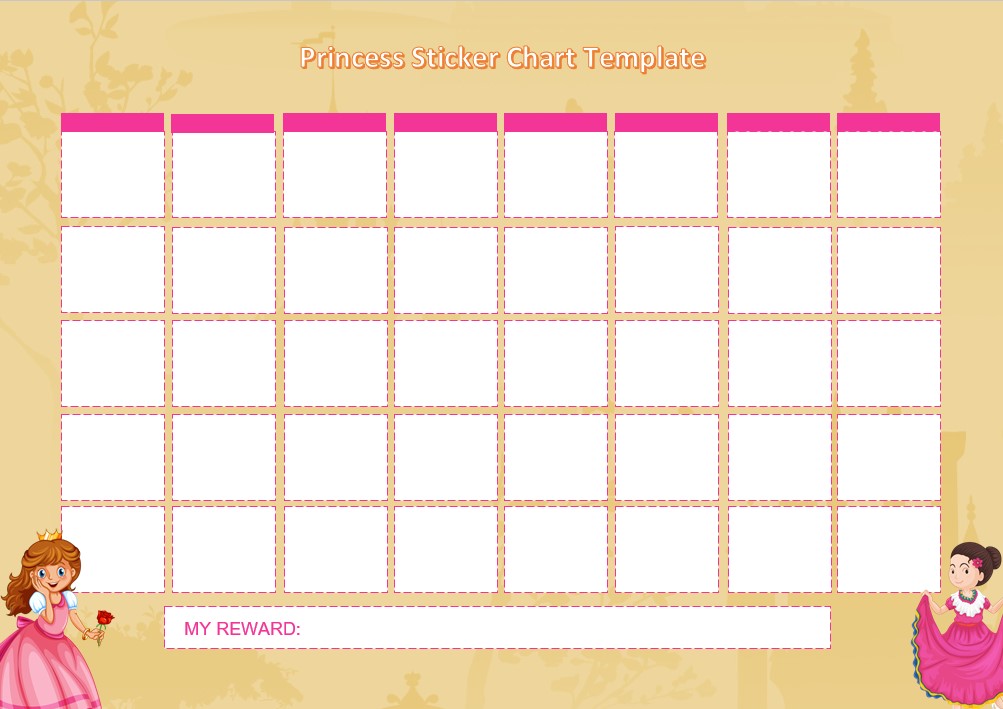 Princess Sticker Chart Template
Printable Dinosaur Sticker Chart
It's different with the sticker chart princess; the dinosaur sticker is usually liked by boys. They prefer something cool and bold. However, the dinosaurs depicted in toddlers are cartoon, not the ones in the big screen.
Printable Dinosaur Sticker Chart
This dinosaur is friendlier to make. You surely need printable dinosaur sticker charts. Just get the best and unique one according to your child's preferences.
Routine Sticker Chart Template
This sticker chart template usually contains a chart with the names of the days. The purpose of the day is to make toddlers do the positive things, which are then rewarded regularly every day.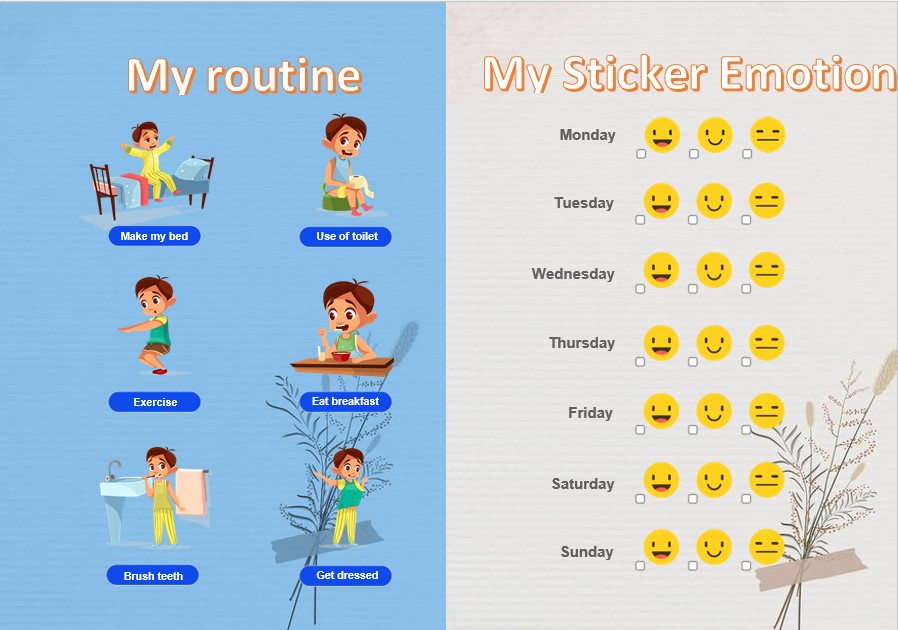 routine sticker chart template
This chart usually contains for a week or up to a month. The template is available for free.
Sea Animal Sticker Rewards Chart
Sea animals are amazing things for toddlers to see. There are many cartoons that describe how the life of marine animals, ranging from fish, starfish, crabs, to plankton. Children really like it since these animals are also rarely encountered.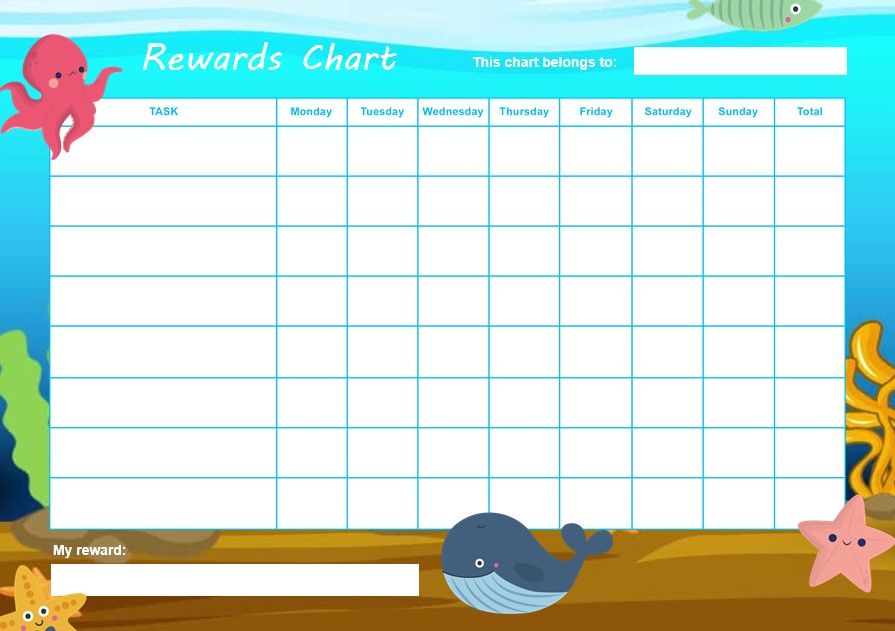 sea animal Sticker Rewards Chart
Besides feeling happy, toddlers will know more about the names and kinds of sea animals. If you need this sticker chart, make sure you choose the right design.
Sticker Rewards Chart Template
The reward chart is a form of gift that, apart from giving a positive impression, can also help toddlers develop their mindset in good things.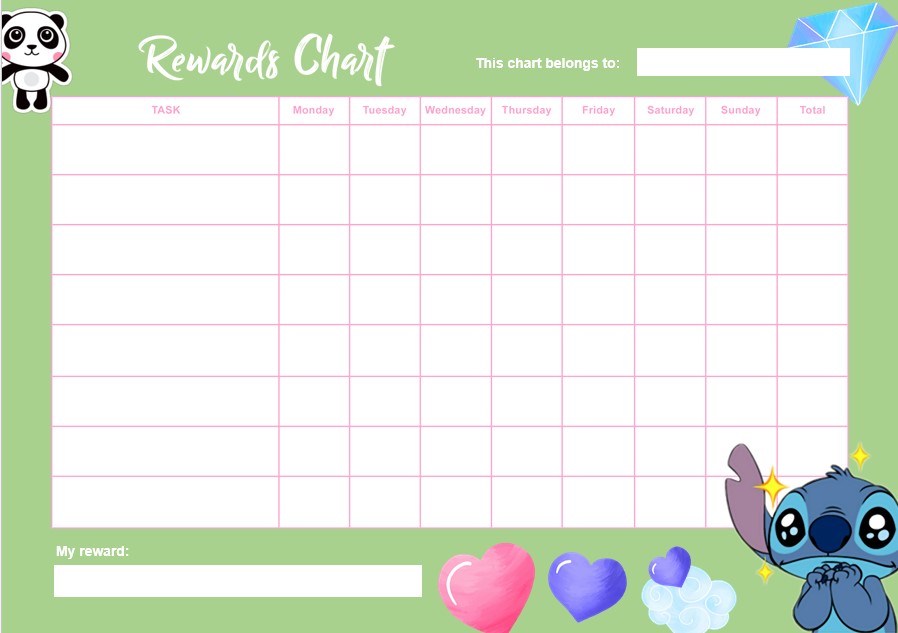 Sticker Rewards Chart 0Template
Various types of stickers with pictures that toddlers like are a form of stimulus, so they want to do something. It teaches toddlers that to get something, it is important to make an effort. The more effort you put in, the more attractive the prizes will be.
There are a wide variety of templates for this gift chart found on free printable sticker chart. Parents can choose according to what their child idolizes, such as animals, cartoons, or vehicles.
Truck Sticker Chart Template
One of the favorite things for toddlers is vehicles. Trucks are large vehicles with various functions. There are also garbage trucks, box trucks, pick-up trucks, or trailer trucks. Boys usually have an interest in this. To get the truck stickers, they are expected to accomplish something positive. Parents may play an active role in this by using the truck free printable sticker chart.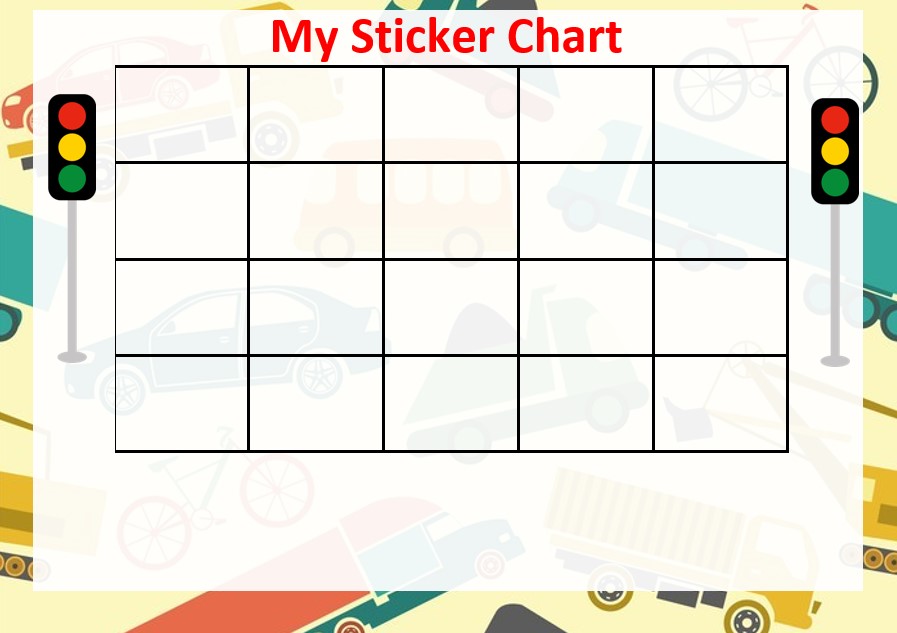 truck sticker chart Template
Unicorn Printable Sticker Chart
In addition, unicorn is a fictional character that's loved by both boys and girls. This good character often appears in television cartoons, so children will easily remember him. Just get and download this unicorn free printable sticker chart.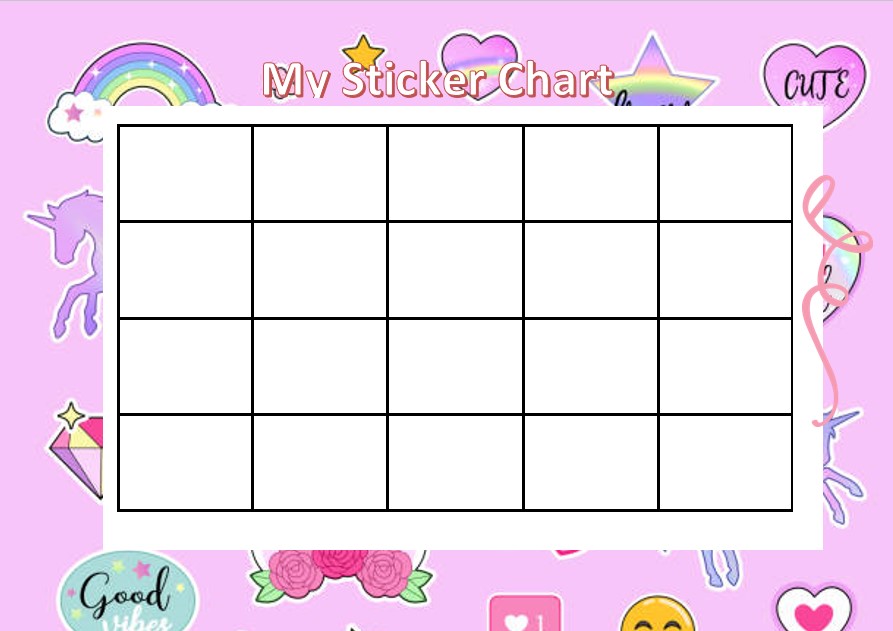 Unicorn printable Sticker chart