What are free printable time sheets forms? To be simply put, it is a time sheet template that you can get for free. Therefore, you can print it as many as possible, and you may as well edit the template to suit the time sheet you truly want. Use this time sheet form to track your employees' working hours and decide what's coming next for the employee!
What is a timesheet form?
As said earlier, a timesheet form is a form in which you track someone's working hours, including the time they arrive and start working, as well as the time when they sign off the office for that day. This is important to note especially if the employer is paying their employee according to the hours they have worked.
How do I make a time sheet?
Making a time sheet is quite simple to do, actually. But that may take a lot of your time especially if you are making it from scratch—despite it is still doable.
If you are interested in making your own time sheet, yet with less time occupied, you can benefit from free printable time sheets forms. This will be great if you are a busy head that needs a helping hand to make such forms.
By downloading that, you will only need to adjust the things available in the time sheet like the title, the column title and numbers, as well as the content itself as a whole. It surely saves your time, so you can allocate the remaining time to make the file to do something else.
How do I record start time and end time in Excel?
If you are using Excel to record time, you don't have to type it. Instead, you can benefit from just doing this procedure below:
Activate the cell you want to enter the time in,
Press Ctrl + Shift + Colon (Ctrl+shift+:). Excel will take it as a command to input the current time.
Biweekly Time Sheet Record
You don't have to always make the record, or called as a timesheet, in a daily basis. To cut the time, you can make it to be able to use in 2 weeks.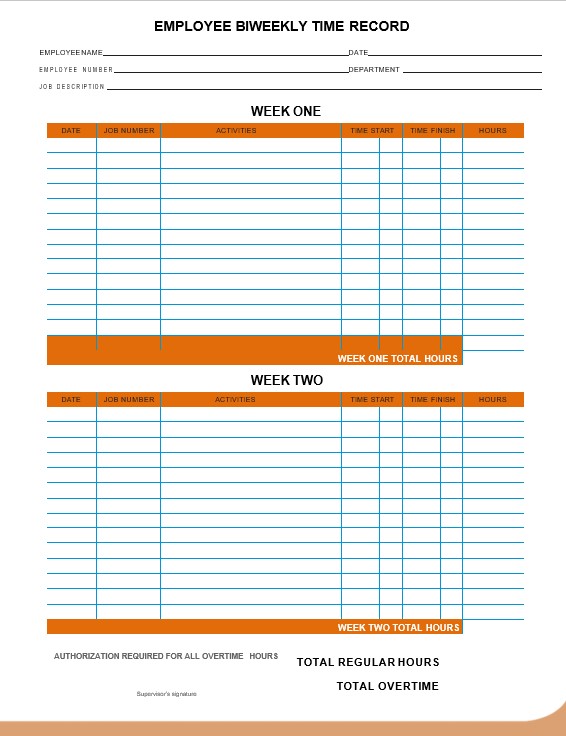 biweekly time sheet record
With this kind of free printable time sheets forms, you can allocate your time for making the sheet to do something else. This is where timesheet record gets more interesting to have.
Construction Timesheet Printable      
Working around the world of construction? If so, you will need to prepare such timesheet to track record of the men's working hours. Not only that, timesheet will be useful to help them track their attendance as well.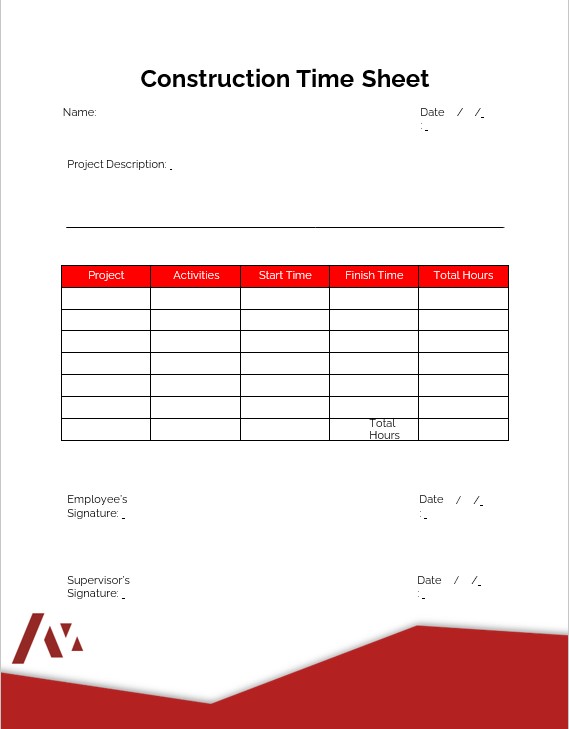 construction timesheet Printable
This will be a useful resource to determine how much you should pay to them. The rate have to be agreed upon first, hence there will be no dispute in the later time.
Consultant Sample Timesheet Template        
Not only ones working in the construction are required to have timesheets. Ones working as consultants need to have this as well. Why so? It is to track how many hours you have spent consulting people and using timesheet is the right way to charge them for the consultation you have provided.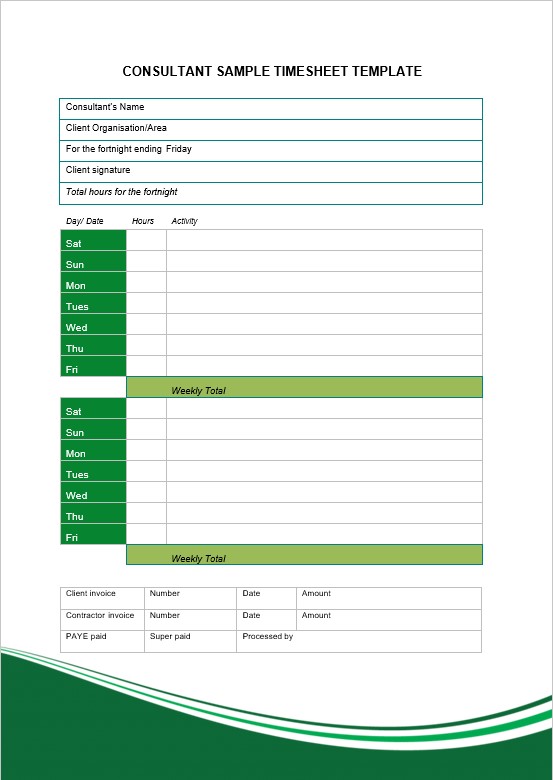 consultant sample timesheet template
That said, downloading free printable time sheets forms is the right way to get your timesheet quickly. Downloading it isn't even a hassle for most people, so it should be easy for you as well.
Daily Employee Timesheet Template
If your company has daily employees, then preparing a timesheet must be one of your necessities. This is because daily employee will get their payment according to the hours they spent working for the company. So, to not lose track with their total working hours, you can grab this timesheet template.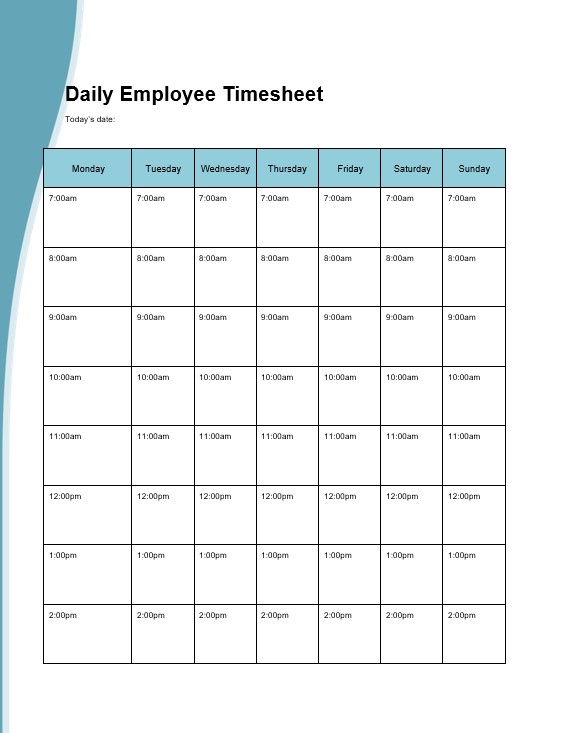 Daily Employee Timesheet Template
You should not wonder how to download this timesheet since it can be easily done. Even after some clicks only you can get the file you want, for free!
Hourly Timesheet Daily Template
What you should do next is to open the free printable time sheets forms file with the compatible application. Starting there, measure whether your file requires any adjustment or not. Once you find there is something to adjust, work on it. You can save the file afterwards or print it as many as you need.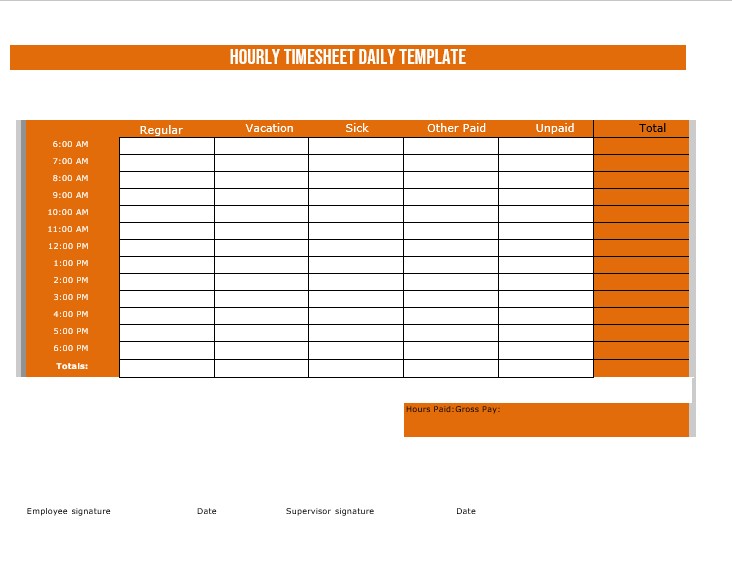 Hourly Timesheet Daily Template
Even if you just save the template, it is totally doable. To do that, you need to adjust the file you downloaded first, then you can save it as it a word/worksheet file. By doing this, you can simply open the template file anytime you need to print the file.
Law Firm Timesheet Printable
If you are working in a law firm, free printable time sheets forms can be pretty weird to use, but it is actually not. Why so? It is mainly used to track the hours spent by the attorney to handle the case of clients. You know, hours spent is meant bills.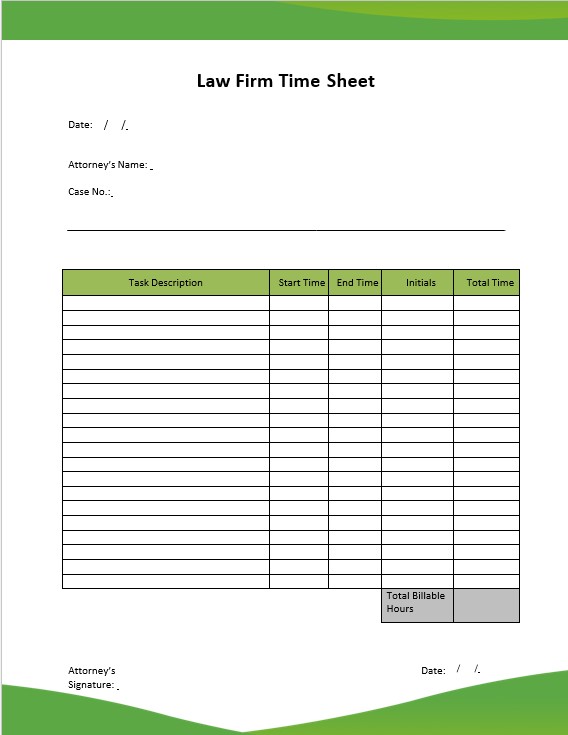 law firm timesheet printable
The downloadable form is easy to keep and edit, hence you should not think about not being able to work on the form. Even high school students can work on it easily – so you should not worry about it.
Printable Daily Timesheet Template
Thinking about using a daily timesheet? Easy, you can also get a printable which is adjusted to be used daily. It also comes with various file types—ranging from RTF, word file types (.doc, .docx), and even .XLS file type.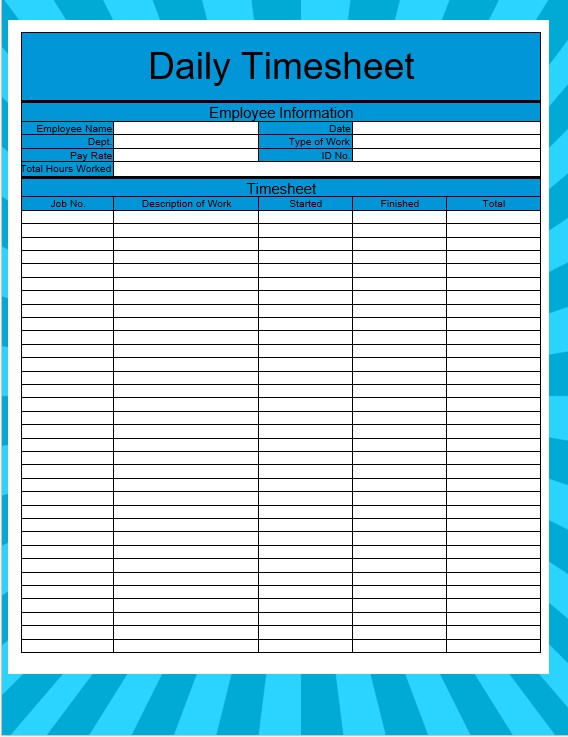 Printable Daily Timesheet Template
Want a template that you can directly print without any adjustments? PDF file type is ready to help you.
Printable Monthly Time Sheets Forms
Monthly printable timesheet is exactly what you need of you think about tracking worked hours of someone in a monthly basis. With this paper, you can simply assign each employee to write their worked hours on the paper—hence making it easier for you to track time of their work.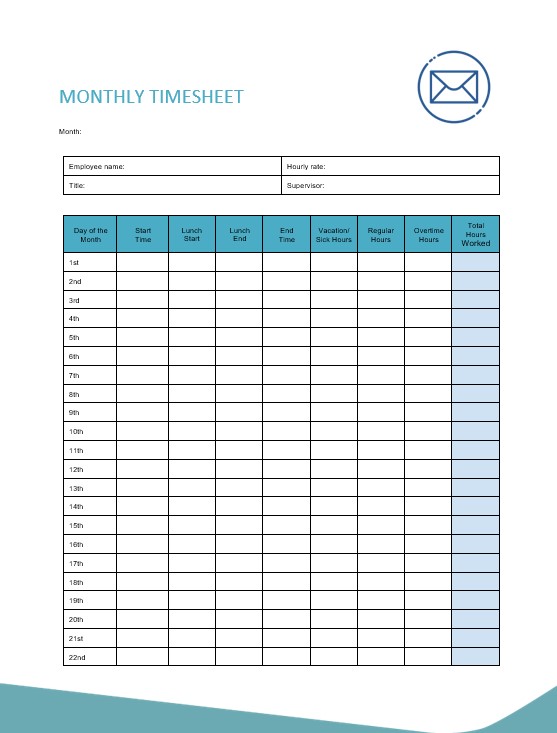 printable monthly time sheets forms
Printable Weekly Time Sheets
Another option is to use weekly printable timesheet. This is one of the mostly used timesheet, since it comes with an organized table which you can use for tracking the employees' working hours for a whole week.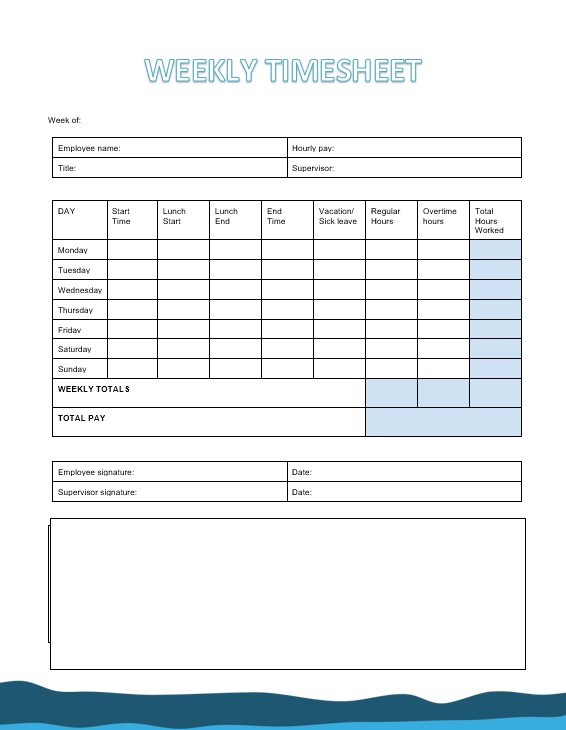 printable weekly time sheets
Weekly Employee Time Sheet
Despite the weekly timesheet, you can as well get a biweekly timesheet. This kind of timesheet is also used by many employers to track down their employees' working hours in an easy way.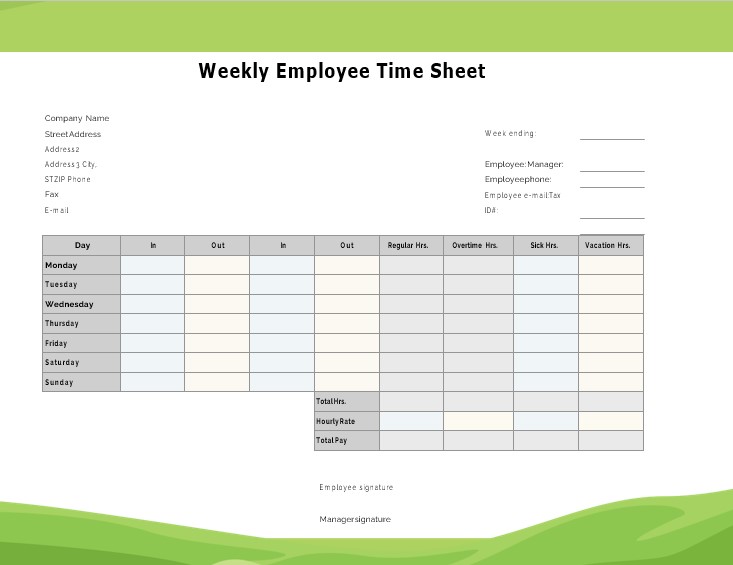 Weekly Employee Time Sheet
To sum it up, there are various kinds of free printable time sheets forms. For example, daily timesheet forms, weekly forms, biweekly forms, and monthly forms. All of these can be picked out according to your company's need.