These free printable tree templates in this page serve as simple and versatile resources to use on various lessons. Tree templates are document with tree drawing that can be used for numbers of learning activities for kids such as coloring or crafts.
To obtain any of the printable files here, you can simply click on the download link or on the image. It can be printed on standard HVS paper or card stock then they can be cut out or colored by younger kids as a tool for fun, exciting, and creative educational activities.
What is Tree Template?
Tree template is a resource that provides simple illustration or picture of tree. They can be used for numerous lessons. Commonly, they'd be available in black and white formal, some without leaves and only shows the branches. The templates are available for free to download, print, and use.
How Can I Use Tree Template?
free printable tree templates can be used for fun and creative craft or coloring ideas for 3 to 8 years old kids. Beyond that, there's also a wedding tree template that's meant for special occasion.
How to Draw A Tree?
Tree drawing is a process that can be made easier if it's broken down into several manageable steps. It is also a highly customizable project as there are endless possible ways to personalize the drawing.
Anne Tree Templates  
This free tree template is a downloadable paper-based craft for school or even home project. The pages offers simple outlined picture of a tree that's suitable for younger kids, but it can be made more complex in order to suit with older children.
One example of a craft using the tree template is a gratitude tree. This craft project allows children to learn about being thankful and appreciative for things they have, and understand that they shouldn't take them for granted.
Apple Tree Printable Templates          
Here is a fun and simple apple tree template to use by kids. To begin, simply download and then print it out on the paper. You can encourage them to decorate the piece with colors, decorative paper, or fingerprint stamps.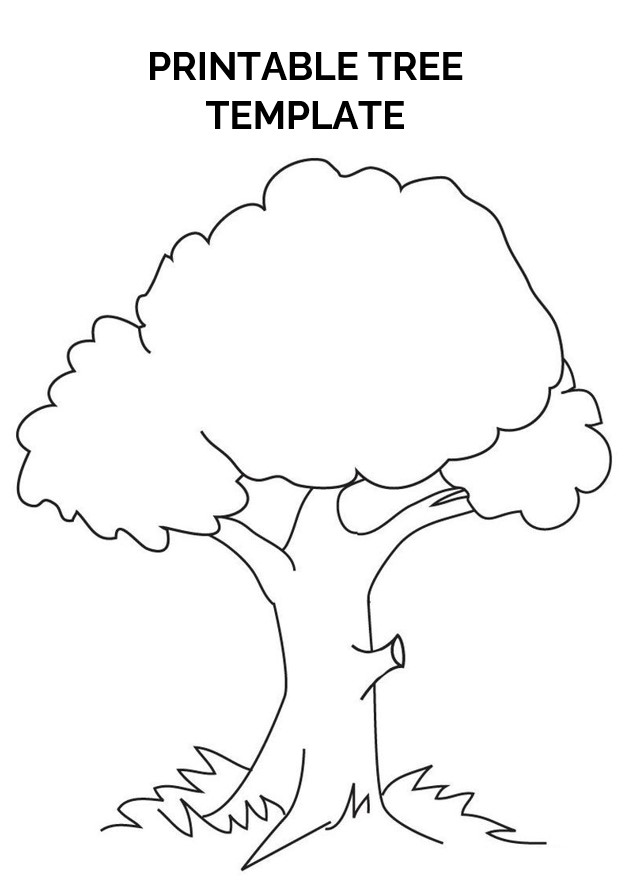 apple Tree Templates
The simplicity of the free printable tree templates makes it perfect for preschoolers and kindergarten students during school activities. In home, it can be used to make kids keep busy and concentrated.
Bare Tree Templates   
Are you searching for a plain and bare template of tree? If so, then you've come to the right place. This template here provides you with tree illustration without leaves to be used on variety of art and craft activities.
This bare tree printable template can be printed out in any size of paper. You are free to make it as small or as large as you want according to your needs and the available space. Its versatility is what makes it perfect to be utilized for different projects.
Christmas Tree Templates      
Christmas themed free printable tree templates come handy when you're looking forward for holiday craft activity of project. This template contains a classic outlined picture of Christmas tree, with its iconic and easily recognizable shape. It's simple and fun to cut, color, or decorate.
Once again, remember that these printable templates are available for free. You can print as many and use it as often as you want without having to pay a single penny.
Fingerprint Tree Templates     
Fingerprint tree is an enjoyable activity for children. To start the craft, you need to prepare colored paints, then instruct the kids to press their paint-dipped finger on the paper to leave their fingerprint on the tree, which become its leaves.
Even though this activity can be a little bit messy, it is extremely fun and creates cute memory. The result makes a cute family keepsake to be hang anywhere in the home.
Free Printable Tree     
There is no better time to get creative then now. If you're feeling crafty today, download these free printable tree templates to create a fun activity with your little ones or your students in classrom in meaningful way.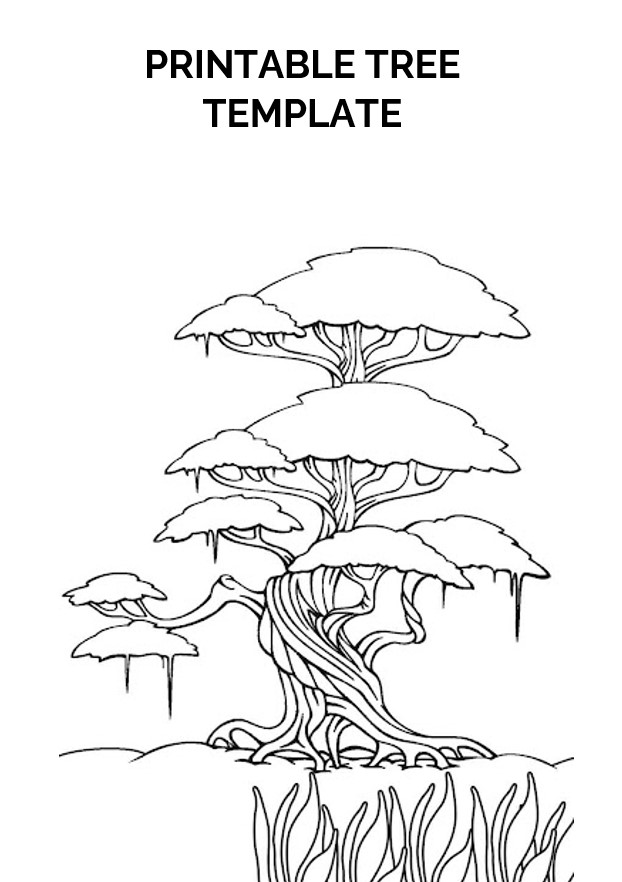 Free Tree Templates
The templates are suitable for coloring project, whether you choose to use paint, markers, pencils, or crayons. The simple design is ideal to be used by younger kids, but you can also get ones with more detailed designs if you want.
Printable Tree Templates        
Creating a tree-themed craft is perfect for the fall season. That being said, it also works for other seasons, whether it is winter, spring, or summer.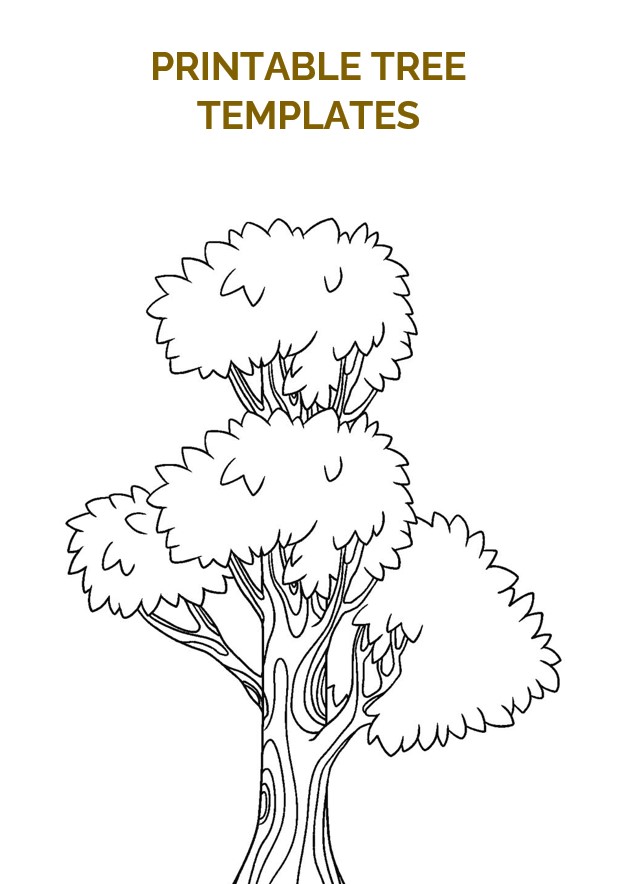 Printable Tree Templates
These printable templates of tree are available without drawn leaves and only black and white color. Feel free to match it with the current season by using the appropriate colors.
Tree Coloring Templates         
There are so many theme and subject of coloring pages out there, yet tree is amongst the most popular ones. This online resource of tree coloring page is extremely ideal for kids regardless of their ages. It is suitable for toddlers, preschoolers, and kindergartners.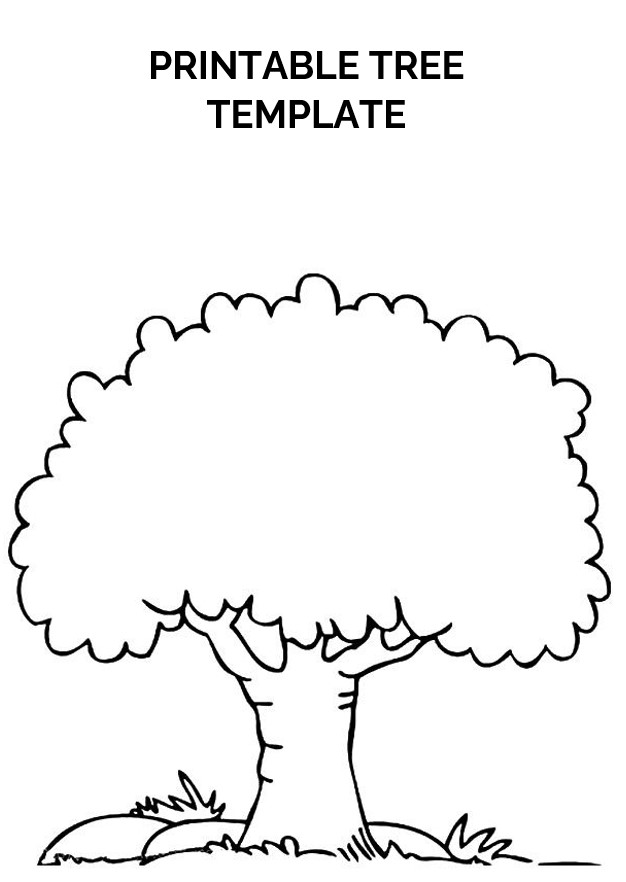 Tree coloring page Templates
These free printable tree templates also make an educational tool to get kids more familiar with various species and families of tree. During the project, you can introduce the tree as an essential part of environment and nature.
Wedding Tree Templates
Wedding tree is a fun craft project in which you use a large-scale of tree drawing without leaves and only branches. The wedding guests then are asked to leave their thumbprint using ink on the template as the leaves, and put their signature. In the end, the tree would be covered with a lot of small fingerprints.
To make it cuter, you may add a photo of the bride and the groom to the picture. It is also a great idea to add wedding date and the couple names somewhere on the print out.
Vector Tree Printable Templates         
If you are currently searching for printable templates with tree vector illustration, then you wouldn't need to look far. This high quality template resource is available for free for you to use.
There are plenty of ways you can utilize the free printable tree templates. They can be used as classroom decoration, homemade craft, diorama background, coloring activities, and so many more.