Weight loss journey can feel frustratingly slow when you cannot see if you're making progress. By using printable weight loss graph, you'd be able to graph the progress manually. It is a toll that allows you to see the way your weight changed over a certain period of time. As the result, you'll be attentive about your body and its needs in order to lose weight by utilizing the required measures.
It has been proven by numerous scientific studies that one is more likely to lose weight if they're using weight tracker. Observing the records provides someone with capability to identify the reason behind their weight gain and respond accordingly. Besides, it creates more motivation to shed some pounds, adhering to the diet, and escalating physical activities.
How Do You Make A Weight Loss Graph?
The process of creating a weight loss graph is similar to create any other graph, but it has to contain information about the weight and the date. It needs to be used consistently, preferably daily, by keeping track of each weight and record it on the graph.
How Do I Track My Weight Loss In A Week?
Track your weight on everyday basis and note the number down on the printable weight loss graph. Don't be worry about making progress first by obsessing about the numbers. Check your spread by the end of the week by averaging seven of the most recent numbers to calculate your weekly weight loss.
How Much Weight Can You Lose In A Month?
It is most ideal to loss 1 to 2 pounds a week, based on recommendation by the Centers for Disease Control and Prevention (CDC). Therefore, it'd be healthy to make goal of losing 4 to 8 pounds a month.
Printable Weight Loss Chart Metric    
Controlling your weight might be difficult when you can't see where it's going. Aside from your usual discipline, diet, and regiment, it is necessary to keep weight record in order to observe if you are making any progress or not.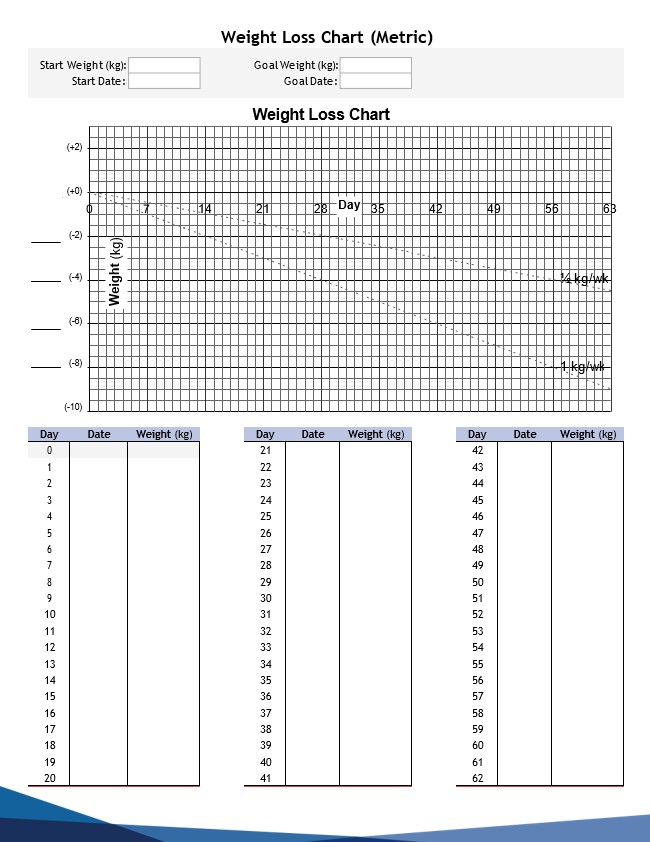 printable weight loss chart metric
This printable weight loss graph template will help you to feel more motivated to get in shape. It also helps to analyze if your current weight loss program is suitable for yourself.
Printable Weight Loss Chart   
This weight loss chart template is available for free to download. Here, you can find a lot of resources of customizable and printable weight loss tracker.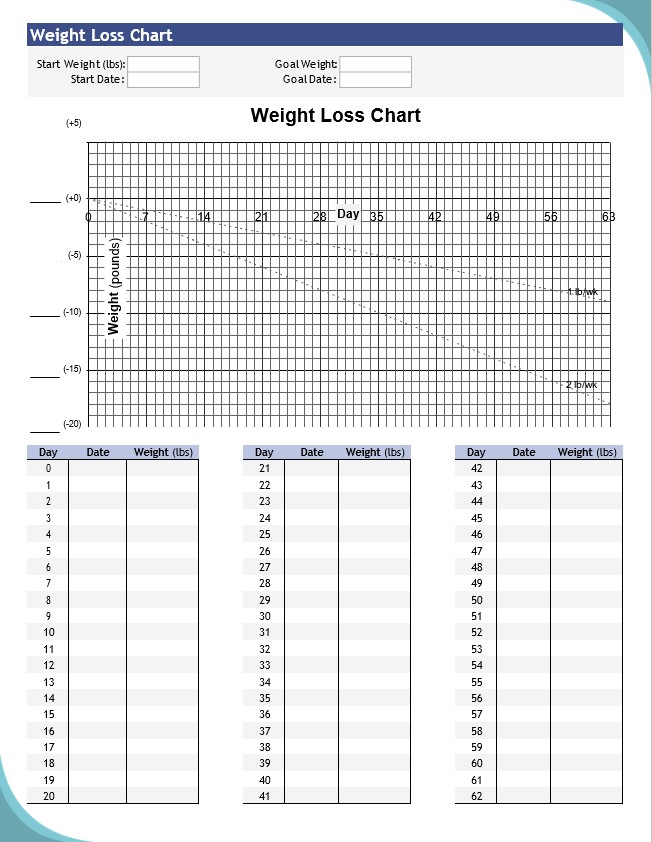 printable weight loss chart
It's also recommended for you to check BMI chart or ideal weight chart which easily available online. Together, these tools will assist you in monitoring not only the weight, but also other important measurement that are necessary to record.
Two Person Weight Loss Tracker       
Getting a weight loss partner is a highly effective way to gain motivation and accomplish real results. By opting for this strategy, your motivation and energy level will manifold multiple times.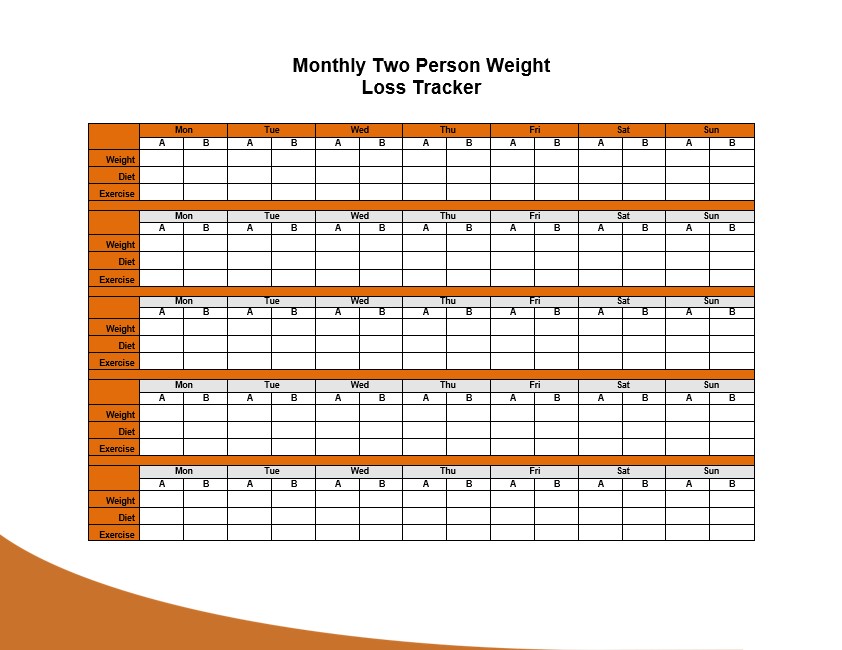 Two Person Weight Loss Tracker
This weight loss tracker template is meant to be used by two persons. It keeps track of the weight measurement of you and your chosen weight loss partner.
Weight Gain Chart      
To gain weight effectively, it is extremely important to adopt the right method. You don't want to obtain unhealthy fat, but rather subcutaneous fat and muscle mass.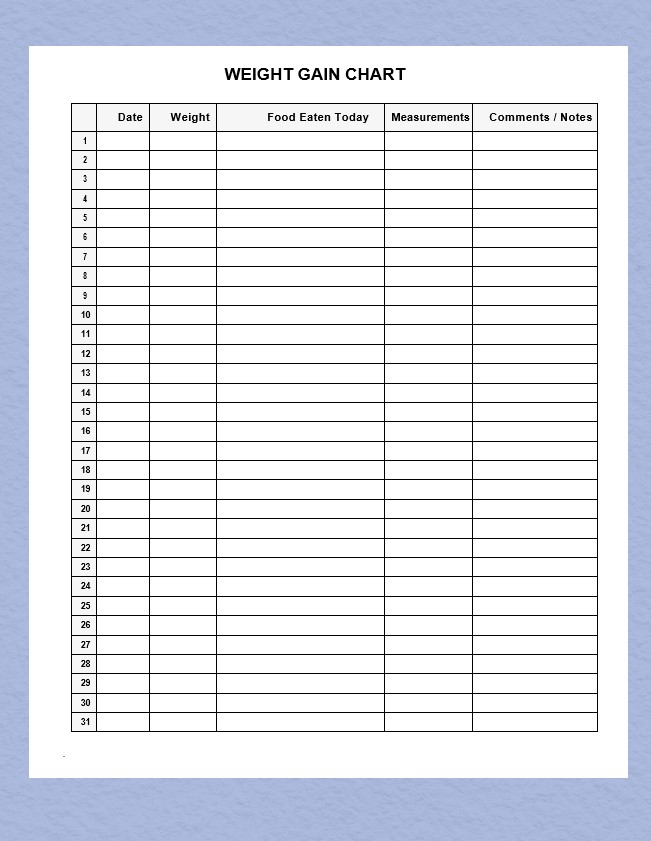 Weight Gain Chart
Use this free printable weight gain chart if you are a body builder or simply just want to put on some weight. However, if you need to change your diet substantially, try to consider to seek advice from medical professional first.
Weight Loss Chart      
Weight loss journey is similar to car driving: you need to know where you are going and where you're currently is. It is easier to control your weight if you keep a visual record of it.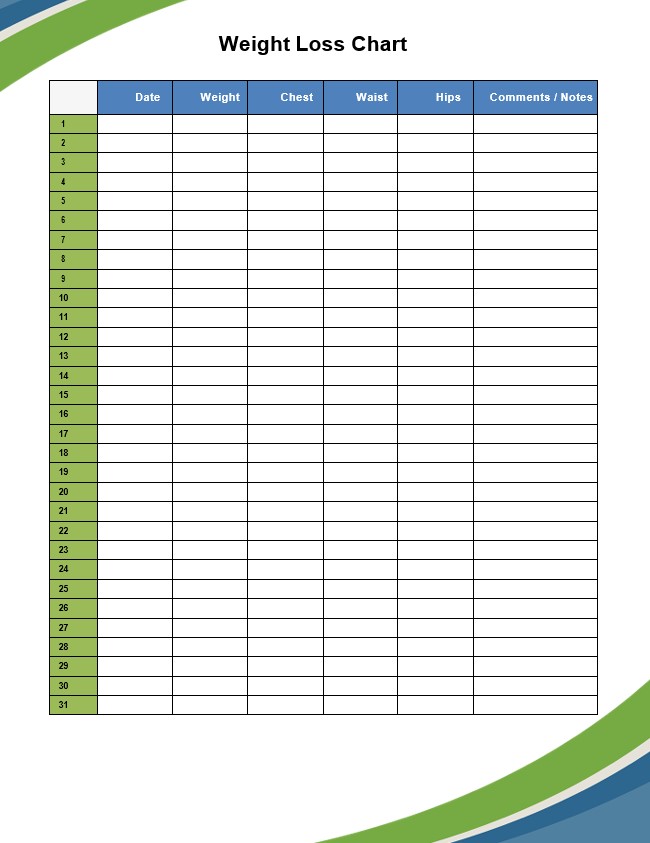 Weight Loss Chart
Tracking your weight is said to be an important part of slimming down. This downloadable chart can be printed and put somewhere you can easily see such as kitchen cupboard or the fridge, so you can access and update it regularly and consistently.
Weight Loss Log Men 
Compared to women, men's body have higher muscle to fat ratio, which is caused by their higher testosterone level. In general, their muscles burn more calories than the fat does. That's why the process of weight loss is different between both sexes.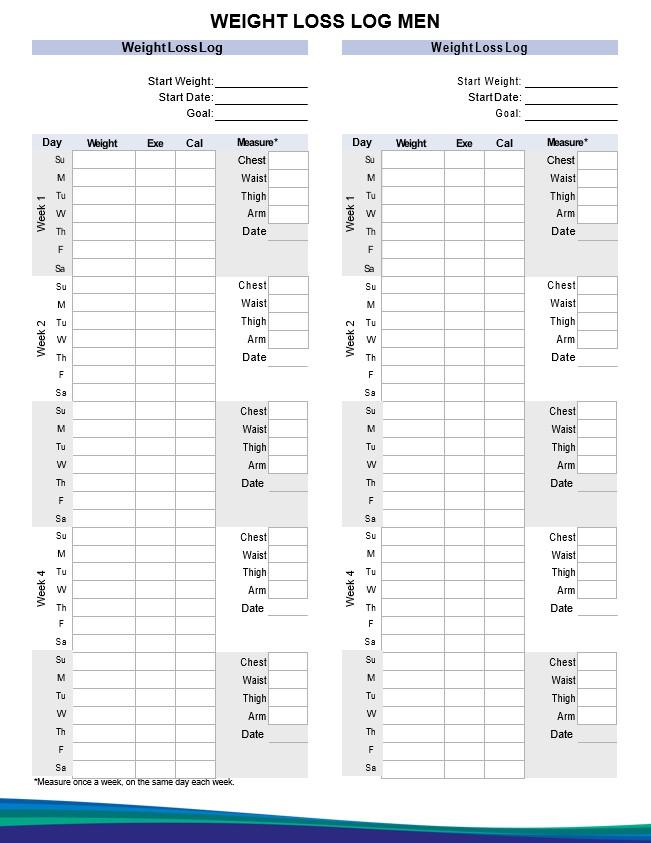 weight loss log men
Tracking weight has become an extremely common method to be used to losing some inches. This printable weight loss graph is suitable to be used by men to track any changes related to their weight.
Weight Loss Log Women        
Due to physiological and biological reasons, weight loss progression is different for men and women. Generally, women lose less weight during the first several weeks of the journey even if they cut similar amount of calories as men.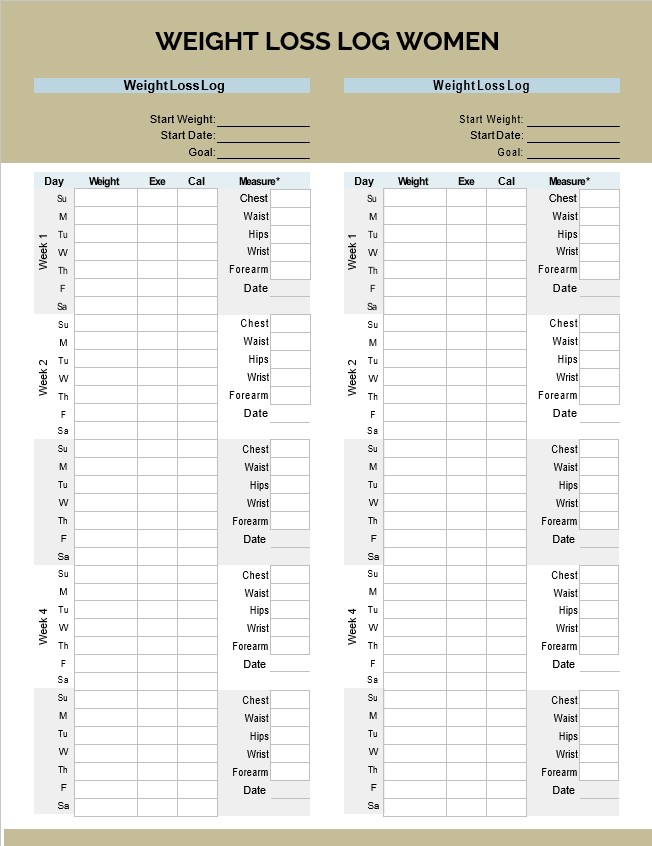 weight loss log women
This weight tracker is created and designed specifically for women. This allows women to monitor their weight easily and persistently, by creating a log.
Weight Loss Tracker Printable           
A lot of people who wants to embark in weight-loss journey use a tracker. This free printable tracker tool helps to retain important information to effectively lose weight.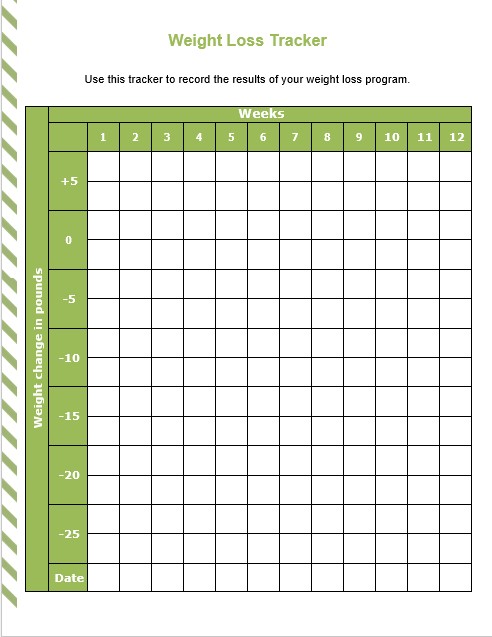 Weight Loss Tracker Printable
Keeping an organized printable weight loss graph tracker can make your process of losing weight more successful. To achieve better result, you need to use it on regular basis.
Weight Loss Tracker   
As there are so many weight loss tracker resources you can choose from, there won't be a shortage for one. There are various types of printable weight loss graph and chart to pick according to your needs.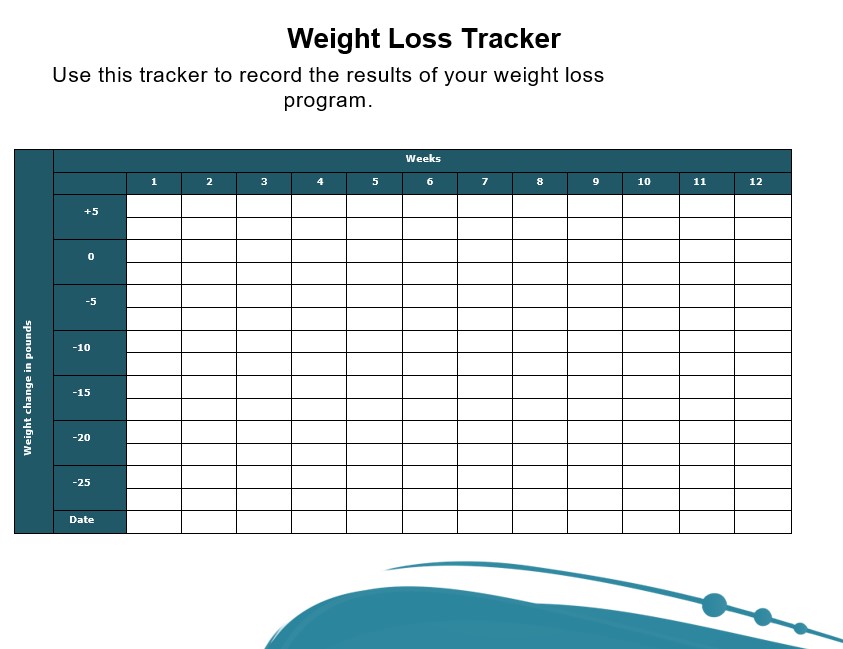 Weight Loss Tracker
This tracker template is one of the many freely available materials to use. Its simple layout makes it easy for you to see the overall picture of your journey and motivate you to get closer to your goals.
Weight Training Chart 
Losing some pounds, no matter how small, can be a quite difficult challenge. For those of you who have tried and struggled before, you need to incorporate this free weight training chart template.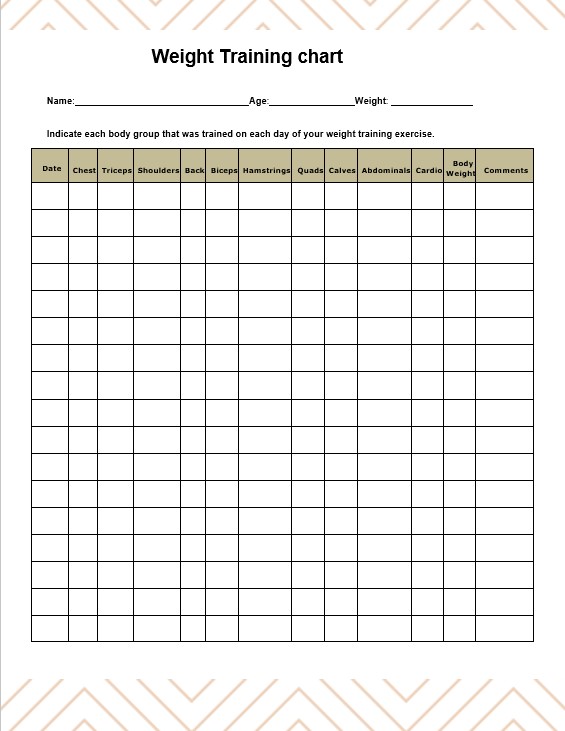 Weight Training chart
This template doesn't cost anything to be downloaded. It is especially useful and suitable for someone who isn't familiar with weight controlling mobile apps that can be complicated. This printable weight loss graph doesn't require you to put the numbers blatantly, so it can be hung in an easily visible spot without causing you embarrassment.