Doctors have the great kindness to us, so it is natural that they get a lot of praise and thanks from their patients. If you belong to one of the patients who felt helped by the doctor's services, you can thank him/her by writing an appreciation letter from patient to doctor. It may seem very simple and trivial, but a sincere letter will make the doctor feel touched and appreciated.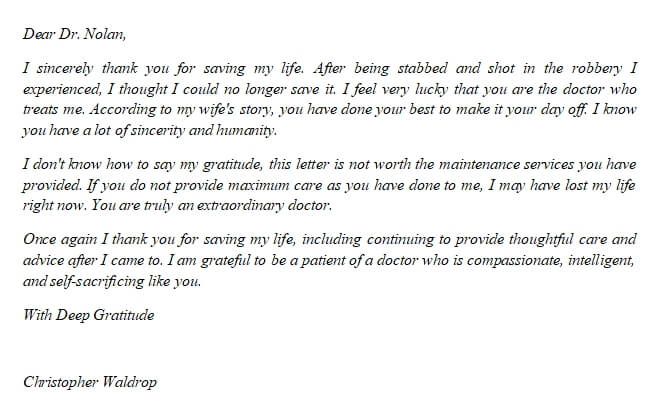 What Is The Best Way to Thank A Doctor?
You can choose several ways to thank the doctor who has taken good care of you. You can give your doctor gifts, food, and even recommend him/her to people you know. You can also send flowers to cheer up the doctor's heart, it's better to send them to the office because it will give a warm impression. Besides flowers, gifts, and food, don't forget to insert an appreciation letter from patient to doctor to show that you sincerely say thank you.
How to Write A Letter of Appreciation to the Doctor?
Writing a letter of appreciation to your doctor will give a great impression. But, you need to notice some aspects you must include in the letter. Your letter should also be written in brief and clear formats. Here are some elements you must include to write a proper letter of appreciation:
Salutation
Just like any greeting in a business letter, you can write it in a very formal format by saying "Dear Ms./Mr." followed by your doctor's last name. You must have known his/her name, right?
Body
You can immediately express your deepest gratitude for being well cared for. You are also allowed to mention some specific services that have been performed by your doctors.
Closing
Write a conclusion using a polite sentence and a signature. You can also offer some suggestions if it is needed, but the most important thing is sincere gratitude in an elegant tone.
Appreciation Letter from Patient to Doctor Sample
Doctors must have many patients and are busy all the time. Hence, you should write a brief letter of appreciation. You can pay attention to our sample below to find a new perception:
Dear Dr. Nolan,
I sincerely thank you for saving my life. After being stabbed and shot in the robbery I experienced, I thought I could no longer save it. I feel very lucky that you are the doctor who treats me. According to my wife's story, you have done your best to make it your day off. I know you have a lot of sincerity and humanity.
I don't know how to say my gratitude, this letter is not worth the maintenance services you have provided. If you do not provide maximum care as you have done to me, I may have lost my life right now. You are truly an extraordinary doctor.
Once again I thank you for saving my life, including continuing to provide thoughtful care and advice after I came to. I am grateful to be a patient of a doctor who is compassionate, intelligent, and self-sacrificing like you.
With Deep Gratitude
Christopher Waldrop
In brief, you can write a good appreciation letter from patient to doctor to show your care to the doctor, it will make your doctor feel impressed and appreciated.
Similar Posts: