The insurance company may refuse your claim to pay certain bills, including bills for treating your oral and dental problems. If you are faced with this problem, the best step you can take is to file an appeal. There is no need to worry because you are not the only one who has appealed this case. Some people have done it and won the cases. Therefore, the most important thing you need to pay attention to is writing a well-formatted dental insurance appeal letter.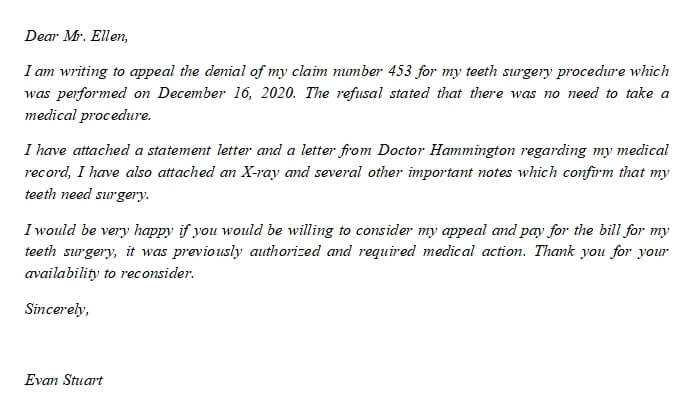 What Are The Elements of Appeal Letter?
Like the other business letter formats, when filing an appeal letter you must also include several important elements such as your name, policy number, contact, and date of the rejection letter. In addition, you also need to write the reasons for the denial and what was refused. The next element that is no less important is the identity of the doctor or medical service provider who claims that you should take the medical action. Under most circumstances, a doctor will also include a journal or article that can support the medical action you need to take.
What Are Steps To Write An Insurance Appeal Letter?
Writing an appeal letter can be stressful for some people, but if you've followed some important procedures well, you can get a great appeal letter. Here are several steps you can do before starting to write your letter:
Follow The Rules
You must follow the rules set by the company that you are going to appeal to because every company has different rules. You must understand the terms and conditions so that the appeal process can run smoothly.
Fill The Letter in Details
Fill the letter properly, don't miss some important things such as name, address, telephone number, email, type of medical treatment, reasons for medical refusal, and several other important elements.
Include Clinical Facts
To support your dental insurance appeal letter, you also need to include some clinical facts, whether it's x-raying results, medical records, or some valid supporting journals.
Dental Insurance Appeal Letter Sample
Here is a short sample you can pay attention to before writing your appeal letter, however, you can use this as an inspiration and change the elements based on your need.
Dear Mr. Ellen,
I am writing to appeal the denial of my claim number 453 for my teeth surgery procedure which was performed on December 16, 2020. The refusal stated that there was no need to take a medical procedure.
I have attached a statement letter and a letter from Doctor Hammington regarding my medical record, I have also attached an X-ray and several other important notes which confirm that my teeth need surgery.
I would be very happy if you would be willing to consider my appeal and pay for the bill for my teeth surgery, it was previously authorized and required medical action. Thank you for your availability to reconsider.
Sincerely,
Evan Stuart
In short, if you want to win your appeal, you need to attach some important documents or pieces of evidence which can strengthen your argument to take a medical procedure. Well, it's your time to make a good dental insurance appeal letter.
Similar Posts: