Being a manager sure makes you get used to accepting your employees' resignation letters. Then, what if you want to resign? As a professional, it is a must for you to write a formal resignation letter. Through this letter, you can explain the reasons for your resignation and keep yourself for being professional. Here are the following steps to write an employer resignation letter.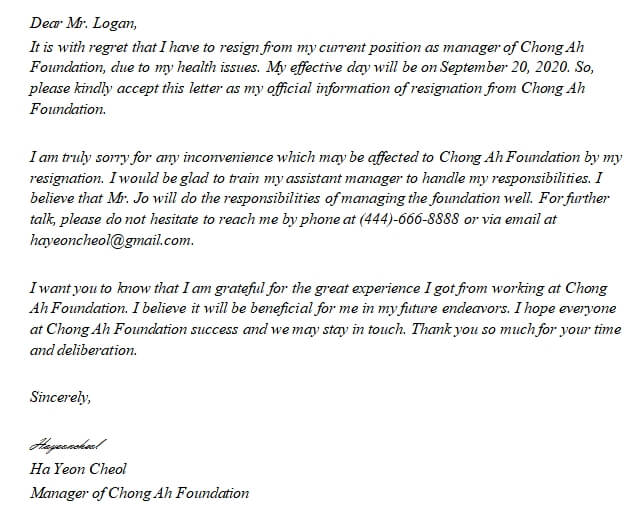 Why should I write a resignation letter?
Perhaps you ever thought that an employer does not need to write a formal resignation letter. It is because an employer takes a role as the one who hires and accepts people's resignation letter. However, it is a false assumption. You, as the manager or employer, still need to compose a resignation letter addressed to the Human Resource Department. It is important to notify your leaving because you cannot get the benefits or wages if you do not sign an acceptance of resignation letter. In addition, you must give a good example to your employees that you follow the company rules.
What are some tips that I can apply if I want to resign?
There are some tips that you should know before you decide to resign as an employer. First, settle the details of your future job. After that, finish all primary responsibilities. You should do it silently. Never talk about your resigning before you finally do it. It will make your employees become hectic and do not focus on their job. Then, keep being professional. You need to arrange a transition plan as smooth as possible. Remember that you should prepare a good reason for resigning. You can tell the HR manager directly before you write an employer resignation letter.
How should I write a resignation letter?
Writing a resignation letter should be easy for you who is a manager. You must have seen many resignation letters addressed to you. It is almost the same as the general resignation letter. It starts with a statement that you want to quit from your current position. After that, you need to include the effective date you leave the job. Don't forget to mention a statement of gratitude and a highlight of your experience in the company. Then, offer that you will help to train your replacement.
Employer Resignation LetterSample
If you still have no clue on how to write the employer resignation letter, here we provide the sample that may help you. Check this out.
Dear Mr. Logan,
It is with regret that I have to resign from my current position as manager of Chong Ah Foundation, due to my health issues. My effective day will be on September 20, 2020. So, please kindly accept this letter as my official information of resignation from Chong Ah Foundation.
I am truly sorry for any inconvenience which may be affected to Chong Ah Foundation by my resignation. I would be glad to train my assistant manager to handle my responsibilities. I believe that Mr. Jo will do the responsibilities of managing the foundation well. For further talk, please do not hesitate to reach me by phone at (444)-666-8888 or via email at hayeoncheol@gmail.com.
I want you to know that I am grateful for the great experience I got from working at Chong Ah Foundation. I believe it will be beneficial for me in my future endeavors. I hope everyone at Chong Ah Foundation success and we may stay in touch. Thank you so much for your time and deliberation.
Sincerely,
Hayeoncheol
Ha Yeon Cheol
Manager of Chong Ah Foundation
That is all short summary of the employer resignation letter. You may edit this letter based on your needs.
Similar Posts: