To advocate a product, company, a person, etc., a former employer or business associate writes an endorsement letter. They are waiting to obtain the preceding response of a recipient, approval or disapproval. However, this letter cannot be written without a second thought. The length must be simple but comprehensible and straight to the point. How well you arrange words determines how the recipient gets impressed to your letter.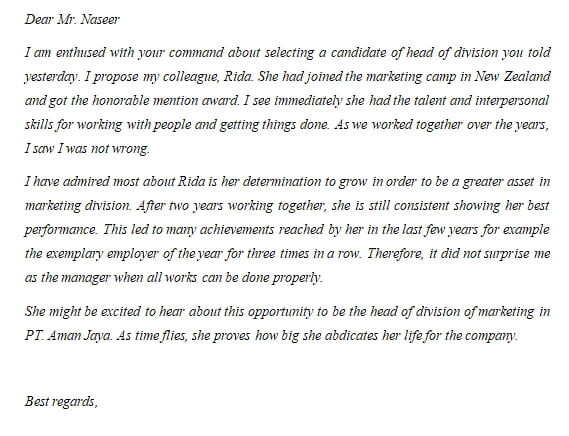 Guiding Your Process Of Writing Endorsement Letter
It is a warning that you cannot be reckless in authoring this kind of letter. To reach your goal, here are several steps you must follow:
Prewriting
This step demands you to list all the information needed such as purposes and credible response. Do not write trash (e.g.) lies, hyperbole, or other things which can make your letter failed.
Writing
After writing down your needs, arrange your own words using the structure of endorsement letter. It will be organized if you make a draft then write the letter professionally.
Proofreading
Remember that how well you arrange words determines how the recipient gets impressed to your letter. Consider about your spelling, grammar, and selecting words as this endorsement letter requires formal language.
How To Organize An Endorsement Letter?
Salutation (Dear Mr./Mrs./Miss/Ms. followed by last name)
Content
Introduction (introduce and state that you are in favor to something, such as a product, company, a person, etc. and your purpose)
Main body (elaborates your reasons of supporting)
Closing (emphasize your purpose alongside with reasons. Do not forget to attach your contact to ease the recipient reach you)
Complimentary close (best regards, sincerely, best wishes)
Title (if applicable)
Company name
Endorsement Letter's Example
This letter's example is written based on the structure above. In this case, a director, Mr. Naseer, gives a command to the marketing manager to choose on candidate of the head of division. Pay attention to the language used and words selected.
Dear Mr. Naseer
I am enthused with your command about selecting a candidate of head of division you told yesterday. I propose my colleague, Rida. She had joined the marketing camp in New Zealand and got the honorable mention award. I see immediately she had the talent and interpersonal skills for working with people and getting things done. As we worked together over the years, I saw I was not wrong.
I have admired most about Rida is her determination to grow in order to be a greater asset in marketing division. After two years working together, she is still consistent showing her best performance. This led to many achievements reached by her in the last few years for example the exemplary employer of the year for three times in a row. Therefore, it did not surprise me as the manager when all works can be done properly.  
She might be excited to hear about this opportunity to be the head of division of marketing in PT. Aman Jaya. As time flies, she proves how big she abdicates her life for the company.
Best regards,
Maulana Rahmani
Marketing Manager
Aman Jaya
That is all about endorsement letter. Hope you can enjoy reading and learning about it. If you think that this article needs some improvements, do not hesitate to add your comment below. Good luck!
Similar Posts: