If you want to resign from a job but hope to maintain a good relationship with your employer, make sure you write an elegant and professional resignation letter. A polite resignation letter can impress employers and think that you have prepared the best before leaving. One of the best things you can do when you want to resign wisely is to write a graceful resignation letter.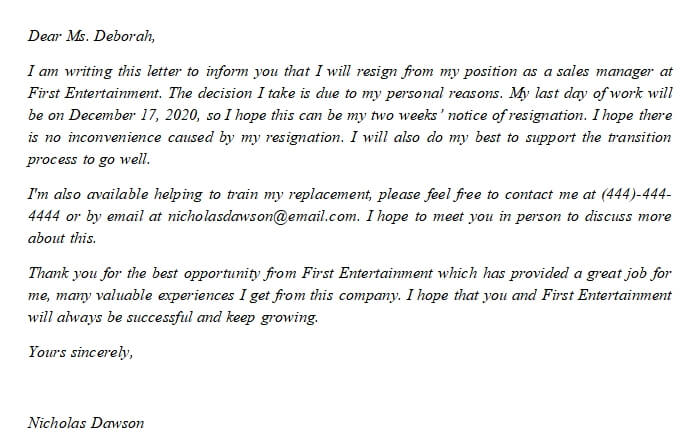 What Should I Do Before Resigning A Job?
Before leaving work, there are several things that you need to notice so that the resignation process can run well. Some of them are as follows:
Choose the Best Time to Resign
Choose the most appropriate time to resign, as long as you plan to leave the job, don't tell anyone about it. You do need to talk about it if necessary, but there is no need to announce that you are going to resign.
Write A Good Resignation Letter
If you are sure to resign, don't forget to write a good and professional resignation letter. Your letter should be written in a friendly and respectful tone. Also, keep the letter short but clear. It's better if you have a copy of your letter.
Tell Your Boss Politely
Convey your resignation to the boss politely and carefully. Be prepared to answer some questions about your reasons for resigning, of course, it must be the same as what is written in the letter.
How Do I Write A Graceful Resignation Letter?
Open your letter with a polite greeting, followed by the name of your employer. Choose the correct diction and grammar to make your letter look formal. To create a graceful resignation letter, you must include the exact day you wish to resign, as well as your reason to quit your job. In addition, contact information such as e-mail and telephone numbers should also be included in the letter. Note that you also need to say thank you for the opportunity that has been given to you.
Graceful Resignation Letter Sample
Writing a good resignation letter can keep you appreciated by the employer. If you are confused about how to start the letter, please pay attention to the example below:
Dear Ms. Deborah,
I am writing this letter to inform you that I will resign from my position as a sales manager at First Entertainment. The decision I take is due to my personal reasons. My last day of work will be on December 17, 2020, so I hope this can be my two weeks' notice of resignation. I hope there is no inconvenience caused by my resignation. I will also do my best to support the transition process to go well.
I'm also available helping to train my replacement, please feel free to contact me at (444)-444-4444 or by email at nicholasdawson@email.com. I hope to meet you in person to discuss more about this.
Thank you for the best opportunity from First Entertainment which has provided a great job for me, many valuable experiences I get from this company. I hope that you and First Entertainment will always be successful and keep growing.
Yours sincerely,
Nicholas Dawson
All in all, you can use a graceful resignation letter format to make an elegant resignation before leaving your company.
Similar Posts: