Sometimes while you are looking for a job, you think that you are interested with the company. However, this company has not listed a specific job opening that you can apply for. Stay calm. You still have a chance to work in the company you await for. You just need to send an interest in job letter to the company. This is the first step to get on its circle and get noticed. By sending this letter, you might secure a real interview in the future as you can arrange an informational interview with somebody in the company. You can show the internal person that you are interested with the opportunity and want to learn more. If you are still confused to compose the letter, here are the strategies.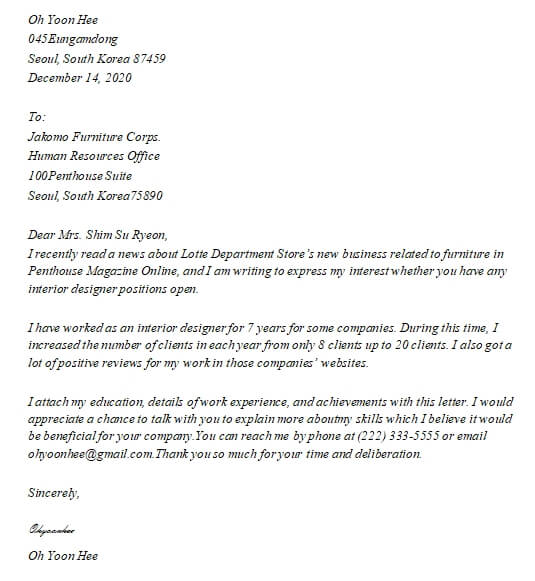 How should I introduce myself?
In writing a letter of interest, you need to introduce yourself in the first paragraph. You should not describe yourself in detail but it should be briefly. Tell your background, latest experience, or even your achievement. After that, explain your enthusiasm towards the company. Convince the hiring manager that you will add value to the team.
What are some tips to show my interest in a job?
There are several tips you can apply in showing your interest in job letter. You need to use professional and formal language. Then, you need to include the latest skills you have developed. It will be better if the skills are matched with the qualification that the company's looking for. Remember that you need to do a research about the company. You need to learn about the company you want to work for. Last, it is important to know your audience's or the employer's name. It shows that you are serious with your intention.
How do I write a letter of interest?
Composing a letter of inquiry might be tricky. Therefore, you need to write only the important things. First, you should add your complete name, address, phone number, and email address. You also have to include the company's contact details. After that, initiate with a professional greeting. Introduce yourself, your background, your skills, your experience, and other in brief. Explain why you are interested with the company in your interest in job letter. Close with an appreciation note.
Interest in Job Letter Template
If you are still confused with the format, you can see the following template that we have provided for you. Check it out.
Oh Yoon Hee
045Eungamdong
Seoul, South Korea 87459
December 14, 2020
To:
Jakomo Furniture Corps.
Human Resources Office
100Penthouse Suite
Seoul, South Korea75890
Dear Mrs. Shim Su Ryeon,
I recently read a news about Lotte Department Store's new business related to furniture in Penthouse Magazine Online, and I am writing to express my interest whether you have any interior designer positions open.
I have worked as an interior designer for 7 years for some companies. During this time, I increased the number of clients in each year from only 8 clients up to 20 clients. I also got a lot of positive reviews for my work in those companies' websites.
I attach my education, details of work experience, and achievements with this letter. I would appreciate a chance to talk with you to explain more aboutmy skills which I believe it would be beneficial for your company.You can reach me by phone at (222) 333-5555 or email ohyoonhee@gmail.com.Thank you so much for your time and deliberation.
Sincerely,
Ohyoonhee
Oh Yoon Hee
That is all the short explanation about writing an interest in job letter. We wish it would be beneficial for you in the future.
Similar Posts: