There are many overlooked things when a client does not keep an appointment with you, for example, your time is wasted, and the payments will also be delayed. You should be able to use this valuable time to serve other clients, but it turns out that patients who have made appointments don't come. To avoid it reoccurs in the future, you need to write a no show appointment letter as a light warning.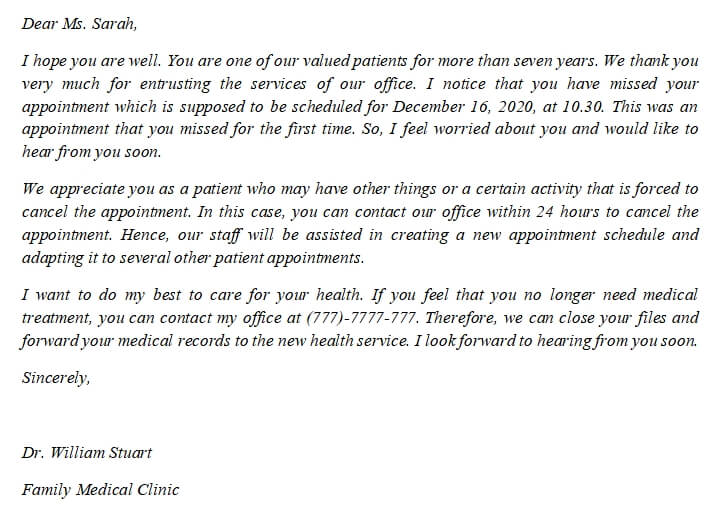 What Should I Do to Reduce No-Show?
Appointments are important things that should not be missed. Therefore, you can anticipate your patients not to miss their appointments by doing the following ways:
Give an Automatic Reminder
Before the appointment arrives, you can send a reminder to the patient about the upcoming appointment. This method is considered effective because it not only reminds the patient but also saves your time.
Use Multiple Reminder
You may meet some new patients who need to make their first appointment. The first thing you need to do is ask them to choose what reminder method they want, whether a phone call, text message, or email notification.
Pre-paid Appointment Method
prepayments can increase patients' attendance at the appointment. Using this method, you can also offer discounts to patients who want to make the next appointment after several appointments.
How To Write A Letter of No-Show Appointment?
If you want to write a letter no show appointment letter, use a polite and professional tone. Write your letter in a tone which assumes that the patient you are referring to is valuable. You can also mention the cost of absenteeism, in a very elegant tone, of course. Besides, don't forget to include your office phone number, so your patients can call your office again to make a re-appointment.
No Show Appointment Letter Example
Below is a letter format that you can use as an example. You can take it as an inspiration for writing your best letter. Here's the letter:
Dear Ms. Sarah,
I hope you are well. You are one of our valued patients for more than seven years. We thank you very much for entrusting the services of our office. I notice that you have missed your appointment which is supposed to be scheduled for December 16, 2020, at 10.30. This was an appointment that you missed for the first time. So, I feel worried about you and would like to hear from you soon.
We appreciate you as a patient who may have other things or a certain activity that is forced to cancel the appointment. In this case, you can contact our office within 24 hours to cancel the appointment. Hence, our staff will be assisted in creating a new appointment schedule and adapting it to several other patient appointments.
I want to do my best to care for your health. If you feel that you no longer need medical treatment, you can contact my office at (777)-7777-777. Therefore, we can close your files and forward your medical records to the new health service. I look forward to hearing from you soon.
Sincerely,
Dr. William Stuart
Family Medical Clinic
By writing a no show appointment letter, you can get confirmation from the patient regarding the failure which makes her/him not to come to the appointment.
Similar Posts: