It is a respected behavior if you write a resignation letter when you plan to leave either for a while or for good rather than exiting the job without any information. People will respect you for you can keep your quality behavior of work, especially if you work with clients. Through this resignation letter to clients, you can develop a positive relationship after you are no longer with your previous clients.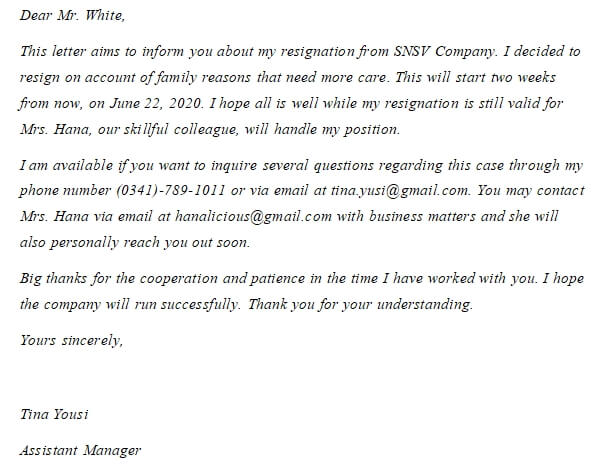 How To Make A Resignation Letter To Clients?
Things make your resignation letter good is by getting to know any essential points of this letter. There are two steps that will lead you to create an impressive resignation letter:
Writing
It is adviced for you that you can make a draft initially to prevent any missing points to be included in, for example, clear reasons and messages. Do not forget to be firm and straight forward in writing this letter as well. On the other hand, you can add personal information or the one who will take over your responsibility after you leave if necessary.
Proofreading
After you finish writing your draft, it is very important to proofread it. It is because you formally write this letter. Remember that you are a professional worker that should present a civil letter. Check your grammar, selecting words to represent several expressions such as gratitude, politeness, and forgiveness.
How To Organize A Resignation Letter To Clients?
Salutation
Providing the specific recipient at the beginning of the letter, such as Dear Mr./Mrs./Miss/Ms. followed by the last name is a must. This helps you to prevent sending the wrong letter.
Content
Introduction: Provide a glimpse of information of you, such as name and position. Also, mention clearly the date of your resignation.
Body: Explain the reasons you cannot work with them. It is also recommended to state your plan after resigning. If you are going to leave your position for a moment, we suggest you utter your plan as well, so they can understand your situation better.
Closing: Do not forget to thank your clients for giving you the opportunity to work with them.
Complimentary Close
Adding this complimentary close, such as best regards, sincerely, best wishes will be the last part of your letter. You are supposed to add your name and signature as well to end this letter.
Sample Of A Resignation Letter To Clients
Dear Mr. White,
This letter aims to inform you about my resignation from SNSV Company. I decided to resign on account of family reasons that need more care. This will start two weeks from now, on June 22, 2020. I hope all is well while my resignation is still valid for Mrs. Hana, our skillful colleague, will handle my position.
I am available if you want to inquire several questions regarding this case through my phone number (0341)-789-1011 or via email at tina.yusi@gmail.com. You may contact Mrs. Hana via email at hanalicious@gmail.com with business matters and she will also personally reach you out soon.
Big thanks for the cooperation and patience in the time I have worked with you. I hope the company will run successfully. Thank you for your understanding.
Yours sincerely,
Tina Yousi
Assistant Manager
We really hope you can find it interesting and able to help you to write your own resignation letter to clients. If some parts need improvements, do not hesitate to custom according to your situation. Good luck!
Similar Posts: