Several things that are burdensome when you retire is to end your relations with colleagues or clients. On the one hand, you may be happy that you can take a break from work. But, you will also find it difficult because you have to end good relations with the people you have worked with for a long time. If you want to thank your clients and need to build good relationships with them, you can write a retirement letter to clients, so the client feels that you really appreciate them.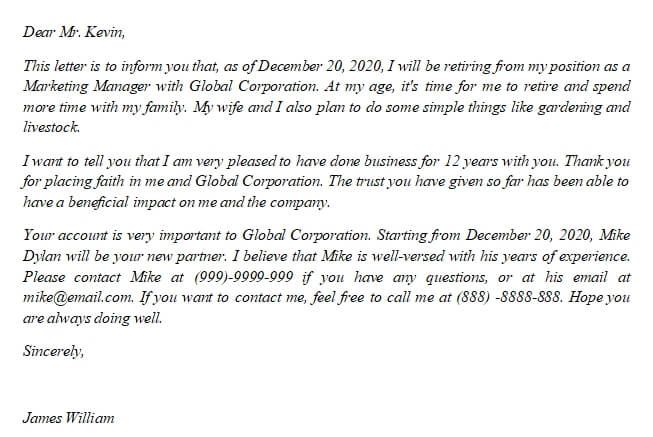 What Should I Include in My Retirement Letter?
Here are some important aspects that you must include in writing your retirement letter:
State The Date
When you want to write a good retirement letter, you must write the exact days when you will officially leave the company. Tell the client that you are very grateful to them for their cooperation so far. You may offer to help them in your transition before you retire. You must highlight that your retirement letter shouldn't be sent out of the blue.
Reasons for Retiring
The reason of retiring must be due to reaching a certain age, so in the reason section, you can write about someone who will replace your position. The tone of the letter is professional and informative.
Maintain Good Relationships
Whether or not you will need client services in the future, you still need to maintain a good relationship with them. If you find that you want to start a new career with your client, then a retirement letter is not a goodbye.
How To Write A Retirement Letter to Clients?
In writing a retirement letter for a client, you can pay attention to the format and regulations of the company, your preferences, and your current relationship with the client. You can write about your effective days for retirement, retirement intentions, and what will happen to the client after you retire. State that the client will not be affected and still be considered an important client by the company after your retirement.
Retirement Letter to Clients Sample
Below is an example of a retirement letter to a client that you can use as an example. You can apply this format and replace some elements according to your needs.
Dear Mr. Kevin,
This letter is to inform you that, as of December 20, 2020, I will be retiring from my position as a Marketing Manager with Global Corporation. At my age, it's time for me to retire and spend more time with my family. My wife and I also plan to do some simple things like gardening and livestock.
I want to tell you that I am very pleased to have done business for 12 years with you. Thank you for placing faith in me and Global Corporation. The trust you have given so far has been able to have a beneficial impact on me and the company.
Your account is very important to Global Corporation. Starting from December 20, 2020, Mike Dylan will be your new partner. I believe that Mike is well-versed with his years of experience. Please contact Mike at (999)-9999-999 if you have any questions, or at his email at mike@email.com. If you want to contact me, feel free to call me at (888) -8888-888. Hope you are always doing well.
Sincerely,
James William
In short, you can write a retirement letter to clients by paying attention to several important aspects and elements as above.
Similar Posts: