Certain reasons may encourage you to resign as a teacher. Whatever the reason, you need to write a polite resignation letter. By following some important points and the right strategy for resigning, you will make a positive impression on several parties in the school. If you are sure to resign, it is better to start drafting your teacher resignation letter to principal in an appropriate format.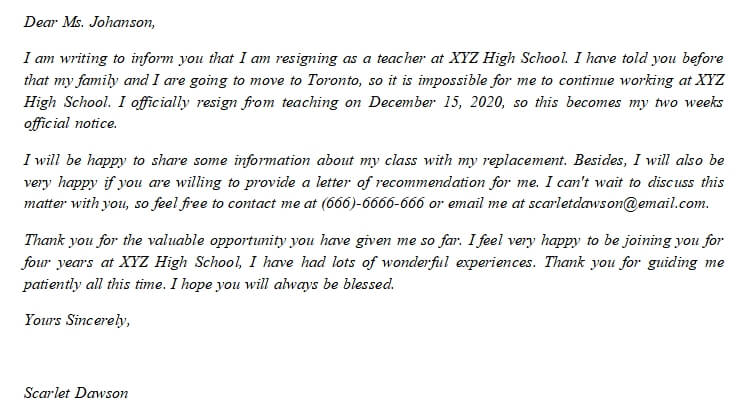 How To Resign From Teaching?
There are several things you need to consider before officially resigning from a job. Make sure you follow these important steps exactly:
Have Another Job
Do you have another new job? If you don't have a new job yet, it would be better to start updating your resume by adding your work experience. After that, start to apply for work in several agencies based on your desire.
Talk carefully to the Principal
Before resigning as a teacher, you must discuss with the principal your plans to resign. You can state the reasons as well as the day you will quit working. This will help your principal to find a replacement before you officially leave school.
Write a Resignation Letter
After conveying your intention to resign, the next thing you need to do is writing a resignation letter in a good and structured format. Make sure you include all the elements of the letter properly and concisely. Don't forget to apologize for the inconvenience of your resignation.
How To Write  A Good Teacher Resignation Letter?
One of the rules in writing a good resignation letter is to greet the principal politely. You may also recommend a person who can be a replacement after you officially resign from the school.
Some important aspects that you need to include in your resignation letter are the date of the letter, the date you resigned, and the reason for your resigning.
Teacher Resignation Letter Example
After knowing some relevant aspects that you need to include in your letter, it is time for you to write your resignation letter. The following is an example that you can use as inspiration:
Dear Ms. Johanson,
I am writing to inform you that I am resigning as a teacher at XYZ High School. I have told you before that my family and I are going to move to Toronto, so it is impossible for me to continue working at XYZ High School. I officially resign from teaching on December 15, 2020, so this becomes my two weeks official notice.
I will be happy to share some information about my class with my replacement. Besides, I will also be very happy if you are willing to provide a letter of recommendation for me. I can't wait to discuss this matter with you, so feel free to contact me at (666)-6666-666 or email me at scarletdawson@email.com.
Thank you for the valuable opportunity you have given me so far. I feel very happy to be joining you for four years at XYZ High School, I have had lots of wonderful experiences. Thank you for guiding me patiently all this time. I hope you will always be blessed.
Yours Sincerely,
Scarlet Dawson
Concisely, you must resign politely and elegantly. Also, note that your teacher resignation letter to the principal must be short and not verbose.
Similar Posts: