Covid-19 Pandemic has brought a global economic slowdown. Business tends to decline in many factors. The business health situation makes the companies to terminate their employees. If you are the HR, you do not have a choice except to write a termination letter due to lack of work to your employees. Through the termination letter, you can explain the situation which requires you to layoff them.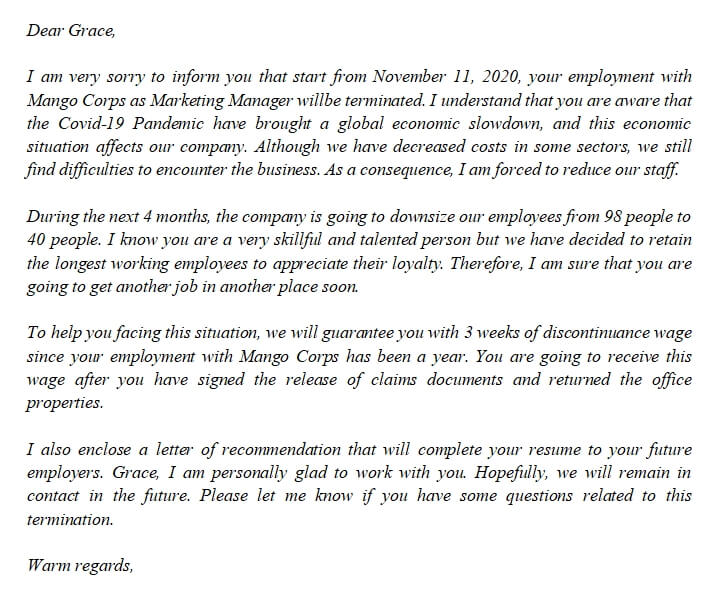 What should I prepare before terminating employees?
Before terminating people, you need to prepare some important things. First, you need to review their personnel files. It will help you to see their work records. You can also consider whether an employee really worth to let go or not. After that, you should list some office properties that your employees have to return. You need to identify all of the properties they possess during work such as car key, electronics, and access cards. The last, you have to prepare final paycheck based on their positions.
What are things that you should not write on termination letter?
Firing people due to lack of work might feel hard for you. Perhaps you find difficulties to deliver the termination message and really want to express your true feelings. Although letting go people is difficult, getting fired is more difficult to face by your employees. Sometimes, running a business makes you to set your feelings aside and think rationally. However, you still have to treat your employees humanely. Here are some sentences you should not write on atermination letter due to lack of work.
It is really hard for me–it's way harder for theemployees.
I have no idea to say this–you have to look sure with your decision.
Compared to your coworkers, your performance went down–comparing an employee with her/his coworkers will hurt them more.
I understand you will not be happy, but this is the better decision–you should not judge your employees' feelings and whether the decision is good or not.
Let me know if I can help you–if you offer a help, sure they are going to ask you seek for a new job for them.
How does a termination letter due to lack of work look like?
A termination lettercontains a notification for an employee that he/she will be fired off. It should explain the reasons why the employees will lose their jobs, especially when the termination is caused by economic conditions. You need to write the termination letter due to lack of work specifically. Thus, you should also include the date of termination, your appreciation of their works, years of work, and a positive message. Don't forget to explain their compensation and benefits based on the initial contract and list of office properties that they have to return.
Termination Letter Due to Lack of Work Sample
Perhaps you have no clue on how to write a termination letter due to lack of work because you also do not want it happens. Thus, you can look at the following sample& we provide for you.
Dear Grace,
I am very sorry to inform you that start from November 11, 2020, your employment with Mango Corps as Marketing Manager willbe terminated. I understand that you are aware that the Covid-19 Pandemic have brought a global economic slowdown, and this economic situation affects our company. Although we have decreased costs in some sectors, we still find difficulties to encounter the business. As a consequence, I am forced to reduce our staff.
During the next 4 months, the company is going to downsize our employees from 98 people to 40 people. I know you are a very skillful and talented person but we have decided to retain the longest working employees to appreciate their loyalty. Therefore, I am sure that you are going to get another job in another place soon.
To help you facing this situation, we will guarantee you with 3 weeks of discontinuance wage since your employment with Mango Corps has been a year. You are going to receive this wage after you have signed the release of claims documents and returned the office properties.
I also enclose a letter of recommendation that will complete your resume to your future employers. Grace, I am personally glad to work with you. Hopefully, we will remain in contact in the future. Please let me know if you have some questions related to this termination.
Warm regards,
Charlotte
Charlotte Hills
Human Resource Manager of Mango Corps
That is all about the summary of termination letter due to lack of work. We wish it will help you.
Similar Posts: