Let's See Your Kids Smile with the Cute Kids Birthday Invitation
As parents, your kids mean a world for you, and you must give the best for them. Every year, you watch how they grow and celebrate their birthday. Well, kids are always waiting for that special day since their beloved ones will shower them with love and presents. This day is about to come, and you have set everything well. It is time to invite relatives and your kids' closest friends. For this, you need kids' birthday invitation. Before you think of contacting a graphic designer, you may want to take a look at birthday invitation design samples.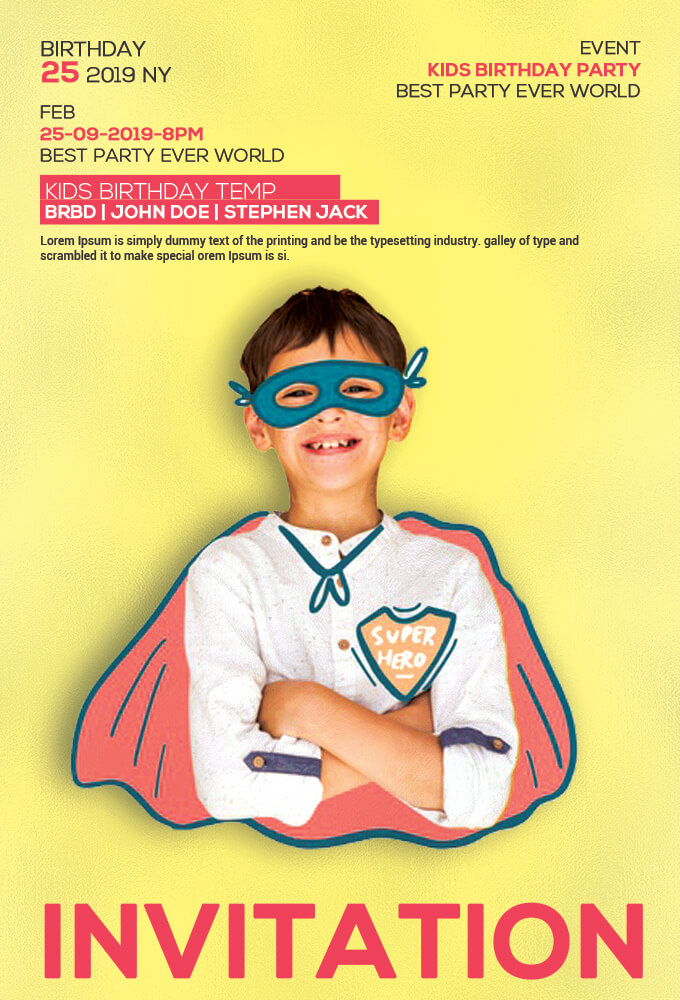 Kids Birthday Invitation Messages
Make sure to include these details when designing a kids birthday invitation.
Kids Name and Age
These should stand out on the invitation because they are the stars. By collecting your kids' invitations every year, you may want to look them back later when your kids go to college.
Party Date and Time
Of course, including the date, day, and time frame is a must. You want to let other parents or relatives save that special day in their agenda, right?
Party Location
Whenever the location of the party you are about to choose, make sure to include the name and the complete address. Don't forget to include a simple map or road direction.
Party Theme (if necessary)
Kids usually love a special theme for their birthday party, such as superheroes, pirates, princesses, etc. Make sure to include this on your birthday invitation, so the invitees can prepare themselves well.
RSVP Detail (if necessary)
If the party needs an RSVP, let the other parents or relatives know who to contact. Include the name, contact information, and deadline on the invitation.
PSD Kids Birthday Invitation Design Guidelines
Bright Color Scheme
Use a bright and vibrant color scheme as it resembles the joy of invitation. Use the contrasting colors for a vibrant scheme, such as orange and blue.
Font Styles
Try mixing and matching different font styles on your invitation since it is okay to apply unique fonts. It is suggested to choose a decorative font for the main header, a second decorative font for the sub-header, and a plain font for the body text.
Eye-catching Header
Use a big, eye-catching header to make the kid's birthday invitation stands out. For example, apply a lovely floral image against the neutral white background.
Two-column Layout
If you use landscape orientation, try splitting your invitation right down the middle. Use a decorative image, and on the other side, apply a color block background with the party details. It is helpful for balanced, easy-to-read invitation design.
PSD Kids Birthday Invitation Samples
Convey the kid's energy in your birthday invitation to create an attractive look for invitees to come. You may refer to the several samples, so you can create a cost-efficient and less time-consuming invitation.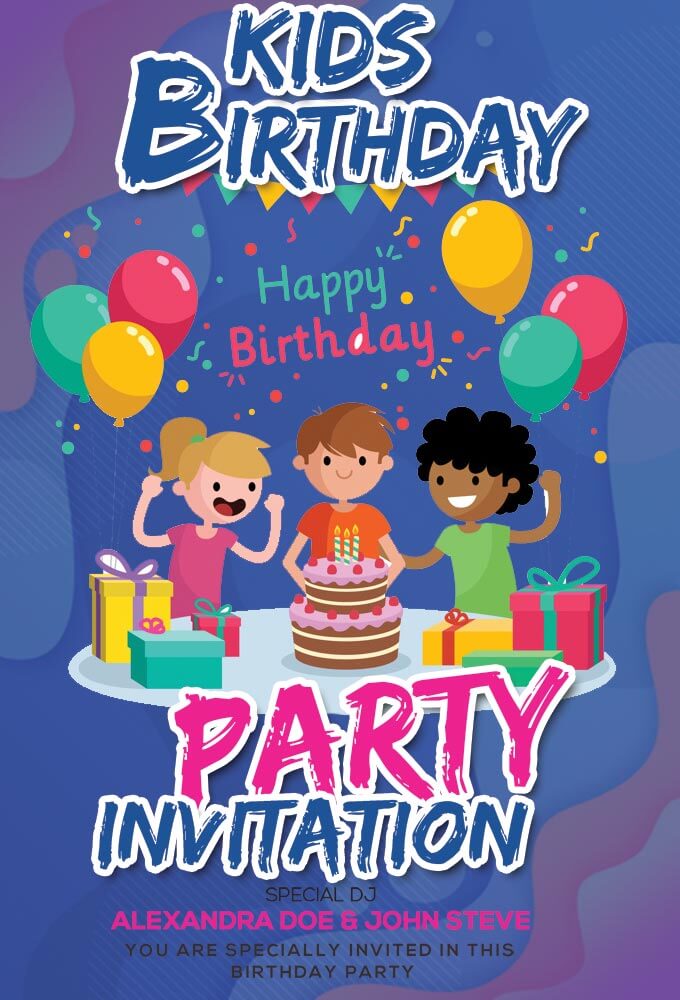 PSD Kids Birthday Invitation Templates
So, what are you waiting for? Take a look at free PSD templates of a kids birthday invitation, and grab the best which suits your needs. Various templates are provided in different shapes, color palettes, and edge finishes. Let's make your kid's birthday party this year memorable.