The Main Contents of Magazine Bookcover
When you take a look at many kinds of magazine book cover design on the screen, you will find it difficult not to judge. According to some book cover designers, it takes passion, dedication, and desire to make their book cover great and bold. Just admit it when you are walking around the bookstore, you rarely spend your money to buy a magazine. Well, maybe some of you think it's unnecessary to know what a certain celebrity is doing. Still, you may want to stop for a while and take one magazine with the visually engaging book cover. Well, the good news is you don't need a skill like a pro to have your lovely book cover.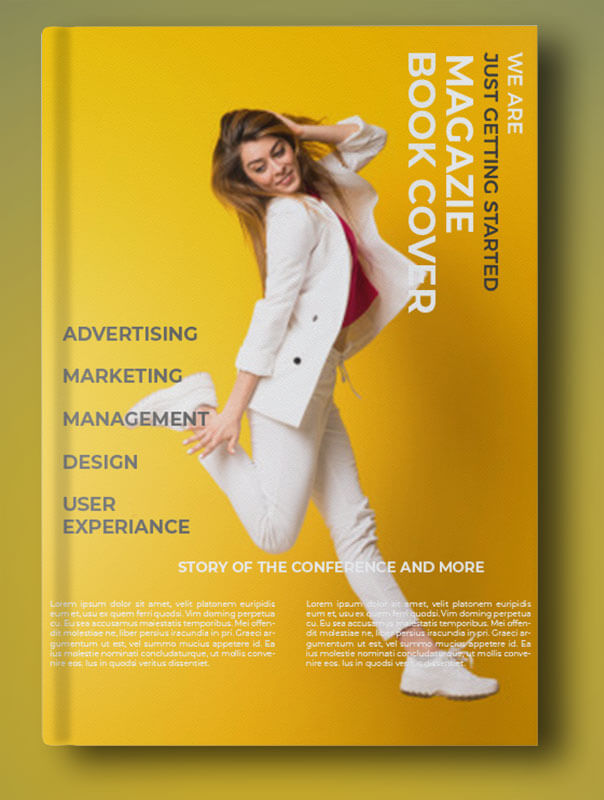 Magazine Bookcover Types
Check this out for different types of the magazine book cover.
Image-based
Yes, we know exactly that most magazine covers are dominated by people's images. There may a single or a few people, usually smiling at the camera. Some of the common people are celebrities or supermodels.
Illustration-based
The illustration-based cover focuses on presenting something funny, unique, or extraordinary. Nowadays, illustration-based covers are not commonly used. Those who still use them are mostly independent publishers.
Typography-based
A typography-based magazine book cover can convey the message and convince audiences much better than images. This cover type is rare these days. Fortunately, there is a certain hope for the increasing popularity of this cover since many people are interested in modern calligraphy and handwritten letterforms.
Concept-based
Concept-based magazine covers are usually found in independent magazines, newsweekly, and business journals.
Magazine Bookcover Design Guidelines
Having a good magazine book cover certainly helps its success. Let's bet that audience will be judging the covers for all the right reasons in no time.
Understand the Content
This is crucial to get a successful cover design. Do your best to understand the chapters, topics, or segments in the magazine. Don't be such a blind or ignorant of the design just because you don't have any ideas on the content.
Define the Key Ideas
Identify the key ideas, themes, topics that can be visualized in some ways. If you get the whole knowledge of the content, elegant cover design can create.
Set up the Tone and Mood
The tone and mood of magazine cover could be set from choosing the color palettes, images, and typography. You should spend some time to look at other designs of the book cover — what colors do they use or what type of font style do they choose? When you've done observing, use the artistic sense to create a unique cover that represents the magazine value.
PSD Magazine Bookcover Design Ideas
Do not worry anymore since the free PSD magazine cover designs are available and easy to download. The great quality of your cover is decided on your own. Even if you've only got the basic knowledge of Photoshop, you can change or replace any details on the PSD book cover designs. Make the right choice and enjoy the result of your work.
PSD Magazine Bookcover Templates
Download any free PSD magazine book cover templates, and find the best one for your needs. You definitely can present the magazine cover design professionally and attractively. In just a few clicks, it's easy to apply. Now, turn on your computer and show them what you got.