On a day you are about to leave the company, you need to express your gratitude because of their guidance and supports. Through this end of internship letter, you can express your feeling and gratitude to them. This can also be an opportunity to appreciate other workers and staff in the company. Below are some tips and information you can use to write this letter.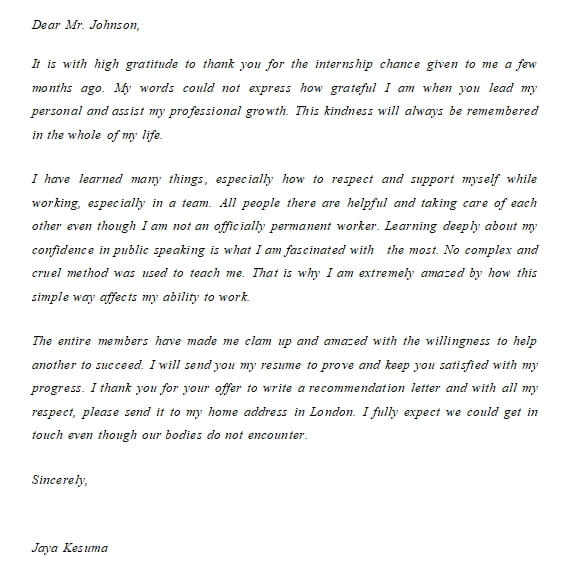 How To Thank Everyone In This End Of Internship Letter?
This way indicates that you always want to get in touch with the organization. Even though you should be polite, it does not mean that you can admire them excessively by writing a long letter. Just write it in a brief and straightforward and pay attention to your selecting words. Moreover, remember that you are not going to intend something else, but just saying your thankfullness. Be genuine in writing and do not ask for a job or others to this place.  If you have trouble while you were doing an internship, utter it another time. This is not the right time to discuss and solve problem.
How To Organize End of Internship Letter
To make your writing more well-organized and acceptable, here are some parts you are supposed to write:
Introduction
In this part, you begin the letter by introducing yourself politely. Then, it is suggested to show your gratitude and willingness to work in the company. Also, show your feelings to others can be another good way in writing this letter.
Body
This part covers any improvements you have achieved in your internship program along with the company. You can also add other details here, such as how people treat you and any other memorable memories that you face with them.
Closing
At this stage, we suggest you write your gratefulness to thank them all for giving lessons and experience in your internship program. It is also recommended to write your gratitude to the boss and other staff for accepting you in the company.
The Example Of An End of Internship Letter
Dear Mr. Johnson,
It is with high gratitude to thank you for the internship chance given to me a few months ago. My words could not express how grateful I am when you lead my personal and assist my professional growth. This kindness will always be remembered in the whole of my life.
I have learned many things, especially how to respect and support myself while working, especially in a team. All people there are helpful and taking care of each other even though I am not an officially permanent worker. Learning deeply about my confidence in public speaking is what I am fascinated with   the most. No complex and cruel method was used to teach me. That is why I am extremely amazed by how this simple way affects my ability to work.
The entire members have made me clam up and amazed with the willingness to help another to succeed. I will send you my resume to prove and keep you satisfied with my progress. I thank you for your offer to write a recommendation letter and with all my respect, please send it to my home address in London. I fully expect we could get in touch even though our bodies do not encounter.
Sincerely,
Jaya Kesuma
In conclusion, we hope this article is useful for you to express your end of internship letter. You are fully allowed to accustom your own letter with a different style of writing. Good luck!
Similar Posts: