Leaving a job that you truly love is very difficult. You may have been accustomed to all the work rules, including employers and friendly coworkers. Leaving all of it will make your heart full of regret. If you are forced to leave your job, you can write a heartfelt resignation letter, so your resignation process can be accepted.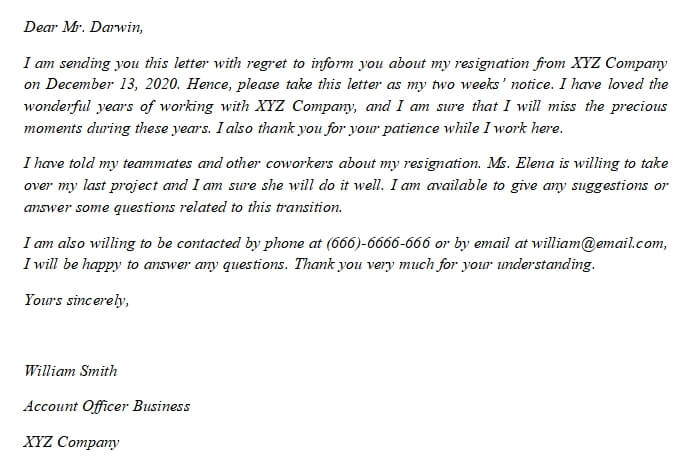 What Are The Best Reasons To Quit A Job?
If you already enjoy your job and wish to continue in the same field, some unexpected things may come. This makes you feel discouraged and confused about whether to continue working or stop doing work. The following reasons may often be the cause of people who quit a job they love:
You Have to Move
The most common reason used by employees to leave their job is because they have to move. Not moving house to another area in the same city, but usually in a different city or even a different country.
You Get a Better Job
Getting a better job can also be a factor in leaving the job you really love. On the one hand, you love your job, but you have to change jobs for a better career in the future.
Some Family Members Are Sick
If someone's family member is sick, that could also be a reason to leave work. The obligation to care for family members also burdens a person to hold on to work.
How To Write A Good Resignation Letter?
If you have a job that you really love, you must be familiar with your employers and colleagues at the office. However, you should not write your heartfelt resignation letter in an informal style, because you must keep your resignation letter elegant and professional. Express that you are sorry and thankful for the experience given so far.
Heartfelt Resignation Letter Example
Writing a resignation letter with regret must be made as well as possible, the following is an example of a letter format that you can use as an example:
Dear Mr. Darwin,
I am sending you this letter with regret to inform you about my resignation from XYZ Company on December 13, 2020. Hence, please take this letter as my two weeks' notice. I have loved the wonderful years of working with XYZ Company, and I am sure that I will miss the precious moments during these years. I also thank you for your patience while I work here.
I have told my teammates and other coworkers about my resignation. Ms. Elena is willing to take over my last project and I am sure she will do it well. I am available to give any suggestions or answer some questions related to this transition.
I am also willing to be contacted by phone at (666)-6666-666 or by email at william@email.com, I will be happy to answer any questions. Thank you very much for your understanding.
Yours sincerely,
William Smith
Account Officer Business
XYZ Company
To Summarize, a heartfelt resignation letter can be written carefully by using several important aspects above. Hope you can write a well-organized letter.
Similar Posts: