Teachers often communicate with parents to accelerate teaching and learning at home. Often teachers also discuss the developments of the kids. In some cases, there are times teachers need to take care of themselves, such as during labor. Therefore, they need to take maternity leave to help them prepare for labor day. It is important to send the maternity leave letter to parents so they can understand the teachers' situation and to whom they can discuss their kids during the maternity leave.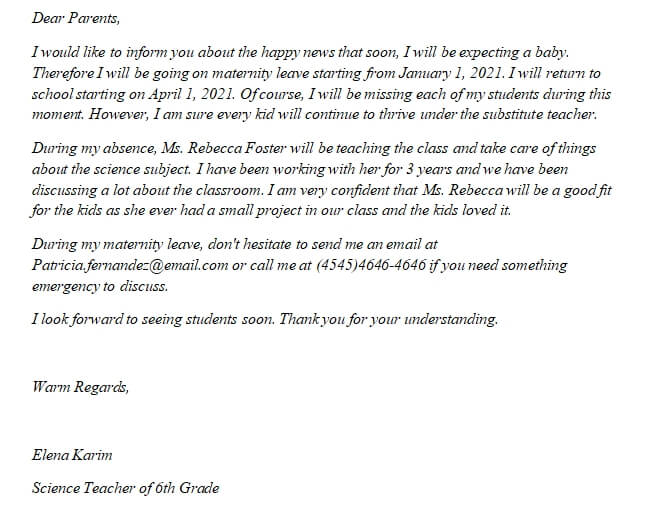 When Should You Start A Maternity Leave?
Choosing maternity leave can be a difficult consideration especially if you are now dealing with kids and parents. At the same time, you have to take care of yourself. Therefore, this is important to look at your pregnancy condition.
The earliest start for maternity leave is 11 weeks before the due date. You are also allowed to work until the due date but it will be suggested if you prepare earlier as delivering birth takes a lot of things to consider.
Should You Stop Working During Pregnancy?
Generally, most women can perform general-safe tasks during pregnancy until 32-34 weeks. However, many women must focus on the mental state as during pregnancy they are prone to get stress. A new mother might need some time to adjust themselves before welcoming the new baby.
What Will Happen If You Don't Return As Soon As Your Maternity Leave Over?
This always depends on your contract with the school. Make sure you will give early notice to your school so they can prepare for the transition. At least, give a two-week early notice.
Sample of Maternity Leave Letter To Parents
In writing the maternity leave letter to parents, you have to announce your pregnancy and state the date you are taking maternity leave and your return. This will help parents understand your situation. The following is a brief example of a maternity leave letter you can use as a reference.
Dear Parents,
I would like to inform you about the happy news that soon, I will be expecting a baby. Therefore I will be going on maternity leave starting from January 1, 2021. I will return to school starting on April 1, 2021. Of course, I will be missing each of my students during this moment. However, I am sure every kid will continue to thrive under the substitute teacher.
During my absence, Ms. Rebecca Foster will be teaching the class and take care of things about the science subject. I have been working with her for 3 years and we have been discussing a lot about the classroom. I am very confident that Ms. Rebecca will be a good fit for the kids as she ever had a small project in our class and the kids loved it.
During my maternity leave, don't hesitate to send me an email at Patricia.fernandez@email.com or call me at (4545)4646-4646 if you need something emergency to discuss.
I look forward to seeing students soon. Thank you for your understanding.
Warm Regards,
Elena Karim
Science Teacher of 6th Grade