A good resignation can leave a warm impression on an employer. There are many reasons why an employee decides to resign, some of these reasons could be stress, depression, or illness. If you are in a position to resign from work due to illness, you can resign by writing a resignation letter due to illness to your employer. On the other hand, if you do not want your employer or anyone else to know about the reasons for your resignation, you have the right not to write your reason.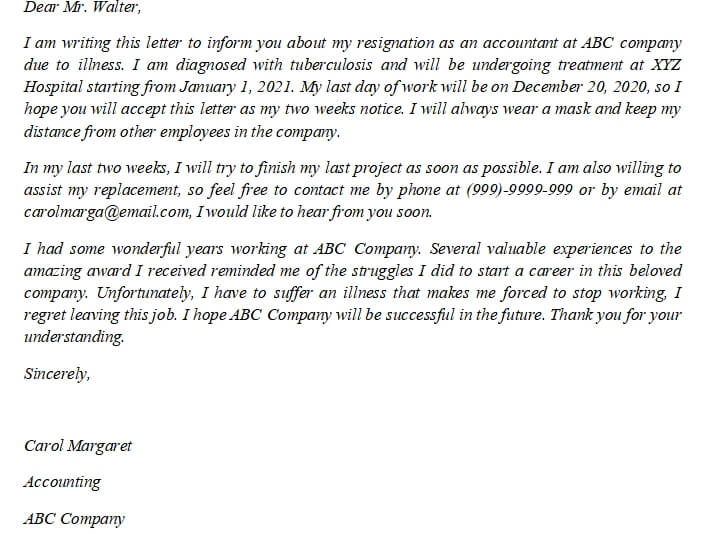 Can I resign Due to Illness?
Whatever your reason, you have a right to quit your job, especially if you suffer a certain illness. By using a resignation letter, you can quit from the company more politely and professionally. You can tell your employer about your illness which makes you cannot go to work anymore.
How to Write A Good resignation Letter?
Writing a resignation letter due to illness has the same format as a resignation letter for other reasons. Your letter must consist of salutation, resignation statement, last days of employment, the reason for resigning, thanks, closing, and signature.
Greeting
Open your letter with a polite greeting. You can write "Dear Mr./Ms." followed by your employer's last name or first name, it depends on your relationship with your boss at the company.
Body
The body of your letter must consist of several important matters such as your resignation statement, your last day of work, and the reason you resign. Also, you can offer to help the transition process go well by providing personal contact information, expressing your availability to help your replacement. Don't forget to say thank you and convey the best wishes for the future of the company you are going to leave.
Closing
In closing your resignation letter, you must choose the right goodbye, followed by your name and signature. Use formal and professional language.
Resignation Letter Due to Illness Sample
Here is a format of resignation letter that you can notice as a sample:
Dear Mr. Walter,
I am writing this letter to inform you about my resignation as an accountant at ABC company due to illness. I am diagnosed with tuberculosis and will be undergoing treatment at XYZ Hospital starting from January 1, 2021. My last day of work will be on December 20, 2020, so I hope you will accept this letter as my two weeks notice. I will always wear a mask and keep my distance from other employees in the company.
In my last two weeks, I will try to finish my last project as soon as possible. I am also willing to assist my replacement, so feel free to contact me by phone at (999)-9999-999 or by email at carolmarga@email.com, I would like to hear from you soon.
I had some wonderful years working at ABC Company. Several valuable experiences to the amazing award I received reminded me of the struggles I did to start a career in this beloved company. Unfortunately, I have to suffer an illness that makes me forced to stop working, I regret leaving this job. I hope ABC Company will be successful in the future. Thank you for your understanding.
Sincerely,
Carol Margaret
Accounting
ABC Company
In short, you can leave your job politely due to illness you experience. But, you need to write a resignation letter due to illness in a well-structured format.
Similar Posts: