Resigning from a job can be an emotional thing for some people regardless of the reasons.                  However, whether you love your job or not, leaving your workplace professionally costs too little that you just need to spend some time to write the RN resignation letter. This letter helps you inform the nurse and another related department that you are going to leave your position. On this page, you can learn further about how to write it properly.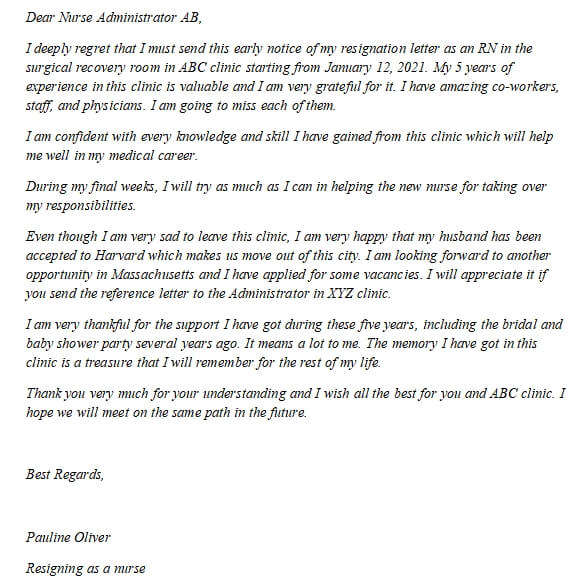 Things To Do Before Quitting From The Nursing Job
As a nurse, there are times you have to make a decision such as retirements, moving to another area, or personal problems. But make sure to do it right, here are some tips you have to know.
Early notice
Leaving a job abruptly doesn't leave a nice impression. Instead, the awkwardness will linger among you, coworkers and employers. The best practice before leaving your job is giving an early two weeks notice. In some areas, you might be required to give 3-4 weeks' early notice.
Official letter of resignation
writing an RN resignation letter is always a good start instead of just sending the text of telling it personally. This can also be valid proof to the company that you are going to resign. Furthermore, this can be the official notice from you so the company or organization can get prepared for the transition.
Only tell it to the manager
Probably you might be thinking you have a partner in crime in the office, but it is not necessarily telling your resignation to them before the manager. It will lead to a lot of problems because your coworkers might be gossiping behind you and they might even tell your manager with another scenario before you get this chance.
Never say anything negative about your boss and coworkers
It is a must that you need to leave a good impression because one day you will need a reference from one of them. Talking bad about your company and office only makes you look not professional.
The Example Of RN Resignation Letter
Dear Nurse Administrator AB,
I deeply regret that I must send this early notice of my resignation letter as an RN in the surgical recovery room in ABC clinic starting from January 12, 2021. My 5 years of experience in this clinic is valuable and I am very grateful for it. I have amazing co-workers, staff, and physicians. I am going to miss each of them.
I am confident with every knowledge and skill I have gained from this clinic which will help me well in my medical career.
During my final weeks, I will try as much as I can in helping the new nurse for taking over my responsibilities.
Even though I am very sad to leave this clinic, I am very happy that my husband has been accepted to Harvard which makes us move out of this city. I am looking forward to another opportunity in Massachusetts and I have applied for some vacancies. I will appreciate it if you send the reference letter to the Administrator in XYZ clinic.
I am very thankful for the support I have got during these five years, including the bridal and baby shower party several years ago. It means a lot to me. The memory I have got in this clinic is a treasure that I will remember for the rest of my life.
Thank you very much for your understanding and I wish all the best for you and ABC clinic. I hope we will meet on the same path in the future.
Best Regards,
Pauline Oliver
Resigning as a nurse
Writing an RN resignation letter isn't that hard. You can always make it quick, straightforward, and professional. This will save your credibility.
Similar Posts: