As an employer who works in a service company, you must have faced various problems caused by your workers. These problems usually come from a misunderstanding between the customers and your workers or from bad service. Furthermore, every worker is a representative of your company. Thus, a bad service from your worker will affect the customers' trust in your brand and company. One poor review from your customer probably has a big impact on your brand. For this reason, you should write a sincere apology letter for bad service addressed to your customers. This is important to maintain your business continuity and lead to success. Here are the strategies for writing an apology letter to your customer.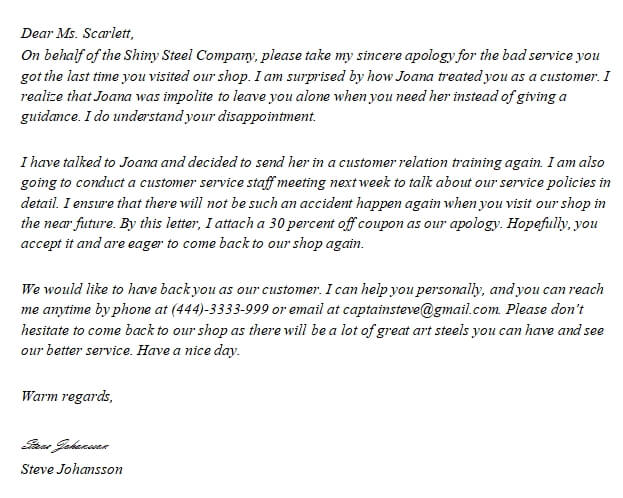 Why should I compose an apology letter?
According to The Carey School of Business, 63% of customers prefer to receive an apology more rather than compensation when they are upset with a poor service. An apology is the way to relieve a disappointment. As an employer, you need to admit that your company service has not fulfilled customers' expectations. This is also the way to show your responsibility and strengthen your company's reputation in the business industry.
What are some  tips to write an apology letter?
There are some tips that you should apply in writing an apology letter. First of all, you have to express your regret but don't exaggerate. In this case, you need to validate your customers' feelings. Also, don't accuse the other person. Admit that your service is disappointing. The last tip is to keep your apology letter for bad service in brief.
How should I write an apology letter for poor service?
Composing an apology letter might be tricky. You should be careful about what you write to avoid the customers feel more disappointed. Therefore, you have to use a formal format letter with appropriate language and polite words. To initiate the letter, start with a statement of your apology. Then, explain the chronology specifically. It is also important to put yourself in your customers' shoes. It means that you need to say that you understand their feelings. After that, offer a compensation to your customers and ensure that the interference will not happen again. You need to provide a contact information for your customers. Remember to keep the letter sincere and concise.
Apology Letter for Bad Service Sample
If you still have no idea to write an apology letter for bad service, you should take a look at the following sample we provide for you. Check it out.
Dear Ms. Scarlett,
On behalf of the Shiny Steel Company, please take my sincere apology for the bad service you got the last time you visited our shop. I am surprised by how Joana treated you as a customer. I realize that Joana was impolite to leave you alone when you need her instead of giving a guidance. I do understand your disappointment.
I have talked to Joana and decided to send her in a customer relation training again. I am also going to conduct a customer service staff meeting next week to talk about our service policies in detail. I ensure that there will not be such an accident happen again when you visit our shop in the near future. By this letter, I attach a 30 percent off coupon as our apology. Hopefully, you accept it and are eager to come back to our shop again.
We would like to have back you as our customer. I can help you personally, and you can reach me anytime by phone at (444)-3333-999 or email at captainsteve@gmail.com. Please don't hesitate to come back to our shop as there will be a lot of great art steels you can have and see our better service. Have a nice day.
Warm regards,
Steve Johansson
Steve Johansson
That is all our explanation about an    apology letter to bad service and its sample. You may take it as an inspiration.