An agreement letter is usually made in the business industry between an employer and his or her employees. This letter contains some details about how the employees will give services and how much fee they will receive. After two parties agree with the arrangements, they will sign a fee agreement letter. This kind of letter is mostly used between a lawyer and his or her clients. To know more about this agreement letter, check the following explanation.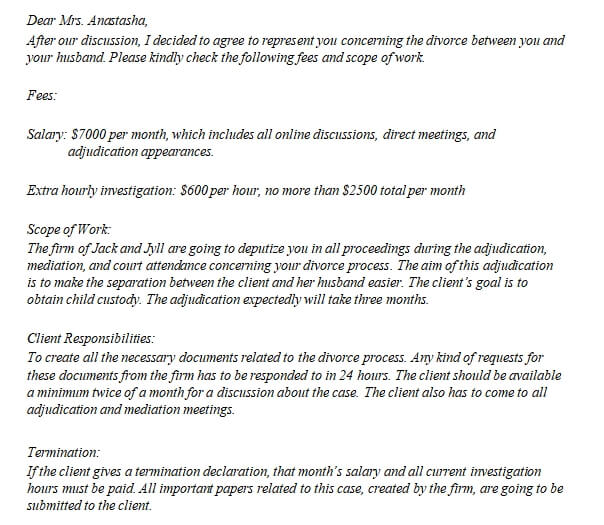 What is the difference between an agreement letter and a contract?
Perhaps you think that an agreement letter is the same as the contract. The fact is not. It may look similar, but an agreement is simpler. It is purely an understanding between the lawyer and his or her employers. There are also some details about what should the lawyer as the employee will do and how much fee they will be paid by the employer. Meanwhile, a contract is a particular agreement which contains several terms and conditions. A contract has power such as some consequences if the employees violate the rules. There is also an enforceable court.
What is the importance of writing a fee agreement letter?
Writing a fee agreement is important for both parties. As an employer, you need some points that explain what kind of services you will get from the employee. As the employee, you need a certainty about the cost that the employer promise to you. Thus, before signing the fee agreement letter, make sure that you have read all the details carefully and understood.
How should I write this letter?
If you are the lawyer who is hired by a client, you and your candidate client should compose an agreement letter. To start the letter, you can write a statement of your agreement to handle his or her case. After that, mention how much you want to be paid. Then, explain all of your scope of works. Remember that you also should arrange your client's responsibilities. Don't forget to include a termination detail, your name, your client's name, and contact information for both of you. Add the date of the agreement and signs of both parties.
Fee Agreement Letter Template
Writing a fee agreement letter needs to be details and careful. Therefore, we provide an example to inspire you in writing the letter.
Dear Mrs. Anastasha,
After our discussion, I decided to agree to represent you concerning the divorce between you and your husband. Please kindly check the following fees and scope of work.
Fees:
Salary: $7000 per month, which includes all online discussions, direct meetings, and adjudication appearances.
Extra hourly investigation: $600 per hour, no more than $2500 total per month
Scope of Work:
The firm of Jack and Jyll are going to deputize you in all proceedings during the adjudication, mediation, and court attendance concerning your divorce process. The aim of this adjudication is to make the separation between the client and her husband easier. The client's goal is to obtain child custody. The adjudication expectedly will take three months.
Client Responsibilities:
To create all the necessary documents related to the divorce process. Any kind of requests for these documents from the firm has to be responded to in 24 hours. The client should be available a minimum twice of a month for a discussion about the case. The client also has to come to all adjudication and mediation meetings.
Termination:
If the client gives a termination declaration, that month's salary and all current investigation hours must be paid. All important papers related to this case, created by the firm, are going to be submitted to the client.  
If you agree with all these terms, please sign and bring back this agreement in the next meeting.
Thomas Grey, Esq. 
Jack and Jyll
(444)-333-666
I already have read and understood this fee agreement letter. I am willing to accept the terms.
___________________________________________________
Anastasha Steels
___________________________________________________
Thomas Grey
January 31, 2020
That is all our explanation about a fee agreement letter and its template. You can take it as your inspiration in writing.