Being late to work sounds simple but it can cause a major problem which affects the work progress as a whole, especially if you have to attend the office event on time. It damages your reputation as it is seen as a trait of being unprofessional. When you feel like you need to fix your mistake, the first thing you can do is writing an apology letter for being late. This gesture can show your regret and be as a start to not repeating it again.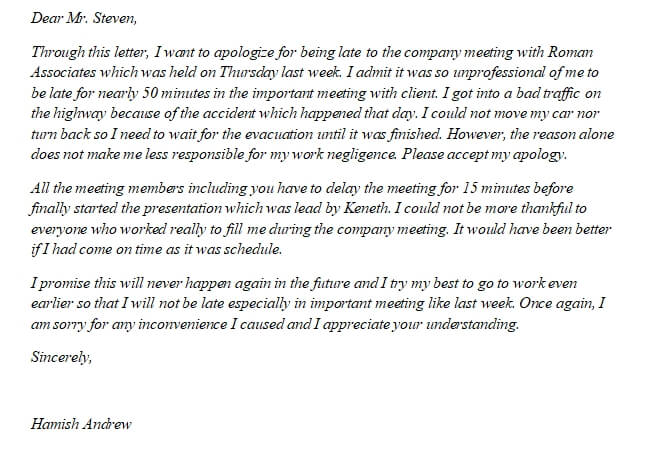 How to Apologize for Being Late in a Letter?
Before you are sending the apology letter for being late, it is better to note several important points you need to include. First, address to whom you are sending the letter, it can be your supervisor or manager. Apologize and explain the situation as why you are being late. It is important to remember that explaining the situation is different from blaming others for your being late. Own your mistake and take full responsibility. Assure the situation will not happen again and show your regret for being late. If there is a situation damage caused by your action, you can offer help in handling the situation.
Writing an Apology Letter for Being Late in a Professional Way
As the name implies, an apology letter is written in a formal tone that should not be full of flowery words but to keep it brief, polite and sincere. The apology letter for being late below is written by an employee, Hamish, who is being late to a company meeting where he has to give presentation to the clients. Let's take a look at the example letter.
Dear Mr. Steven,
Through this letter, I want to apologize for being late to the company meeting with Roman Associates which was held on Thursday last week. I admit it was so unprofessional of me to be late for nearly 50 minutes in the important meeting with client. I got into a bad traffic on the highway because of the accident which happened that day. I could not move my car nor turn back so I need to wait for the evacuation until it was finished. However, the reason alone does not make me less responsible for my work negligence. Please accept my apology.
All the meeting members including you have to delay the meeting for 15 minutes before finally started the presentation which was lead by Keneth. I could not be more thankful to everyone who worked really to fill me during the company meeting. It would have been better if I had come on time as it was schedule.
I promise this will never happen again in the future and I try my best to go to work even earlier so that I will not be late especially in important meeting like last week. Once again, I am sorry for any inconvenience I caused and I appreciate your understanding.
Sincerely,
Hamish Andrew
The apology letter for being late above is straight to the point and sincere showing that Hamish wants to fix his mistakes. I hope you will never be in his shoes, else you know how to write an apology letter.