How to Make an Interesting Burger Menu Design
Who doesn't love burgers? This quick-to-serve food is incredibly taming people's desire for satiating delicacy. People think it is profitable to open up a burger joint. You may also think to own your burger haven, and even have a bulleted list of burger menu in your mind. Now, it's time to put it into reality. Here's how you should design the burger joint menu card.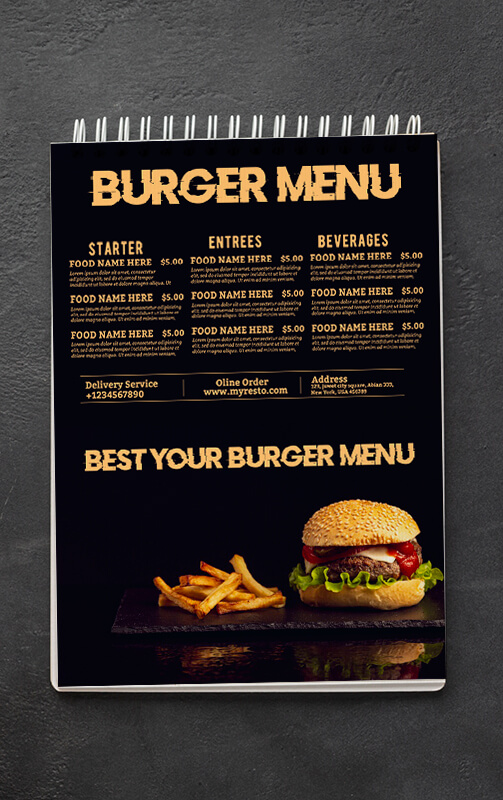 Making the Burger Menu
Have you listed up your burger menu in your jotter? Before putting it into the design, you should have a name for each burger. This will help your diners to make one burger distinct from the other.
Introducing your burgers
A short explanation about ingredients is also preferable to help customers knowing about your burgers more. Needless to say, since there are a bunch of customers who don't eat specific types of ingredients, this kind of explanation will help them to avoid eating what they shouldn't eat.
Prepare some great photos
To create better engagement, photos are necessary to lure customers to place their orders. Make the photos more tempting and mouthwatering by adding some tricks, such as melting cheese, smoky beef, and fresh lettuce. You can browse the tricks and learn how to make them. If you are not only selling burgers, you might consider introducing other products on your menu.
What's Your Best-seller Burger Menu?
Well, you need to give your customers the best that you have in the restaurant. If you have a menu that's frequently ordered, you might need to let the world knows. The underlying reason is that people will think your best-seller menu is a delicious recommendation that is worth their money. Moreover, you can also get more exposure since the best-seller menu may attract people to stop by your burger restaurant.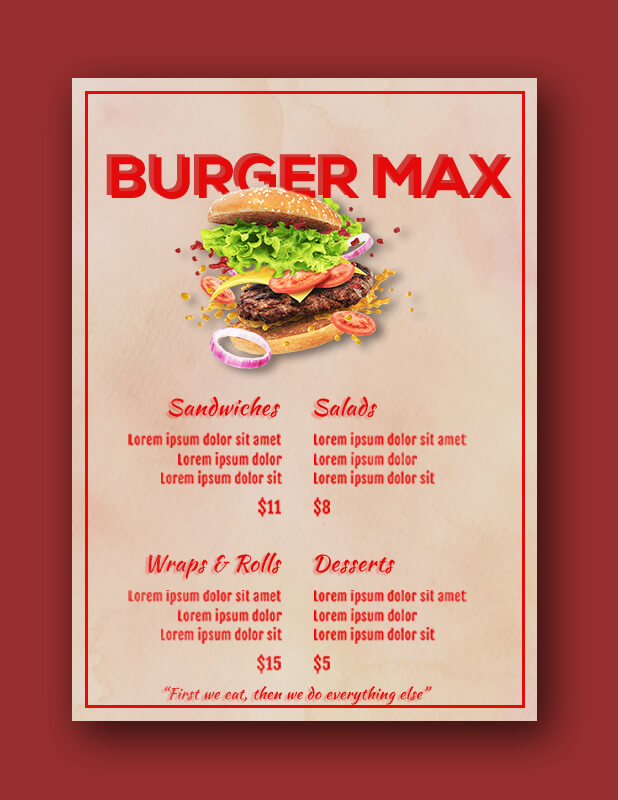 Design the Burger Menu
Colors
Designing a burger menu will require you to play with color swatches, fonts, shapes, and ornaments. Choosing a suitable color palette for marketing and advertising effort is of part aesthetic, part testing, and part science. Colors communicate with us on an emotional level, and they can be used to persuade people. Most fast-food chains will use bright bold colors like red and yellow as those colors imply high energy.
Design
Although fonts, shapes, and ornaments seem to be subsidiary, these are needed to make a good design. Since you are going to make a design something informative, you need to choose easy-to-read fonts and using less decorative shapes and ornaments to enhance the menu readability.
PSD template
Using a template can help you conquer those doubts while designing. Usually, a pre-made template has been set properly according to the need. It can also help you to allocate less time to design the menu card.
Burger Menu PSD Format
You can download the PSD burger menu template and customize it based on your preferences. Since the templates are in PSD format, you need to install the compatible image editor. The templates will help you to design much easier which requires you only a few clicks here and there.