Preparing Your Outstanding Japanese Menu Card
From ramen to freshly made sushi, Japanese food offers an abundance of hearty delicacy with a limitless variety of dishes. It's popular for a wide variety of ingredients. Some restaurants are well-known for their specialized single dish, while others offer the vice versa. No matter which type of Japanese restaurant that you own, preparing a Japanese menu card means dealing with marketing your food to the customers.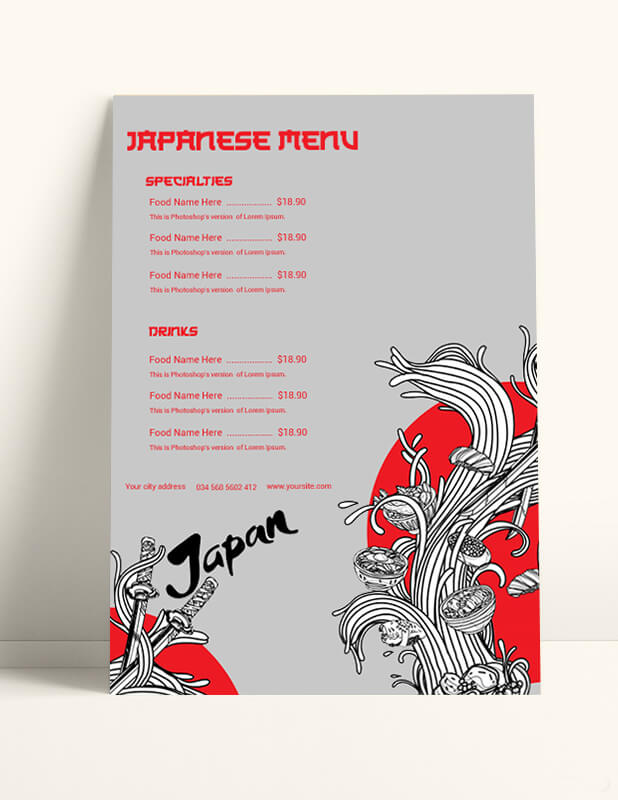 How to Nail Japanese Menu
Showcase your ace
Customers do not know your best-selling menu if you don't point it out in your menu card. Even if you are running a specialized restaurant, you will also need to let them know the popular menu in your place. Adding the best-selling menu will not only help them to choose, but it also helps to build an identity for your restaurant.
Have a theme
Have you ever heard of a ninja-themed Japanese restaurant? If you are applying a specific theme, be consistent by putting the hint in the interior decoration, as well as in subtle things like the Japanese menu card. For instance, if your restaurant is a horror-themed one, your menu card should be haunting as well. Manga character appearance in the menu card should exist once you own a restaurant with a related theme.
Make a detailed menu
For ones that haven't tried dining in any Japanese restaurant, a menu card without any ingredients explanation may have them addled. Not understanding the menu will take you more effort to explain to them, which is good for both sides' rapport, but not a good thing if you own only a few employees. Think about your customer, and provide a brief explanation in just a few sentences.
Designing the Japanese Menu
To be simply put, your design should depict the restaurant as a whole. That means you need to wield related objects, including the colors, fonts, and ornaments.
Colors
The colorful design is fine, as long as it corresponds with the theme. For example, Kawaii-themed restaurant should utilize pastel or other light colors, while it is kind of irrelevant if you use those colors in the ninja-themed menu card.
Fonts
A lot of websites offer Japanese characters fonts' look-a-like which employ the stroke fonts. However, you need to prioritize the menu's readability that's crucial in the Japanese menu card.
Ornaments
These will help you to accentuate the menu card. You might use Japanese characters for a restaurant name, or add the rising sun symbol if you think it is needed.
Easy Steps to Get Your Japanese Menu
Designing the menu card yourself might sound cool, but the problem arises as you don't have the skill. You can hire someone. But, if you need to cut the expenses, don't worry as some sites offer the PSD pre-made menu templates. They are downloadable and easy to customize.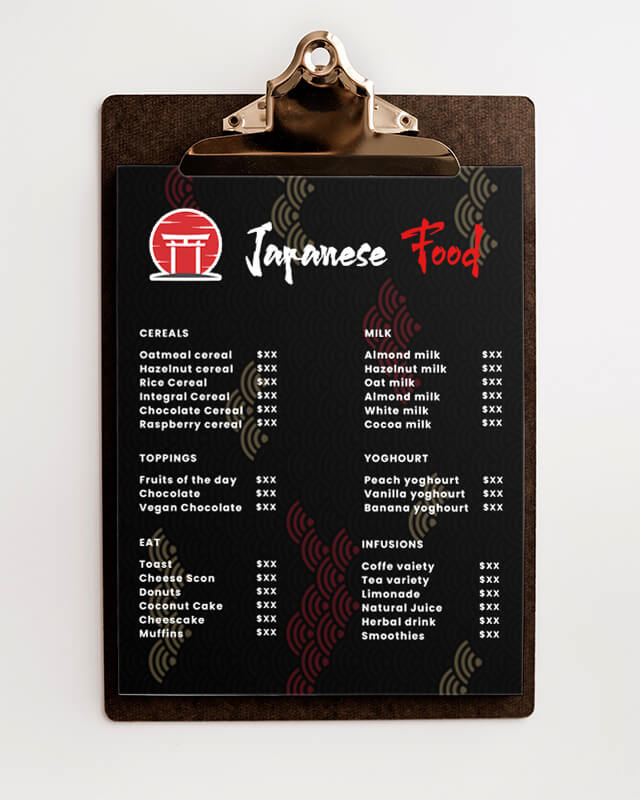 Japanese Menu PSD Template
With the help of pre-made templates, you can quickly get the Japanese menu card with just a few clicks. You only need to customize it to fit your preferences. PSD templates will require you to use a specific application, but it is not a difficult thing to do.