The Best Customizable School Menu Templates
Get the school menu template for totally free. This is a resource that allows you to download, customize, and print the menu easily. You can reorganize the page once you save it, by edit the length, font, color, and all the text inside according to your preferences. You will also be able to add any details that you want, such as day and date information.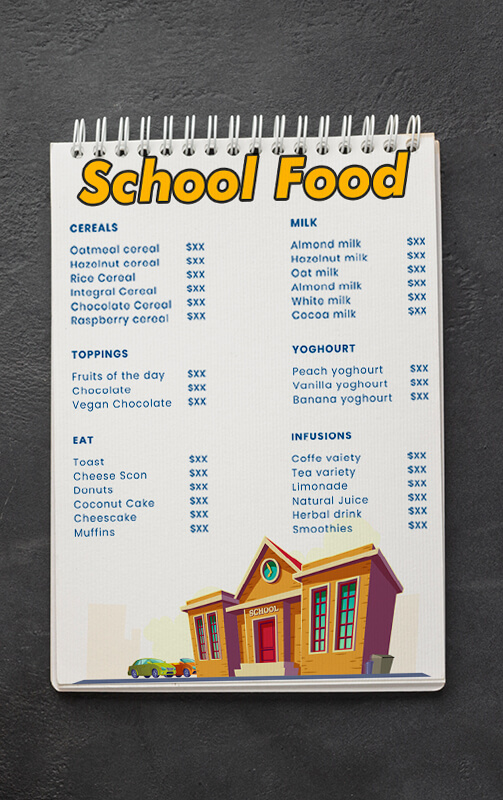 School Menu PSD Templates
Nowadays, the majority of schools and offices prefer to have the outsource business to prepare the lunch menu for students and employees. Outsources will cater the food according to the needs and requirements of their customers. If you are one of the people who work in this field area, then it might be beneficial to use an attractive looking menu to make your business more competitive and appeal to more people.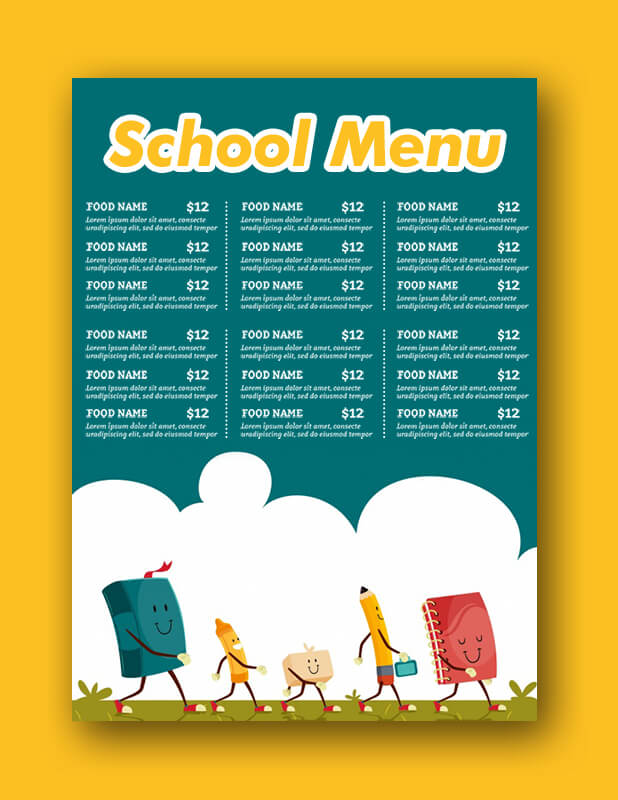 The menu can be organized into daily, weekly, and monthly categories. It has advantages for both you and the customers because they know what to expect to eat and you don't have to explain to each person.
Tips to Create a School Menu
Creating a school menu is a challenging task because you have to think about what to serve daily. In addition, the nutrition standards have become stricter. Use these tips below to create an interesting and nutritionists-approved food menu.
Have a pre-fixed set of food
The average school provides a one-hour break for the students to take their lunch.  As they don't have time to enjoy a three-course menu in an hour, prepare a proper pre-fixed lunch to let them know what exactly to look out during the time of the day.
Present high-energy and nutrition-rich foods
Superfoods are the trend right now – and it should stay as so. The younger crowds have to be served with nutritious food. Consider different types of superfoods such as vegetable salads, rich smoothies, quinoa, chickpeas, and beets. They need a wholesome boost from food to get through busy and energy-draining school days.
Choose a menu that is easy to prepare and serve
You have to consider about preparation time and equipment types that required when developing a menu in order to optimize it. Consider the ease of serving and item numbers to present on the serving line. Full menu items might slow the student line while they are waiting on servers.
Professional School Menu Design
A lunch menu can say a lot about your service. Showcasing the school menu is a professional method to show what your service is capable of and the versatility of it. This template is specifically designed so you are able to list the food, to make the menu easily visible by students as your regular clients.
Downloadable School Menu Templates
Having customized and well-designed school menu template will make your service stands out from your competitors. This template is easy to edit and update, as all of the customizable elements are able to be added or removed as you need. Using the menu template is the best way whether you want to create a new menu design of looking to replace the old one that you own.