Free Seafood Menu Template with Interesting Design and Layout
Seafood restaurants are serving so many different types of marine food such as fishes, crabs, lobsters, clams, oysters, shrimps, and so on. Some serve a grilled menu that cooked over coals, others serve the food straight from the sea with their shellfish. No matter what and how you serve them, all seafood culinary businesses should have an attractive menu. Check out this template of the seafood menu with fresh blue ocean-theme design.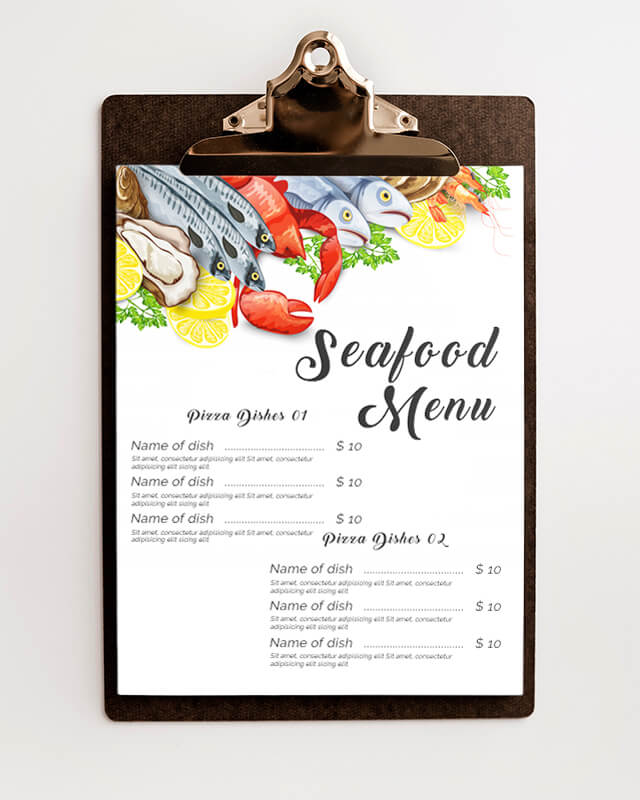 Seafood Menu Design
The design of the menu is an essential thing to convince customers to choose and buy the served items. It also opens possibilities to make them return to attempt menu that they haven't tried the prior times. Choosing the right menu design might affect the sales of your seafood restaurant immensely, so you don't want to throw just about anything regarding its design. Items that are arranged specifically can make the dishes displayed properly.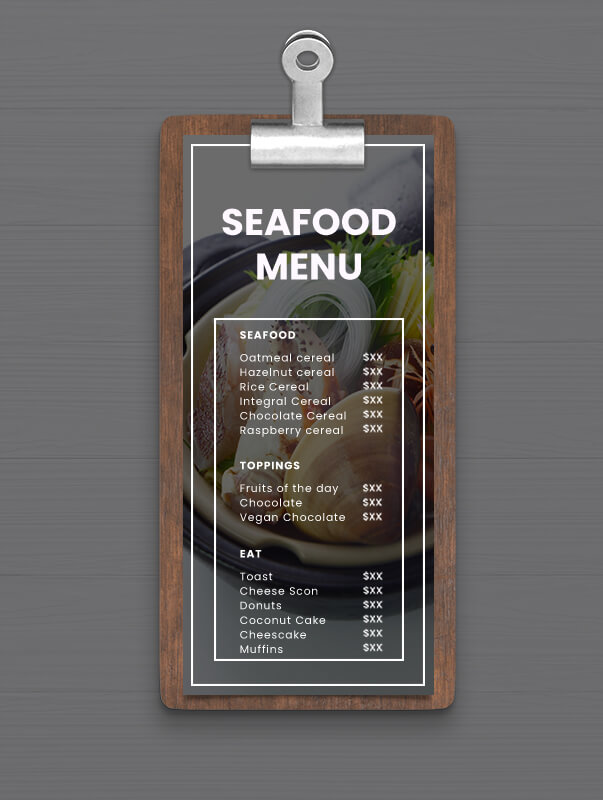 Make your customers feel delighted by this seafood menu with the theme of a fresh ocean breeze. The blue and white colors combination of this template is giving timeless and artistic vibes to match with the seafood dishes served by your restaurant.
Seafood Menu Ideas
Here are some tips on how to create a proper menu display for your seafood restaurant:
Create a logical section to divide the menu
Customers can search and select dishes easily if you arrange all the items in logical group, starting by showing the appetizers
Use only necessary photos
Food photos often associated with chain junk food restaurants and mail fliers. If you really have to use images, make sure that you have a professional feel to it with high quality and resolution. Not everyone is appealed by food photography so it is better to leave them to customers' imagination in general.
Leave the currency signs
It has been proven scientifically that when the currency signs are eliminated, customers are more like to spend more. They don't like to be overly aware of the amount of money they spend on food.
Choose effective typography
To communicate and reflect the brand of your restaurant, be considerate about typography selection. It might be affected by different factors such as how much text you need to input on the page so they are still legible comfortably.
Seafood Menu Importance
The purpose of a design is to bring several elements together, to make anyone who saw them feel some ways or take some actions as desired by the designer. They are specifically chosen to bring messages and suggestion, so it is understandable that all businesses are always thriving to look for creative ways to affect customers' decision making, including restaurants. So do not be hesitate and download this seafood menu now to bring up the sales and maximize your restaurant business profit.
Free Seafood Menu Templates
This seafood menu template is available for free to download, edit, and print. It is created in PSD format so you can open the file on Adobe Photoshop. All the elements such as colors, text, graphics, and layout are able to be customized.