Minimalist Design for the Takeaway Menu
Almost all restaurants open for the takeaway system. In this era, some people may not have time to have their lunches in the place, so the delivery and takeaway system is the solution for the restaurant to keep their customers. A takeaway menu is essential as an information tool for customers, and it sets your restaurant apart from competitors. Designing a good menu is a way to attempt customers in placing the order. Some tips can be done to create a minimalist menu. Bu before that, let's get to know what does minimalist mean.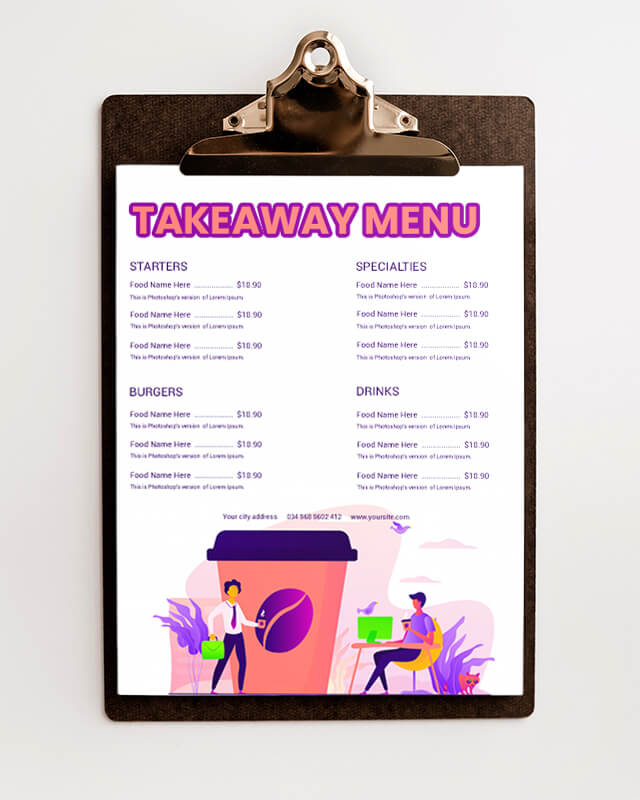 Minimalist Design in Takeaway Menu
The minimalist design shows a simple way of design with a sample size of the design. As you know, this menu won't be seen longer by customers who only stop by. You can make the idea as simple as you can. However, don't forget to set the big size of the picture and description of it because it is crucial information for customers.
Important Things to Include in Takeaway Menu
Several things are so important to be included in the takeaway menu. It will make the menu an informative place for customers who come in a hurry, or who don't have much time to see the menu. Son here are some elements you need to include in the menu.
Foods servings picture
Showing off the food serving picture in clear resolution will be a great strategy to inform customers about your product. Studies found when people see the beautiful image of foods; it will be responded by their brains. Therefore, to get a better response from customers, trigger them with showing the best food serving in the menu.
Consider your color scheme
You should also have a high-quality color menu. Adjust it with the kind of foods you provide. For example, when you have vegan foods, you can use green color combined with brown.
Include special details
You need to give additional descriptions below the picture of foods when you think what you serve contain special ingredient. The purpose is to avoid some allergic that may happen to customers. They can consider what food to buy if they know the detail information about it. Moreover, it will also help them to determine what to eat.
Takeaway Menu Minimalist Templates
You have known that minimalist design doesn't require various elements. The template will be a great start to help the takeaway menu design finish in a smooth way. By using the template, the only thing you need to do is giving an additional picture of food serving, and write some important descriptions on it. The last step you can do is by adjusting artistic value, such as color or font.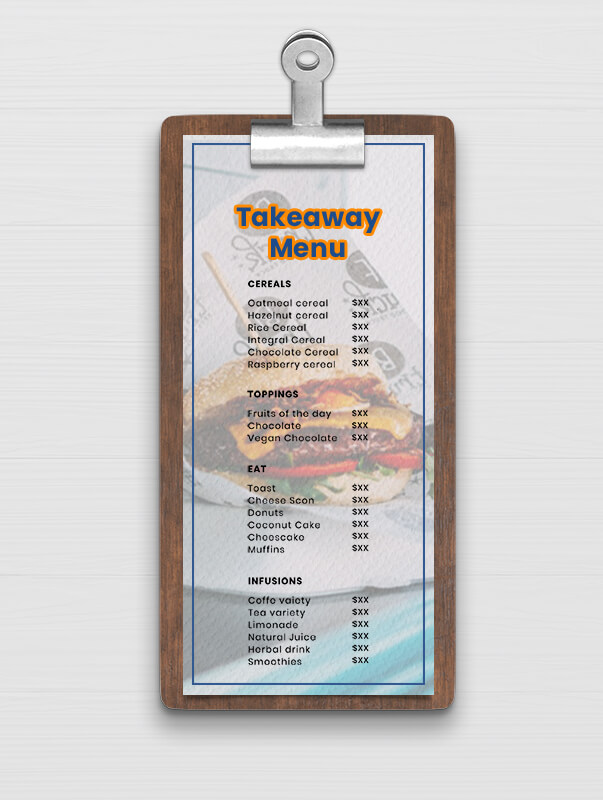 Takeaway Menu Design using PSD Template
The important thing when using PSD template is you need to have full access to edit it based on what you need. It will be useless to have non-editable template because you won't have the capability to manipulate it as you want and as the client's need. The PSD template gives you full access to editing in any time. This will help you to the fullest in designing a takeaway menu.