The Appropriate Design of Optical Store Postcard
An optical store is a place where you can buy glasses, contact lenses, and any related product or services. This business focuses on direct selling because most people feel comfortable when trying and wearing directly. For promotion purposes, the owner can use Optical Store Postcard.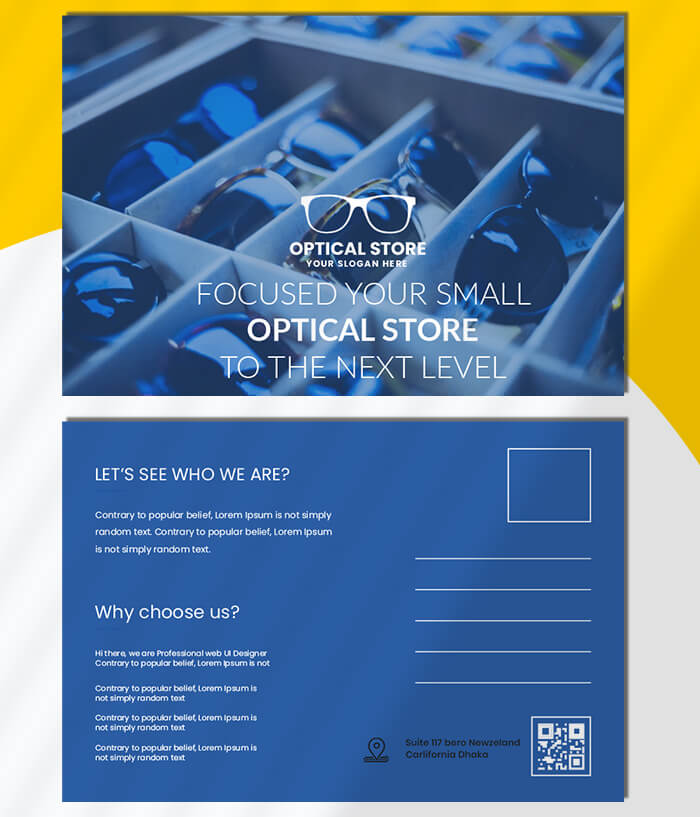 Optical Store Postcard Creative Ideas
This is not just a regular postcard that people send to others. The postcard has a specific design and layout that's reliable for marketing. It is the main purpose why most stores have postcards. You can keep the main contents but with more variations based on the theme.
The postcard is designed for people who send mail without an envelope. It contains important information. Usually, it is the thank you note, birthday greeting, congratulation, or any similar ones. The store owner can replace this kind of content with business-like items.
Optical Store Postcard Contents
You will know more about Optical Store Postcard after exploring the contents. Check the following list for more explanation.
Business name
A business name is necessary on this postcard. You surely want people to know your optical store. The name should look elegant with a logo. After the name, add something to justify that your business is in this field. Few people might not know what kind of business you have. If the name is not enough, explain it briefly with a short introduction.
Offers and products
The postcard is the best media for marketing. It means you should put offers and products as promotional content. You should be careful when arranging this part. You only need to put the key products, not entire service and detail. The postcard is similar to flyers where people just read at a glance unless they have much time. You need to think about how to present the business in less than 10 seconds.
Photo and image
The optical store must obtain relevant photos or images for the product. Usually, you see the photo of a person who wears glasses or contact lens. It shows what customers will get after buying a certain product. The illustration has to be clear and vivid with an attractive design.
Business detail and info
The last part is detail and info. It includes address, contact info, email, phone number, social media account, and anything to ensure that the clients know what to do when they want the product.
Optical Store Postcard Design and Layout
As you know, Optical Store Postcard can use any style and layout. The postcard is not a formal document with strict rules and standards. On the contrary, the store owner can make many variations as long as the key components are still available.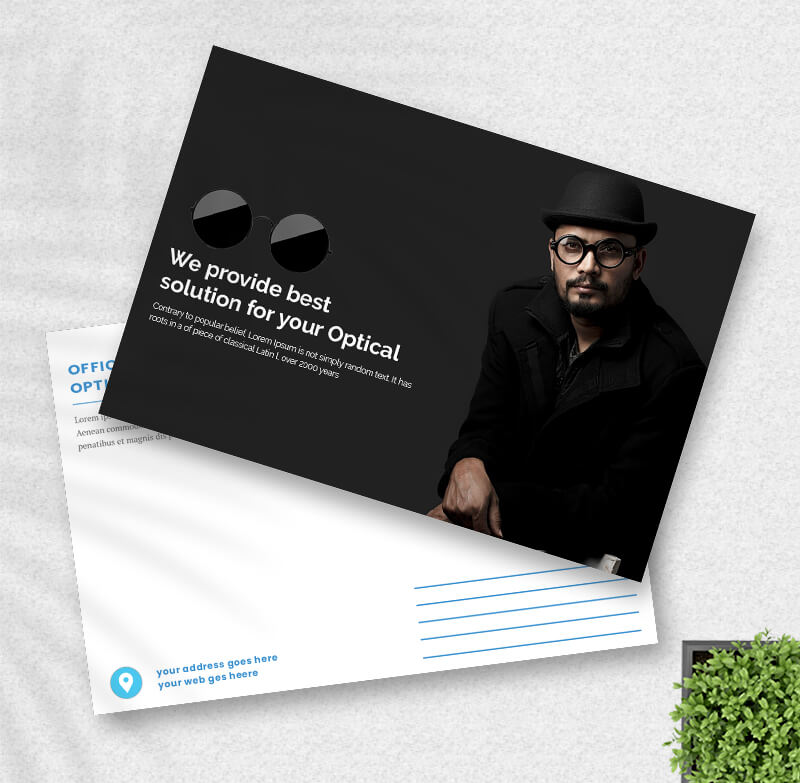 You can start with a simple layout. One side is for marketing content, and another side is for the regular mailing section. This is the only thing that makes the postcard look different from the flyer and brochure, even the datasheet.
Optical Store Postcard PSD Template
Creating this card is no simple task, but you can make it with a relevant and reliable template. Instead of designing from scratch, using the PSD template is better and faster. Moreover, the design has a professional layout to ensure you put the proper contents. That's what you get from the Optical Store Postcard template.