Free Template of Customizable Restaurant Magazine Design
Getting a restaurant magazine for your business can be a beneficial marketing tool, whether you own a casual dining, independent restaurants, or gastro-pubs. It will give your loyal customers and the prospective ones a way to keep up with the information and culinary inspiration, unique trends and ideas in the industry, and encourage them to visit your place more often.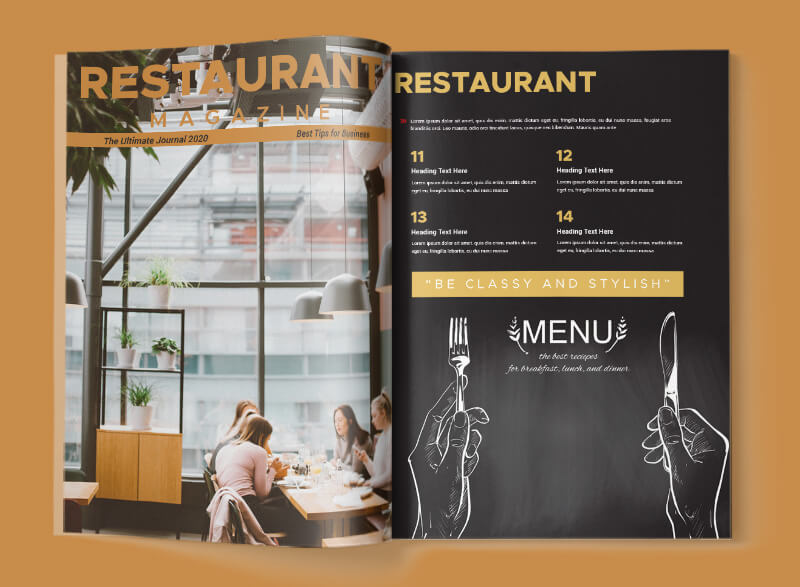 Restaurant Magazine Advertisement
Managing menu, services, and staff in the context of running a culinary business are the essential things that most people in the industry have to comprehend well already. What about getting enough coverage, recognition, and acknowledgment about the establishment? Probably it is not so much. Getting an opportunity to gain awareness for your restaurant is a great chance to grab despite all the experienced and difficulty in the area of promotion.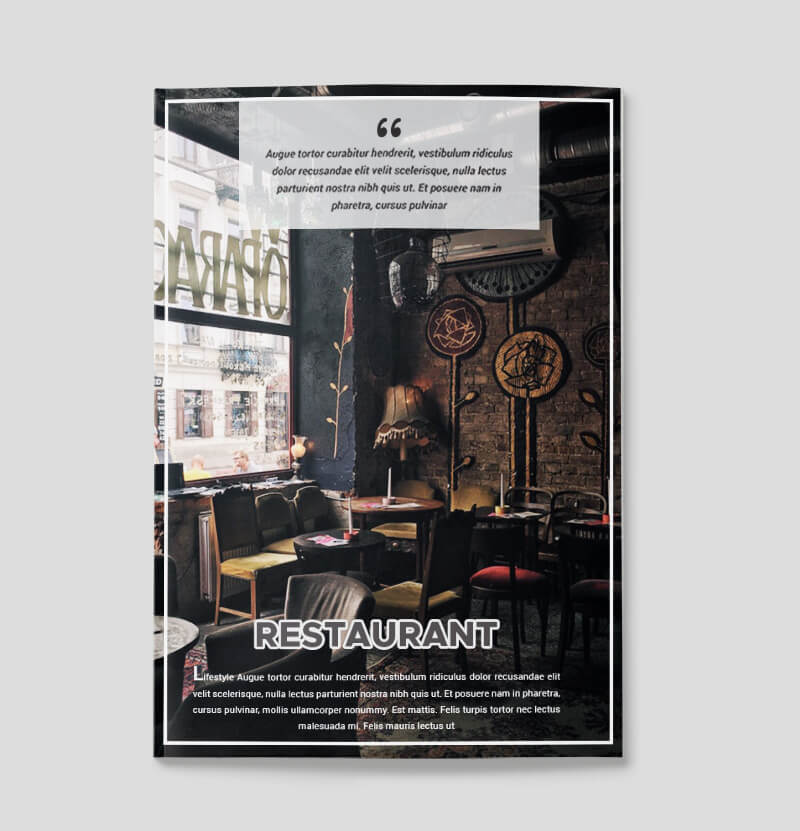 Benefits of Restaurant Magazine
Here are several reasons why it is necessary to get your restaurant its magazine:
To build brand awareness
There are plenty of times that your establishment needs to share to the customers – when it's about to introduce a new item on the menu, when it offers discounts and special deals, or when the customers need to be seduced by the suggestion power. A printed advertisement is an ideal medium to reach the customers and let them know what the restaurant can provide.
To attract new customers
It is a rule that applied to all types of business, that getting new customers is a critical part of running it. However, it can be difficult to make sure that your restaurant is not overlooked with all the available options in your area. Restaurant magazine is one of the best advertising and promotional methods. There are a few reasons that support this statement such as: having a tight focus on targeted demographic and geographic, being a durable tool for the consumer to keep in their shelf, and having a high trust level due to its printed nature.
Optimizing the marketing cost
The cost to produce a magazine is far more reasonable than other media advertisements such as huge billboards or television commercials. The ideal budget for advertising and marketing is less than two percent of the total annual revenue, thus it is important to carefully plan how to maximize the cost while getting the biggest impact possible.
Restaurant Magazine Importance
You might be wondering why is it even important to gain recognition through restaurant magazine marketing? To get more customers walking through your business place, they have to be convinced that they will have a good time with the food and the service – and that is a very crucial part of getting new customers that may a visit from time to time. The only thing to achieve that while they haven't tried to dine at your establishment is getting media coverage. Providing them with magazine media will be an amazing way to get to know your restaurant better.
Download Restaurant Magazine Template
The good news is, it is possible to create a decent and professional looking restaurant magazine design with zero cost and no required skills. Download the magazine template here on this page and customize it as much as you want to personalize and fit it with your established brand.