Telling your boss that you are going to retire is a tricky job for many people, especially if they have a strong relationship. If you are planning this, you might not want to break the bridge.  It is better to write a retirement letter to the boss. Not only because it is considered professional, but also leaving the best impression. However, keep in mind you must avoid a topic that leads to negative note.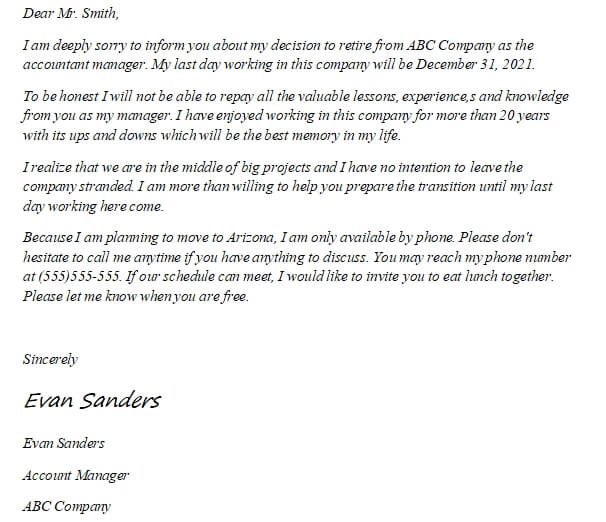 Is Writing A Retirement Letter To Boss Necessary?
Even though you are not going to go back to the office after quitting your job, writing a resignation letter is still necessary. This is a formal goodbye to your boss, the last one that you must write. Make sure you write you are thankful for all the opportunities and experience in the company.
How To Retire From Your Office Smoothly?
Avoid knowledge silos
generally, seniors have a lot of knowledge that resulted from their relationship with the company. They understand well many things related to work and projects. When these seniors decide to retire, it will cause chaos resulting in work delays and mistakes. Therefore, it is important to have other seniors shared their knowledge to the new employees so when one of the seniors retired, such problems won't occur.
Distribute your responsibilities
Some of you might be required to retire soon due to personal reasons. To smoothen your transition, it is crucial to start distributing your responsibilities to other qualified coworkers. It is good to discuss several cases with your upper manager about your transition.
Furthermore, always finish your project before retirement day comes. you won't like it if your coworkers think about you in negative tones.
The Example Of Retirement Letter To Boss
Writing a retirement letter to the boss can be a tricky part. You might need the example of a retirement letter to the boss below.
Dear Mr. Smith,
I am deeply sorry to inform you about my decision to retire from ABC Company as the accountant manager. My last day working in this company will be December 31, 2021.
To be honest I will not be able to repay all the valuable lessons, experience,s and knowledge from you as my manager. I have enjoyed working in this company for more than 20 years with its ups and downs which will be the best memory in my life.
I realize that we are in the middle of big projects and I have no intention to leave the company stranded. I am more than willing to help you prepare the transition until my last day working here come.
Because I am planning to move to Arizona, I am only available by phone. Please don't hesitate to call me anytime if you have anything to discuss. You may reach my phone number at (555)555-555. If our schedule can meet, I would like to invite you to eat lunch together. Please let me know when you are free.
Sincerely
Evan Sanders
Evan Sanders
Account Manager
ABC Company
Retirement should be planned well to help you prepare your organisation and company in finding the substitute employee. We hope our example and tips help you!