If you decide to resign from work, the most obligatory thing you must do is to politely say goodbye to your employer. The best way to say goodbye is by writing a two weeks notice resignation letter, which is considered the most professional notification letter. By notifying your employer about your resignation, the company will have an opportunity to find a replacement for you and fix several things during the transition time. You can elegantly write your resignation letter by noticing some important aspects.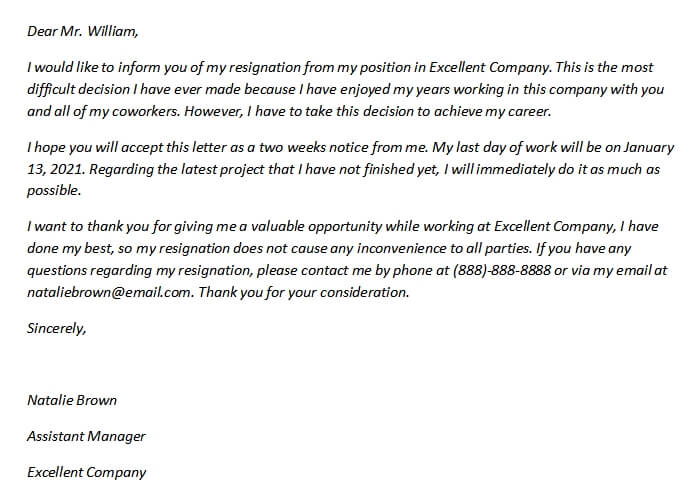 What Should I Do Before Resigning?
Before resigning from your job, it would be better for you to do several important things such as telling your boss about your plan, stating your reasons, offering to help the transition position, and giving two weeks' notice. Besides, you should also express your gratitude during your work, ask for an apology if your resignation results in an inconvenience.
Telling Your Boss
Don't let your boss know about your resignation planning from another employee. Meet your boss in person and talk about your resignation plans.
Explaining Your Reason
Explain the reasons for your resignation politely and nicely. If you leave work for urgent reasons, you can say that you are forced to resign with regret.
Offering Help for Transition
You can offer help for your transition period by helping the new employee who will replace you.
Giving Two Weeks Notice
This part becomes the most important thing. Write a formal two weeks notice resignation letter before you officially quit the company, this will be the most polite and professional way you can do before resigning.
How Do I Write A Polite Resignation Letter?
To write a polite resignation letter, you must prepare everything properly. You must have had a reason that urged your resignation, state your reasons politely and elegantly, make sure you won't offend anyone. Besides, you can be grateful for the work experience from the company that has made your skills even better. Note that you must write a professional, friendly, concise, and clear resignation letter.
Two Weeks Notice Resignation Letter Format
It's important to write a resignation letter in a short and clear format. You can take a look at the format below to inspire your letter:
Dear Mr. William,
I would like to inform you of my resignation from my position in Excellent Company. This is the most difficult decision I have ever made because I have enjoyed my years working in this company with you and all of my coworkers. However, I have to take this decision to achieve my career.
I hope you will accept this letter as a two weeks notice from me. My last day of work will be on January 13, 2021. Regarding the latest project that I have not finished yet, I will immediately do it as much as possible.
I want to thank you for giving me a valuable opportunity while working at Excellent Company, I have done my best, so my resignation does not cause any inconvenience to all parties. If you have any questions regarding my resignation, please contact me by phone at (888)-888-8888 or via my email at nataliebrown@email.com. Thank you for your consideration.
Sincerely,
Natalie Brown
Assistant Manager
Excellent Company
All in all, by writing a two weeks notice resignation letter, you will help your employer to prepare for new employee recruitment and everything related to the transition process.