Several things cause an employee to write a resignation letter. An employer can't make this decision arbitrarily, especially since there is an employment contract that you have agreed to. However, under most circumstances, several things may prompt your employer to force you to write a resignation letter. Here, we will give you a brief explanation about a forced resignation letter with its sample.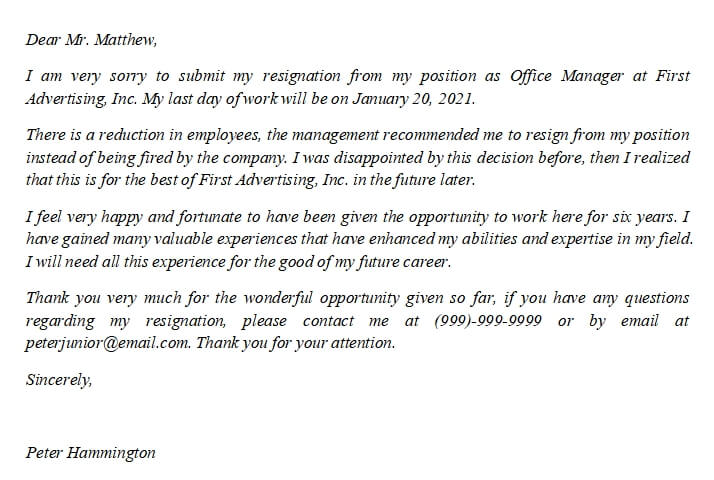 Can My Employer Force Me to Resign?
Companies can terminate their employees if they no longer want the employees to work in their place, whether it's due to poor performance, serious violations, or layoffs. If you are in such a position, there is nothing you can do but surrender and write a forced resignation letter. Make sure you leave work in a good and elegant condition.
Usually, if the company is no longer willing to hire you, your employer will allow you to forcibly resign, so you will have no bad record when looking for a new job. The new employer will see you as an employee who resigned well instead of being fired. Use a good and professional resignation letter for the sake of your future career.
How to Write A Resignation Letter Due to Duress?
Resigning from work is not the end of everything, let's just say that your resignation is the beginning of your new life and a better career for your future. Therefore, start writing a resignation letter by paying attention to the following important aspects:
The Last Day of Your Employment
Write in the letter about your last day of working at the company. Do not suddenly leave work in an impolite manner.
Reason of Company Forces You To Resign
Write in the letter that the company has forced you to resign for a certain reason.
Write Your Opinion
You may need to justify something, or at least express a certain opinion about the issue that triggered your forced resignation. Write your opinion as objectively as possible, so it does not give an impression that is not elegant.
Be Professional
Keep the tone of your letter to look elegant and professional. That way, the company will remember you as a polite employee who has a warm impression before leaving work.
Forced Resignation Letter Sample
By knowing the important aspects above, you can start to write your resignation letter. No need to worry, because we have a concise sample of resignation letter:
Dear Mr. Matthew,
I am very sorry to submit my resignation from my position as Office Manager at First Advertising, Inc. My last day of work will be on January 20, 2021.
There is a reduction in employees, the management recommended me to resign from my position instead of being fired by the company. I was disappointed by this decision before, then I realized that this is for the best of First Advertising, Inc. in the future later.
I feel very happy and fortunate to have been given the opportunity to work here for six years. I have gained many valuable experiences that have enhanced my abilities and expertise in my field. I will need all this experience for the good of my future career.
Thank you very much for the wonderful opportunity given so far, if you have any questions regarding my resignation, please contact me at (999)-999-9999 or by email at peterjunior@email.com. Thank you for your attention.
Sincerely,
Peter Hammington
That's all our short explanation about the forced resignation letter and the sample that you can use as a sample. Hope you get new inspiration.